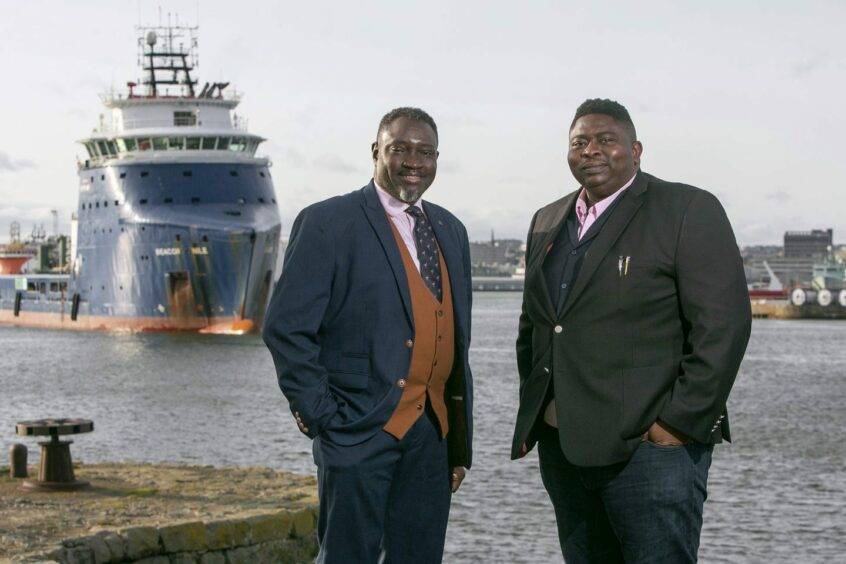 Diversity and inclusion organisation AFBE-UK has strengthened its leadership team with two key appointments.
Roy Bitrus becomes Aberdeen-based AFBE-UK Scotland's co-chairman, alongside current incumbent Ollie Folayan.
Meanwhile, Awai Collins-Harrison takes up the co-chairwoman role on the group's English division, together with national head, Nike Folayan.
AFBE-UK supports young people, particularly those from black and minority ethnic (BME) backgrounds, into careers in science, technology, engineering, arts and mathematics (STEAM).
Both appointments have been made to firm up the social enterprise's top team, and to ensure its work continues to progress across the UK.
Mr Bitrus is an entrepreneur and director of sales at Aberdeen-based geophysical start-up TenzorGEO, as well as an Unlocking Ambition Enterprise fellow of the Royal Society of Edinburgh.
He has been involved with AFBE-UK for nine years, and currently coordinates the group's leadership programme.
"I am truly honoured to become co-chair of AFBE-UK Scotland alongside Ollie," Mr Bitrus said.
"The organisation has continued to grow and create a positive impact in STEAM attraction, retention and now leadership. It is paramount that we continue to develop as we serve our members, partners and the community as we look to the future. With diversity and inclusion at the heart of our work, I am feeling energised to be taking on this new challenge."
Ms Collings-Harrison meanwhile is a senior systems engineer at multinational rail infrastructure company Siemens Mobility.
She has worked with AFBE-UK since 2020 and is a STEAM ambassador, working with its mentorship sub-group to manage and facilitate mentoring relationships for young people with individual members and corporate partners.
Ms Collins-Harrison said: "I feel privileged to be taking on my new role as co-chair of AFBE-UK England. The organisation works tirelessly to promote a more diverse and equitable environment across the STEAM industries. I eagerly anticipate this new opportunity and look forward to work alongside Nike."
To cope with the not-for-profit's growth in recent months, the pair will play a pivotal role in coordinating its teams, managing programmes, talent retention, encouraging leadership and liaising with corporate members.
Both Mr Bitrus and Ms Collins-Harrison will take on their new duties alongside their current roles within their organisations and with AFBE-UK.
Ollie Folayan, who recently received an MBE in recognition of his diversity and inclusion work, said: "The story of AFBE-UK has always been about community and not just one individual. Appointing Roy and Awai is a huge milestone in the AFBE-UK journey.
"I am delighted that we now have more representatives within our leadership to manage the rocketed growth we have experienced in recent years, which is a true credit to our excellent team. Roy already plays a key role in our operations being in charge of our leadership programme so he was the perfect fit to come on board as co-chair in Scotland."
AFBE-UK is partnered with 70 corporate organisations to assist them on their diversity and inclusion strategies to make positive change in the workplace.
The Mercedes F1 team, the Royal Air Force and BBC Scotland are all members, among others.
The organisation was co-founded in London in 2007 by brother and sister, Ollie and Nike – its Scotland division was founded in 2011.
Nike Folayan, who was awarded an MBE by Queen Elizabeth II in 2019 for services to diversity in engineering, said: "We are thrilled to be strengthening our leadership team with the appointment of Awai and Roy. Having more hands on deck will enable us to continue to grow. AFBE-UK has gone above and beyond over the years and we are everyday amazed by the number of individuals that our work reaches. Awai is a valued member of our AFBE-UK team and will play a fundamental role in our journey moving forward."
Recommended for you

AFBE-UK bolsters advisory board with BP and Celestia appointments