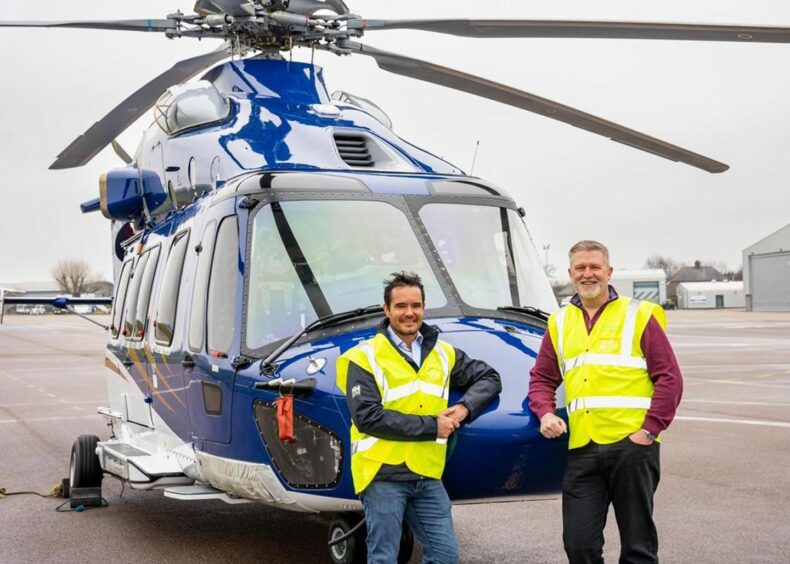 After acquiring Offshore Helicopter Services UK, the South African Ultimate Aviation is pumping cash into the firm with two new choppers set to touch down in Dyce this year.
Shaun Roseveare, Chief Executive Officer of Ultimate Aviation said: "We've got two 92s coming onto the fleet before June and all the old ones are being retired, so there's a lot of modernisations coming fleet."
Mr Roseveare told Energy Voice: "There's a lot in the pipeline" but "we haven't signed anything yet."
The end of an 'uncertain period' for OHS UK
Before the sale of OHS UK was approved this week, the North Sea helicopter operator experienced "22 months of uncertainty", described director of consultancy Air & Sea Analytics, Steve Robertson.
In 2021 rival helicopter firm, CHC, bought the then Babcock helicopters, now known as OHS UK, however, the UK competition standards watchdog claimed the acquisition would "significantly reduce rivalry" in the North Sea and blocked the sale.
Paul Kelsall, managing director of OHS, described that the approval of Ultimate Aviation's take-over warranted a sigh of relief.
Mr Kelsall said: "I think it should be recognised that our staff kept their focus through an uncertain period."
"We've delivered safe operations through that for our customers and that's really important to us."
To end this period of uncertainty for the firm's employees at the Dyce heliport, both Mr Roseveare and Mr Kelsall confirmed that there would "definitely not" be staff cuts as a result of this acquisition.
"The business is correctly structured at the moment, you've obviously got sufficient pilots, there's sufficient engineers, there's sufficient management," the Ultimate Aviation boss explained.
Supporting this, Mr Kelsall said: "There are no planned layoffs. To the contrary, we are going to be aggressively chasing more business.
"We're probably going be recruiting in the near future."
The helicopter boss cited a "long pipeline" of North Sea developments as an opportunity for more work for the Aberdeen firm moving forward.
'A symbiotic relationship'
As OHS UK looks to expand it will also impart knowledge to its new parent company in what Mr Roseveare describes as "a symbiotic relationship between the two entities."
Mr Kelsall explained: "Part of what we can we can bring in is our offshore operations experience, we've been operating this offshore environment for the past 40 years in different guises."
The UK boss says: "This is a really exciting time for us as a business," and OHS UK look forward to working with Ultimate Aviation.
A source of this excitement is the fact that the new parent company is also a helicopter operator and so the two organisations "speak the same language."
"Shaun and I talk the same language, we're both previous flyers, Shaun still flies now. So that's a communication barrier that's just completely evaporated."
The managing director of OHS said that when Ultimate Aviation was named as the "preferred bidder" for his firm, it provided a "shot in the arm for the business."
Shaun Roseveare has spent some time getting to know OHS' staff in Aberdeen and he says: "We spent some time yesterday afternoon with the pilots and the engineers and they say it's a sigh of relief for them because they're now owned by a helicopter company."