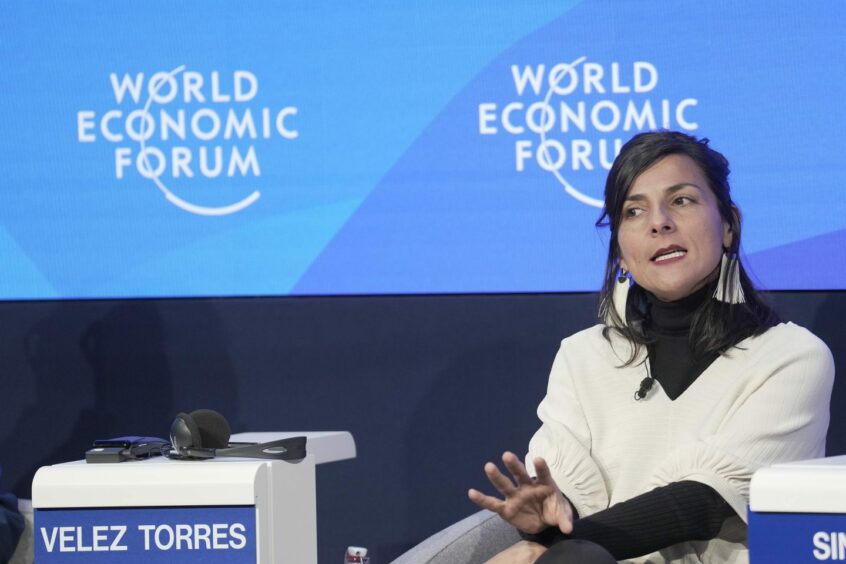 Colombia's Mines and Energy Minister Irene Velez, a radical environmentalist who opposed new oil exploration contracts, quit Wednesday amid a scandal.
The Inspector General's office is probing claims that Velez abused her power to get a migration official to sign off on her son's travel abroad in January, even though the proper paperwork hadn't been done.
Velez's resignation deprives leftist President Gustavo Petro of one of his closest aides, and a key ally in his plan to wean Colombia off its dependence on fossil fuel exports. The controversy is the latest in a series of scandals that have forced out other close allies of Petro in recent months, including his chief of staff.
Velez had strongly defended Petro's decision not to issue new oil-exploration licenses, even after a May report showed the nation's oil and gas reserves had fallen to the equivalent of less than 8 years.
Velez left office after local media reported that the minor was traveling with his father to meet Velez in Europe, who at the time was attending the World Economic Forum in Switzerland. Colombian law requires a notarized consent if both parents aren't in attendance.
In a statement on Twitter, Velez that she was leaving her post "to prevent the investigations against me from interfering with the execution of the government's program."
Hardline Members
Velez was viewed as one of the more hardline members of Petro's cabinet, according to Andres Mejia, a political consultant who teaches at the business school in Bogota's Los Andes University.
Even so, her departure "doesn't guarantee a change of course, since the policies that she defended always had the full support of the president, and in fact some originally came from him," he said.
Shares of state oil company Ecopetrol SA rose for a second day in Bogota trading, gaining 0.2% to 2,190 pesos. The nation's currency continued its strengthening trend, gaining for a sixth consecutive day to 3,974 per dollar.
Petro was elected on a promise to wean the Andean nation off its fossil-fuel dependency. Oil and coal account for about half of the country's exports and about 25% of foreign direct investment.
Velez was also facing pressure after local media reported earlier this month that her husband, who is a cinematographer, was hired by the government's drug substitution agency to implement its communication strategy. In a post on Twitter, she defended the contract, saying it didn't imply a conflict of interest because his activities are separate to hers.
Several other high-profile ministers have exited during Petro's first year in office. In a cabinet shuffle in April, he ousted his market-friendly finance minister along with the ministers of health, agriculture and transport.
"Her departure is an important political setback for the President, since he himself had chosen to make her a symbol of his views and his policies," Mejia said.
Recommended for you

Nigeria ex-oil minister seeks $215m in defamation lawsuit