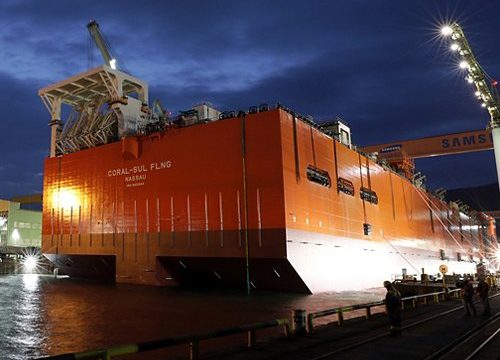 Coronavirus and the sudden drop in oil prices has led to some measure of disruption in Mozambique, local regulator Instituto Nacional de Petroleo (INP) has said, although there should be no long-term impact.
Eni has been forced to interrupt drilling and completion for wells intended to produce to its Coral Sul floating LNG (FLNG) work, in the Rovuma Basin, while the Italian company's partner ExxonMobil pushed back final investment decision (FID) on the onshore Rovuma LNG plan.
An Eni official confirmed that drilling work on the project had been "rescheduled and optimised" but this was not expected to have an impact on the deadline, with production still on course for 2022.
INP, in a statement, said the new target date for the FID had not been defined although comments this week from its chairman Carlos Zacarias said it was expected in 2021. The agency did not repeat Zacarias' comments but said FID was expected when the "market situation" changes.
This $25 billion investment, when it starts, will involve production of 15 million tonnes per year.
Sasol's light oil production work in the south of the country has seen drilling, repair and abandonment work on wells suspended. INP said this was expected to resume as soon as the pandemic state of affairs had improved.
The Pande and Temane project, led by Sasol, has seen some interruption as the company took precautionary steps to protect its workers. However, critical operations have continued.
There has been no impact to exploration contracts awarded under the fifth round, with plans still on track for first wells to be drilled in 2021. Operators of these blocks include Eni, ExxonMobil and Sasol.
Other areas uninterrupted by current problems include construction of the Coral Sul vessel and INP still expects first production to come in 2022. The vessel will produce 3.4mn tpy of LNG.
The first topside module was lifted on to the vessel at the end of May, carried out at the Samsung Heavy Industry (SHI) facility in South Korea.
INP said that while Total has cut spending around the world, it has continued work at priority projects, which includes the Golfinho and Atum work. However, the French company had reported problems at the onshore work site in April as a result of the coronavirus outbreak.
Total's Mozambique LNG is expected to begin producing in 2024, with 12.88mn tpy of LNG.
Despite these short term interruptions, INP said, it remained confident that the current crisis would not have a long-term impact, on the starting up of production or the volumes involved.
South Korea's SHI has also said it expects orders for LNG carriers serving Mozambique to be issued this year.
Updated at 2:35 pm with comment from Eni.
Recommended for you

Eni talks more FLNG with Mozambique president