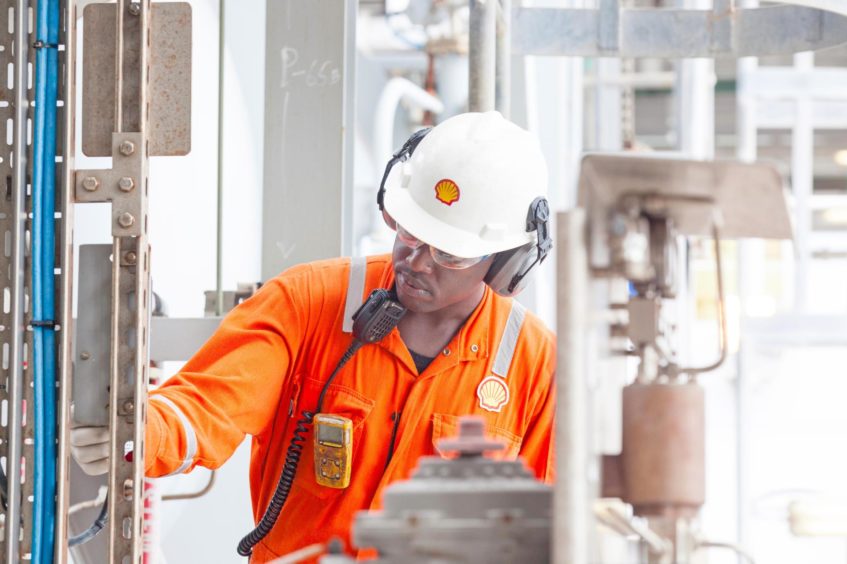 Shell's Nigerian production fell to 223,000 barrels of oil equivalent per day in 2020, with the company blaming security issues, sabotage and theft.
This was down from 266,000 boepd in 2019, it said in its annual report.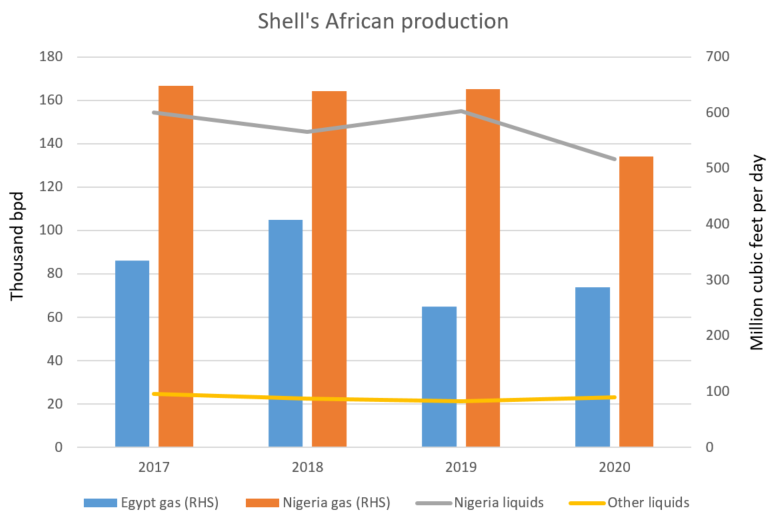 The company has been selling down Nigerian assets. It is likely to continue sharpening its in-country focus on gas and the deepwater.
A number of legal claims complicates Shell's work in Nigeria. The company is fighting court cases on two fronts on its OML 11 licence.
On the first hand, it has taken issue with the Nigerian government's decision not to renew the permit. The Nigerian Court of Appeal stayed a judgement in Shell's favour in February pending an appeal.
On the second, it is also fending off an attempt by the Rivers State government to claim the licence. Rivers claims to have purchased the licence following an oil spill penalty.
Spills, flares
Shell has said theft or sabotage drive the spills. The company's onshore subsidiary Shell Petroleum Development Co. (SPDC) managed to reduce the number of large spills to around 200 tonnes of crude from 10 incidents. This is down from 300 tonnes of crude from seven incidents in 2019.
Shell has been taking steps to make its Nigerian network more secure. Over the last nine years, it has replaced 1,330 km of pipelines and flowlines.
Spills resulting from sabotage fell to 1,400 tonnes from 122 incidents in 2020, from 2,300 tonnes in 2019. Improved surveillance and security drove this increase.
Techniques include daily overflights of vulnerable sections and anti-theft mechanisms for infrastructure such as wellheads and manifolds.
Shell's scope 1 emissions fell to 63 million tonnes of CO2e in 2020, from 70mn tonnes in 2019. Asset sales and reduced utilisation as a result of COVID-19 drove this reduction. Scope 2 emissions were 9mn tonnes in 2020, from 10mn tonnes in 2019.
It cut flaring by 35% in 2020 from 2019. Shutting down Prelude LNG in February 2020 was a major part of this reduction.
Nigeria's SPDC represents around 45% of flaring in the upstream. The company cut this by 15% in 2020, versus the previous year.
LNG
Shell has struggled with its LNG exports in Egypt. The company owns stakes of 35.5% and 38% in two trains at Idku. The plant only managed to export 0.2mn tonnes in 2020, down from 0.4mn in 2019.
The company noted the government's decision to divert gas from the offshore West Delta Deep Marine (WDDM) to domestic use. This has created a "tangible shortfall" of 770 billion cubic feet – 83% of the promised gas delivery.
Shell expects this to continue in the "near future". As a result its LNG commitments from Egypt are mostly under force majeure.
In Nigeria, the company reported 5.3mn tonnes of production from its stake in the LNG plant. In May 2020, Shell took a final investment decision (FID) on the Train 7 project at Nigeria LNG (NLNG).
Shell has a 25.6% stake in Train 7, which will have 7.6mn tpy of capacity. This will come from one new 4.2mn tpy train and another 3.4mn tpy of debottlenecking.
Exploration
Beyond Nigeria, though, Shell reported major additions to undeveloped acreage in Africa, suggesting there is yet room for upstream exploration.
Shell's undeveloped net acreage in Africa increased to 152,740 square km in 2020. This represented a major share of the company's total undeveloped net acreage of 339,895 square km.
The company has been building up its African opportunities over the last few years, from a low of 84,219 square km in 2017.
Shell has been running down its reserves on the continent. At the end of 2020, it had proved reserves of 548mn boe, of which 316mn boe was oil and NGLs. Volumes have fallen constantly in recent years, from a total of 630mn barrels in 2017.
Sao Tome & Principe, Egypt and Namibia played a key role in expanding Shell's acreage in the year, in addition to Oman and Brunei.
Sao Tome and Namibia expansion came under its September 2020 deal with Kosmos Energy. This also included expansion into Suriname and South Africa. Shell set out plans to drill three wells on the assets in 2021.
In November, Shell continued its South African expansion through a deal with Impact Oil & Gas.
Recommended for you

Exclusive: UK concedes ground on 'hazardous wastes' in Shell Brent legs