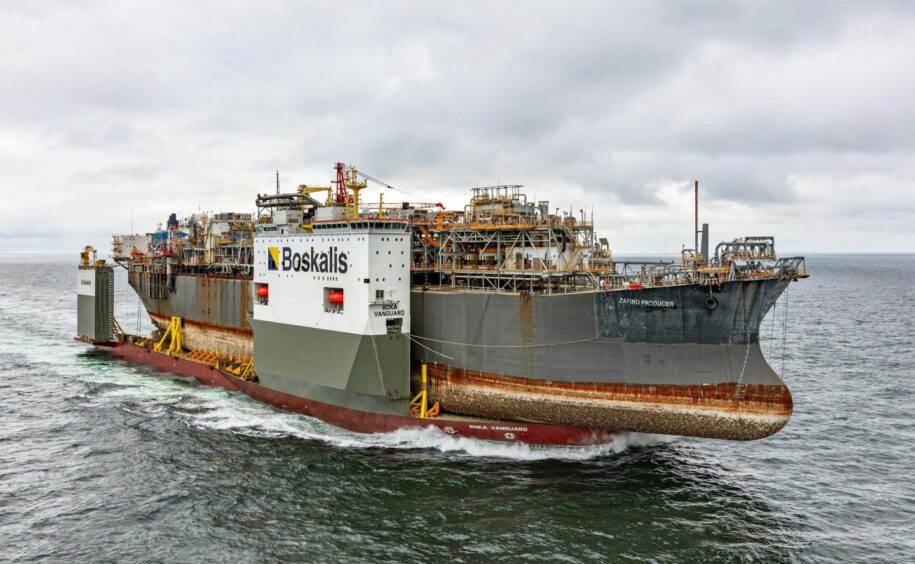 ExxonMobil's Zafiro Producer has arrived in Europe for scrapping, as the US supermajor progresses plans to wind down its involvement in Equatorial Guinea.
Boskalis announced that its Boka Vanguard had transported a floating production unit (FPU) from West Africa to Scandinavia, to a ship recycling facility.
Boskalis' SMIT Salvage secured and disconnected the FPU for its voyage. The FPU first went to Luba Bay for essential repairs at the end of 2022. Boskalis loaded it on to the Boka Vanguard in June.
Exxon confirmed the move in comments to Energy Voice. It arrived in a yard in Denmark, which can "safely disassemble and recycle the vessel in an environmentally responsible manner".
The US company said it was still operating existing production assets, the Jade platform and the Serpentina FPSO. It stopped producing via the Zafiro Producer in September last year, when water entered the unit. The government described it as a "buckling event".
Danish media have reported the FPU is at the port of Frederikshavn, where MARS Europe will carry out the scrapping process.
Transition of operations
Exxon has had a tumultuous relationship with Equatorial Guinea in the last few years, amid disputes around investments. The Exxon representative said the company was working with the Equatorial Guinea government "to transfer Mobil Equatorial Guinea Inc.'s (MEGI) assets in Block B to the state and the transition of the operations to new operator in 2024".
Gepetrol is to become the new operator of the block. Previously, Gepetrol was due to take over in 2025.
The Boka Vanguard is Boskalis' largest semi-submersible heavy transport vessel. The Zafiro Producer is 331.5 metres long and 56 metres wide. The tanker was built in 1973. It became an FPSO off Equatorial Guinea in 1996 and was converted into an FPU in 2000.
The Boka Vanguard has also recently carried a 322-metre long cruise ship, the Carnival Vista, in addition to a 385-metre long fish farm.
Boskalis said the Boka Vanguard had also recently carried six caissons – weighing more than 93,000 tonnes. It carried the load from Spain to the Philippines for an airport construction project.
Recommended for you

Island Innovator arrives in EG for Trident, Kosmos drilling