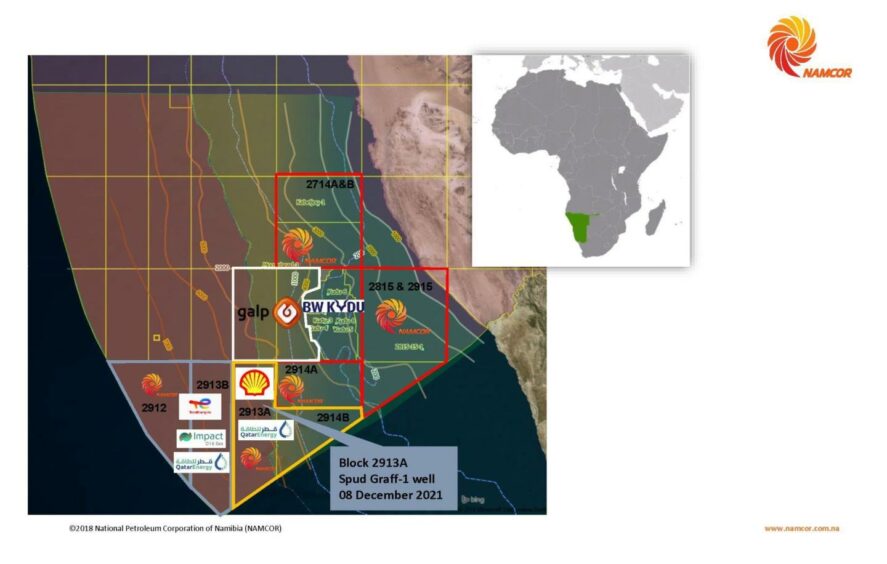 Shell has spudded the Graff-1 exploration well, offshore Namibia, as TotalEnergies continues drilling on the nearby Venus prospect.
State-owned Namco reported the development. Shell Namibia Upstream is operating the well and QatarEnergy (QE) is involved. "This is quite a milestone for us and the country as a whole and [we] look forward to the well results," Namcor said.
Shell began drilling the well on Block 2913A on December 8. The company is drilling in the Orange Basin, in around 2,000 metres of water.
Shell and QE each have 45% in the area, while Namcor has 10%.
The supermajor is using the Valaris DS-10 for the well, under contract from November 2021 to January 2022 in Namibia. Shell had been weighing up three prospects on the block before opting to go with Graff.
Shell shot 7,500 square km of 3D seismic off Namibia in 2019.
Following this, the DS-10 will remain under contract to Shell but move to Sao Tome & Principe, until April 2022. It will then move to Nigeria, until October 2022.
In Sao Tome, Shell will drill the Jaca prospect on Block 6, in the Gabon-Douala Deep Sea Basin. It is working on the area with Galp, following Kosmos Energy's withdrawal.
TotalEnergies spudded the Venus well on December 1, on the adjacent Block 2913B. It is drilling this well in 3,000 metres of water, with the Maersk Voyager.
The Graff-1 is targeting a shallower area than Venus.
Tullow Oil has a licence to the north of TotalEnergies' Block 2913B, while Galp has the licence to the north of Shell's block. The Kudu gas field is northeast of Shell's Graff-1 well, where BW Energy is working on a power development plan.
Australia's Pancontinental holds a licence further north. It has mapped a a large turbidite complex, Saturn, which it claims is similar to Venus.
Recommended for you

Total hints at further Namibia successes