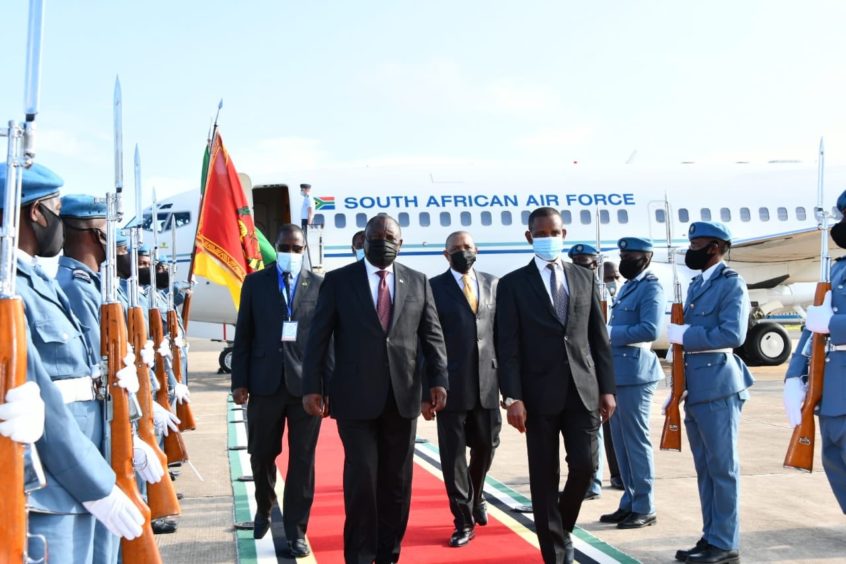 The Southern African Development Community (SADC) held an emergency meeting today in Maputo to discuss terrorism in Mozambique.
Following the talks, SADC said attacks could not "be allowed to continue without a proportionate regional response".
The summit expressed full solidarity with Mozambique. SADC will immediately send a technical deployment to Mozambique. It has scheduled another summit for April 29.
From my SADC meeting today with @CyrilRamaphosa, @OfficialMasisi and HE Filipe Nyusi there was only one goal:

To find a solution to the security crisis in Mozambique for the protection of our region.

We will act urgently to ensure peace for the benefit of all our peoples. pic.twitter.com/kZV7LINN9a

— President of Zimbabwe (@edmnangagwa) April 8, 2021
The organisation has said the residents of Cabo Delgado were suffering from "atrocious, brutal and indiscriminate assaults".
Botswana President Mokgweetsi Masisi, who leads the SADC on defence and security, said the attacks had an impact on Mozambique "but also in the region and the international community as a whole".
Attacks in Mozambique "call for urgent enhanced security measures through a SADC co-ordinated regional approach and humanitarian support", said group executive secretary Stergomena Tax.
Risk analysts 14 North Strategies commented that SADC heads of state, particularly South Africa, were likely to push for a "greater and deeper partnership" against terrorism.
"Based on recent remarks, expect Mozambique President Filipe Nyusi to push back by stressing sovereignty and military progress since the Palma attack," the consultancy said. Nyusi may accept some token support "in the form of equipment or border security assistance, but likely nothing more".
Gas impact
SADC's potential intervention comes as the insurgency in Cabo Delgado has come to international attention. Terrorists attacked the town of Palma on March 24. They were able to continue operating in the area until around April 1.
The Câmara de Gás e Petróleo de Mocambique (CPGM), responding to the attack, said it was "especially directed at disrupting investment in oil and gas projects" in the country "and terrorising the local population".
Total had planned to begin drilling offshore Mozambique in the second half of 2021. This now appears unlikely.
The death toll is unclear. A report from TVM quotes a local police official as saying they had found the bodies of 12 foreigners. There are only two confirmed deaths of expatriates thus far, one man from South Africa, another from the UK.
South Africa would struggle to deploy armed forces to fight the insurgency in Mozambique.
Support is more likely to come in the form of international trainers and additional private military companies (PMCs).
The Dyck Action Group (DAG), which played an important role in helping people escape Palma, is no longer working in the country. Its contract ended on April 6.
Updated at 5:31 pm following SADC communique on outcome of the summit.
Recommended for you

Eni talks more FLNG with Mozambique president