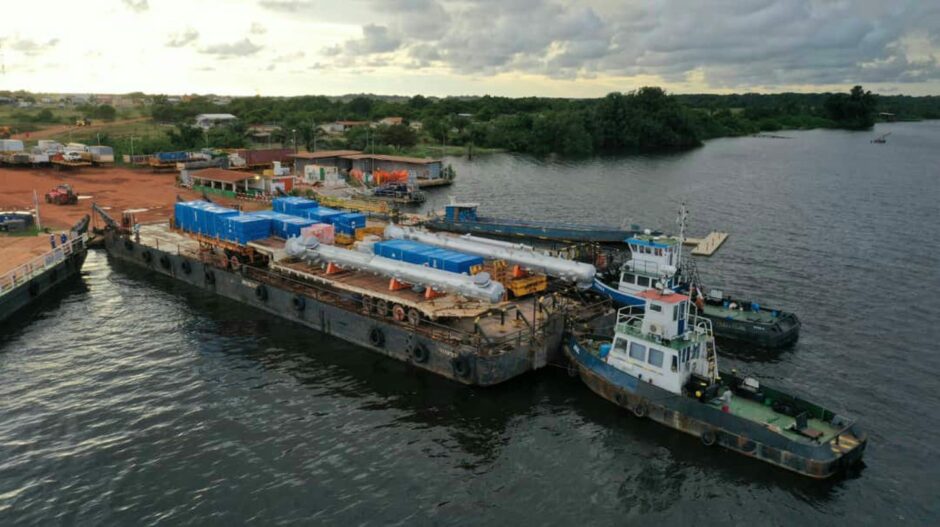 Perenco has signed a memorandum of understanding (MoU) in Gabon for a new gas-fired power plant in Mayumba, in addition to setting out new plans for Tchatamba.
Under the deal, Gabon Power will build a new power plant in Mayumba. Initial capacity will be 21 MW, with the option to increase to 50 MW. Gabon Power will also build a distribution network, involving a 90 kV transmission line to the Tchibanga station, and a 20 kV line to Mayumba.
Perenco's part will be to install a new gas collection network at its M'bya site. It will provide a gas treatment and compression facility, with a 32 km gas pipeline to the M'bya power plant.
Perenco will eliminate the flaring of associated gas through the investment.
"We are very pleased to continue developing our strategic partnership with the state of Gabon, to valorize the gas resources of the country, and be working with Gabon Power on a project of national importance," said Perenco Gabon general manager Adrien Broche.
The official said the power plant would have a "positive impact" on 80,000 households and electrify rural populations, which "will significantly support economic development. In addition, by replacing power currently generated by diesel generators, as well as materially reducing flaring, there are clear additional benefits to Gabon."
Work on the project will create more than 500 local jobs, Perenco said.
Signing the MoU in early April, Gabon said Perenco was investing around $40 million in infrastructure. Gabon Power will put in around $84mn.
Commenting on the deal, Minister of Petroleum and Gas Vincent de Paul Massassa highlighted the importance of reducing flaring. The plan "makes the gas molecule available to users", the minister said. The agreement "aims to accelerate and make hydrocarbon prosper in Gabon".
Perenco produces around 110,000 barrels of oil equivalent per day in Gabon. It produces gas for power plants in Libreville and Port Gentil.
Beyond Mayumba
Perenco recently struck a deal with Tullow Oil to swap assets in the country. The company held talks with Minister of Petroleum and Gas Vincent de Paul Massassa last week on its plans for the Tchatamba field, in southern Gabon.
Perenco will add a rig to the field and invest $300 million in exploration over the next three years. The company is also working on an LNG export project in Gabon, with the aim of starting up in 2026.
In the near term, Perenco should start producing from its Batanga LPG plant in July this year. The plant will produce 15,000 tonnes per year of butane, reducing Gabon's imports by 50%.
Recommended for you

Nigeria to struggle in growth plans, Westwood warns