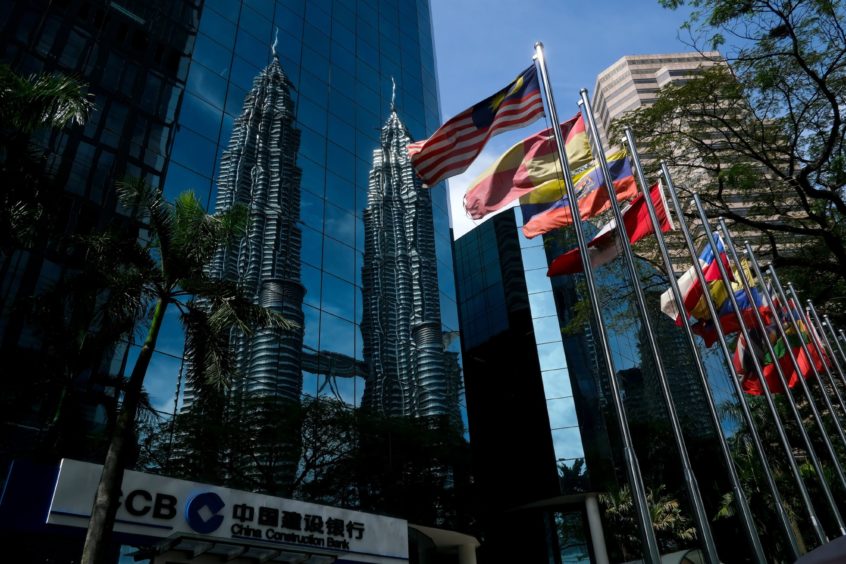 China has been contesting new Malaysian oil and gas development at the Kasawari field offshore Malaysia since early June with China Coast Guard (CCG) vessels harassing the project. The harassment also coincided with Chinese military planes entering Malaysia's national airspace.
This is at least the third time over the past 18 months that China Coast Guard ships have harassed Malaysian energy exploration.
"It demonstrates again Beijing's persistence in challenging its neighbors' oil and gas activities within their own exclusive economic zones. And the air patrol, which was likely not a coincidence, suggests Beijing's willingness to engage in parallel escalation to pressure other claimants to back down," the Asia Maritime Transparency Initiative (AMTI) said in its latest report.
As Energy Voice reported earlier this year, China is likely to harass any Malaysian vessels carrying out oil and gas activities within its sweeping claim to most of the South China Sea within its U-shaped 'nine-dash line', as was the case several times last year.
Although China wants to expand economic ties with Malaysia and maintain cordial relations, it will continue to harass oil and gas activities in Malaysian waters in an attempt to coerce Kuala Lumpur into signing joint development agreements, Ian Storey, a senior fellow and Asian security expert, at the ISEAS Yusof Ishak Institute in Singapore, told Energy Voice in January.
In late 2019 and early 2020, the China Coast Guard upped the ante by trying to disrupt Malaysian survey and drilling activities by harassing Malaysian-chartered drilling rigs, supply ships and survey vessels.
Tensions around Kasawari gas field development
The latest tensions revolve around the development of the Kasawari gas field in the Malaysian part of the South China Sea in Block SK316 offshore Sarawak. Petronas Carigali, a wholly owned subsidiary of the Malaysian national oil company Petronas, is the developer and operator of the Kasawari gas field.
First discovered in 2011, Kasawari has been under development for several years. It is estimated to hold about three trillion cubic feet of recoverable gas resources.Scheduled to come on-stream in 2023, Kasawari is expected to produce up to 900 million cubic feet per day (cf/d) of gas.
Block SK316 sits about 4.3 nautical miles north of another gas field, NC3, which came online in 2016. Like NC3, the Kasawari field will supply the Petronas-led liquefied natural gas (LNG) export complex in Bintulu, Sarawak.
"From May 19 to 24, Malaysia's state-owned Petronas used six tugs to transport materials to the port of Miri in Sarawak in preparation for the installation of a wellhead platform at Kasawari. The Malaysian government announced this in advance through a notice to mariners, which would have put both local operators and China on alert," said AMTI.
"On June 1, just before the construction work at Kasawari was to begin, 16 Chinese military aircraft approached to within 60 nautical miles of Sarawak flying in tactical formation. Malaysian fighter jets scrambled from Labuan after the Chinese planes ignored attempts to communicate. After the incident, Malaysian foreign minister Hishamuddin Hussein erroneously stated that the aircraft had violated 'Malaysian airspace and sovereignty,' summoned the Chinese ambassador to Malaysia, and vowed to file a diplomatic protest. The likely trigger for the patrol—and Malaysia's angry reaction—was clear three days later," reported AMTI.
In early June, pipelay barges and offshore support vessels arrived at Kasawari to install the drilling platform for the wellhead. Sapura Energy is contracted to install the jacket and topside of the wellhead platform at Kasawari. Still, despite the presence of the Royal Malaysian Navy deployed to the area a day in advance of Sapura's vessels arriving – likely in anticipation of a response from Chinese law enforcement – the China Coast Guard ships were operating near Kasawari in Malaysian waters, said AMTI.
Analysis from AMTI suggests that the China Coast Guard harassed development operations at Kasawari from early June until at least 5 July. The Royal Malaysian Navy returned to Sarawak on 13 June.
"While the current tensions are likely to subside once installation of the wellhead is complete, a second phase of work at Kasawari slated for 2022 suggests that friction between Chinese law enforcement and Malaysian offshore energy operations off Sarawak is almost guaranteed to continue," said AMTI.
Despite China harassing Malaysia's offshore gas developments, Malaysian national oil company (NOC) Petronas and state-backed China National Offshore Oil Corporation (CNOOC) yesterday signed a liquefied natural gas (LNG) supply deal estimated to be worth $7 billion over ten years.
The Kasawari field development plan includes a central processing platform weighing about 47,000 tonnes, a wellhead platform weighing about 8,600 tonnes, and a flare structure.
The central processing platform will be connected to a wellhead platform and flare structure by two separate bridges. Capable of processing up to 900 million cf/d, the Kasawari central processing platform is expected to be the heaviest and biggest offshore platform in Malaysia.