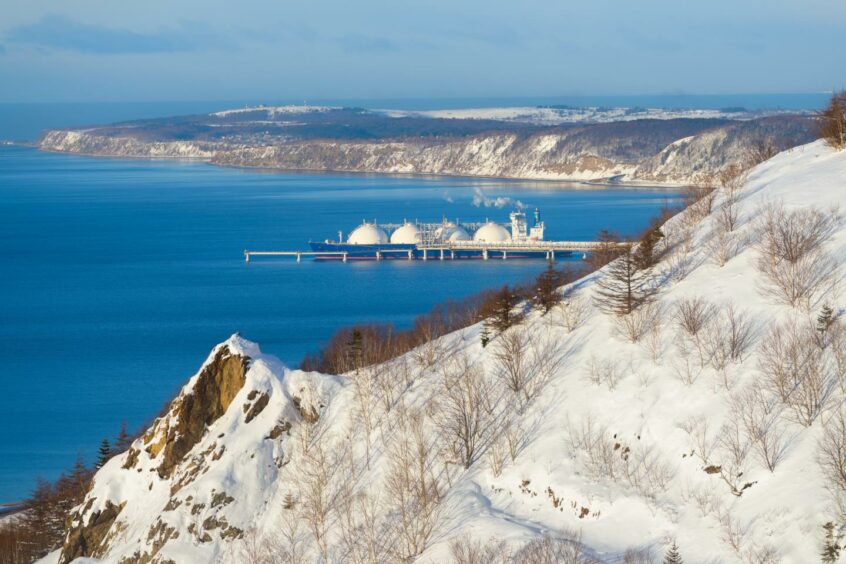 There has been increasing speculation that Japanese oil and gas companies may follow their Western peers and exit Russian energy projects in response to Vladimir Putin's bloody invasion of Ukraine. However, this seems unlikely, as such a move – designed to hurt Russia – would be blunted, as China is expected to fill any void left by departing investors.
Faced with public pressure at home ExxonMobil and Shell have both announced plans to exit the Sakhalin-1 and Sakhalin-2 oil and liquefied natural gas (LNG) producing projects in Far East Russia, respectively, in response to Putin's war in Ukraine.
Significantly, Shell's decision has put pressure on Japanese partners, Mitsubishi, and Mitsui, to reconsider their involvement in Sakhalin-2. The LNG export facility is critical to Japan's energy security and LNG is Japan's biggest import from Russia.
Japanese trading companies, Mitsui and Mitsubishi, partners with Shell and Gazprom in the Sakhalin-2 gas project have not announced any plans to withdraw and said the project will continue to operate despite Shell's planned exit.
Mitsui said it was "in discussions with relevant stakeholders, including the Japanese government and business partners, regarding possible future courses of action, while taking into account energy supply needs," reported Nikkei Asia.
"So far, the Japanese Prime Minister has said it is up to the companies to decide on how to proceed," Yuriy Humber, president of the Tokyo-based Yuri Group, a research firm, and founder of the Japan NRG platform, which publishes energy reports, told Energy Voice.
"It's very hard to see Japanese companies announcing their pullout from the Sakhalin oil and gas projects. Japanese companies are traditionally not as vocal in socio-political issues, so they would not announce this to make a socio-political statement," he added.
Significantly, most of the Japanese energy investments in Russia were carried out with the support and guidance of the government. They form part of Japan's national strategy and energy security. Therefore, the Japanese investors will be looking for the government to take the lead, said Humber. "The decision is not really a corporate one. Moreover, some of the firms involved in Russian energy from Japan are part or fully state-owned."
Tony Regan, an Asia-focused LNG and gas consultant, told Energy Voice that the government will delay issuing any guidance to "see how things play out" until they come under external pressure to punish Russia. For instance, if the Group of Seven (G7) countries decided to act, then Japan would be forced to issue corresponding guidance.
The China Card
Japanese politicians are already playing the China card, added Regan. "Chinese companies would step in to fill the vacuum left by departing Japanese companies and investors," he said.
Japanese industry minister Koichi Hagiuda said on Tuesday that "our main concern is whether a third country might immediately take over when we let go of our interests there."
"If Russia doesn't feel the pain from the sanctions, then it would be pointless," Hagiuda said in a parliamentary session.
Any potential guidance to exit Russian oil and gas projects would be slow in coming. Although such a move could see LNG exports from Sakhalin to Japan being suspended it could be managed by exchanges with China – although that would be very embarrassing, said Regan.
"The big issue is that any guidance that is given is likely to go beyond the Sakhalin projects. It is likely to encompass other oil and gas projects in Russia including Yamal LNG and Arctic 2 LNG," he added.
Sanctions
Governments across the globe have condemned Russia for its invasion of Ukraine and have responded by rolling out sanctions against the Kremlin. However, no government, including in the US and EU, have yet released official guidance to domestic oil and gas companies to withdraw from Russia. Exit decisions announced by BP, ExxonMobil, Shell, and Equinor, among others, have all been ostensibly taken independently, although Washington and London likely applied some pressure.
For now, Japan has effectively frozen all new energy investments in Russia. "This will hurt most as yet undeveloped projects, which range from LNG to carbon capture and storage (CCS) to hydrogen," said Humber.
Meanwhile, any potential divestment process from operating projects remains entirely unclear, especially given the lack of available buyers. "The only realistic buyer would be China, with India possibly interested, depending on the conditions," added Humber.
Indeed, China which formed a new political and economic alliance with Russia last month, is one of the few nations that has not condemned Moscow for the invasion of Ukraine. Beijing has instead called for talks to achieve a peaceful resolution.
Crucially, heavy sanctions targeted at destroying the Russian economy could provide more opportunities for China. As Energy Voice reported earlier this week, the escalating Moscow-Western tensions are speeding up Russia's opening of its energy sector to Chinese investors.
Escalating Moscow-Western tensions speed up Russia's energy pivot to China
For now, Japan has joined the US and EU in blocking Russian banks from international financial networks, however it seems unlikely that Japanese energy companies will follow Europe's oil companies and pull the plug on Russian investments.
Protecting Japan's Energy Security
"In light of intensified international sanctions against Russia, we will take measures appropriately in line with the G7, treating stable supply of energy and energy security as a national interest that should be protected to the maximum extent possible," said minister Hagiuda.
Japan's energy supply structure remains extremely vulnerable as the resource-poor nation is dependent on imports for 94% of its primary energy supply. As a result, Tokyo will not want to make any moves that jeopardise the country's energy security.
According to Shell, Sakhalin-2 supplies about 4% of the world's LNG market. Japan, South Korea, and China are the main customers for oil and LNG exports. The complex can produce around 10 million tonnes of LNG per year, equivalent to more than 10% of Japan's yearly imports. Russia is the fifth-largest supplier of LNG to energy-short Japan.
Sakhalin Oil and Gas Development (SODECO), a Japanese consortium including Itochu and Marubeni, have also said they have no plans yet to withdraw from the Sakhalin-1 project, that ExxonMobil is exiting.
Exxon operates Sakhalin-1 on behalf of the Japanese consortium, as well as Indian and Russian companies that includes Russia's Rosneft. The group had been progressing plans to add an LNG facility.
Sakhalin-1 recently pumped about 220,000 barrels per day of oil, according to ExxonMobil.
India's ONGC Videsh, which owns a 20% stake in the Sakhalin-1 project, said the partners will decide over the next few weeks on how to keep operating the project after the exit, the Indian company told Reuters.
Recommended for you

US sanctions on Russian LNG threaten Japan gas security push