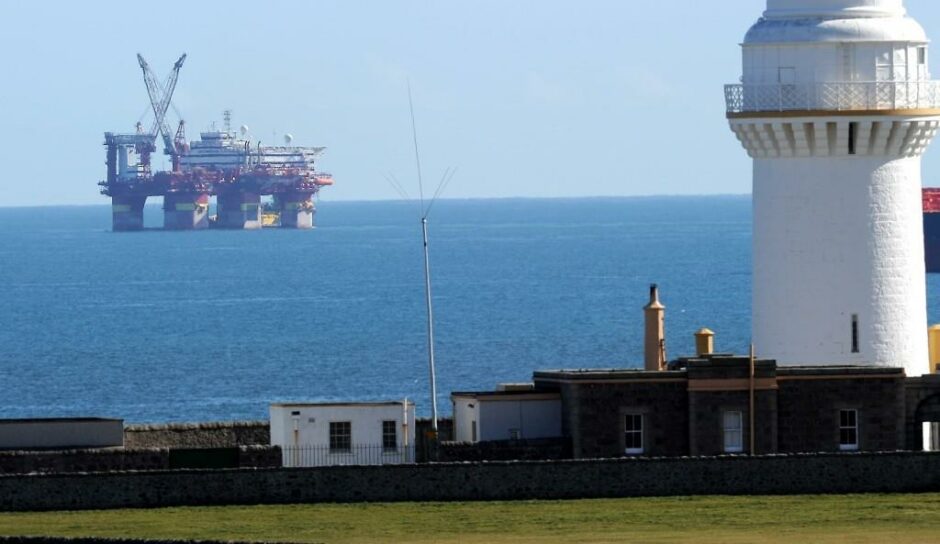 Hopes that Aberdeen could soon be home to an oil rig tourist attraction are unlikely to come to being in the near term, a local campaigner has claimed.
Oil veteran Bill Skidmore has accused city leaders of sacrificing the Granite City's "rich history" in oil and gas in order to give it the "look and feel of any other UK city".
It comes as big plans have been announced globally in recent months to repurpose oil and gas installations for tourism.
Mr Skidmore lamented that it's "not that strange" that plans to repurpose a decommissioned North Sea plan to draw people to the north-east aren't being explored.
The 30-year oil industry veteran mooted the idea of a tourist attraction celebrating Aberdeen's impact on the North Sea to Energy Voice last year.
Since then a number of projects of a similar ilk have emerged across the globe.
Saudi Arabia recently unveiled plans for a 150,000 square metre theme park with an oil and gas platform at its heart.
Called "The Rig", the project is being funded by the Public Investment Fund, which recently took over football club Newcastle United, and would feature three hotels, restaurants and amusement rides.
Elsewhere, plans are in the offing to turn a decommissioned North Sea platform into an art exhibition in Weston-Super-Mare.
The 'SEE MONSTER' installation will be unveiled in the English seaside town next year.
Similar concepts have previously been tabled in Aberdeen, including suggestions a disused jack-up rig could be situated in the renowned Rubislaw Quarry.
But a lack of movement so far has left some concerned that projects may never progress past the idea stage.
Mr Skidmore said: "Aberdeen City Council has a 'Masterplan' that does not, I believe, include any ideas or suggestions from the public. There is little if any mention of maintaining, restoring or capitalising on Aberdeen's rich heritage.
"So it is perhaps not that strange that Aberdeen isn't doing anything with the idea of a decommissioned oil rig as a tourist attraction.
"The main thrust of the 'Masterplan' appears to be that of creating a 'New Aberdeen'. That which makes Aberdeen unique is being sacrificed in a drive to create a New Aberdeen with the look and feel of any other UK city that has followed the American model of shopping malls, chain restaurants, brand name stores, etc."
He added that he has "little hope" of the city ever regaining the "respect and prestige" it once commanded.
There is a growing recognition within Aberdeen that something needs to happen to reinvigorate the city.
Successive industry downturns have hit the north-east hard, a problem made worse by Covid.
Work is ongoing to diversify the region, with tourism one of a number of potential avenues being pursued by the public and private sector.
Importantly, there is evidence that a first class oil attraction can be a pull for sightseers.
In Galveston, Texas, the Ocean Star rig has been turned into museum and in the 1990s, Malaysia turned an unused jack-up into a lavish scuba school.
Chemical engineer and Aberdeen University graduate, Sanjoy Sen believes an oil rig tourist attraction could be an asset for a city "urgently needing a clear vision to re-invent itself".
He said: "An imaginatively redeveloped rig has the potential to prove every bit as valuable in providing Aberdeen with a unique, internationally-recognizable landmark which generates serious interest in the city and attracts investment in its wider plans.
"It's a sad but undeniable fact that the city hasn't always made the best of its opportunities."
He added: "Right now, the stakes couldn't be any higher for Aberdeen. Cities once dependent upon a single industry can slip into decades of decline without a decisive course of action.
"Whilst such examples are sadly all too common across the industrialised world, a rare exception is Seattle. The US city has successfully diversified away from aircraft manufacture by improving the quality of life on offer, thus drawing in new tech companies and workers.
"If Aberdeen is going to achieve anything similar, it's got to create a distinctive niche for itself. If the rig helps with that, I'm all for it."
An Aberdeen City Council spokeswoman said: "We have held extensive public consultation on the City Centre Masterplan itself, and also for individual projects as part of the CCMP.
"As part of the latest CCMP public consultation held last year, we held an on-line simulator exercise which had a total of 7,697 responses. The last entry in the simulator exercise was an open question asking what improvements or changes would people like to see and we had 2,000 individual responses to that. We cannot implement every single one of these as naturally some of these suggestions were at odds with each other.
"We have held extensive engagement with key stakeholders, including children and young people, on key elements of the city centre proposals in the last few months. Furthermore, the CCMP includes the Union Street Conservation Area Regeneration Scheme which provides financial help to building owners and aims to encourage the repair and enhancement of historic building in the project area."
Recommended for you

Do Westminster and Holyrood appreciate Aberdeen's skills gold mine?