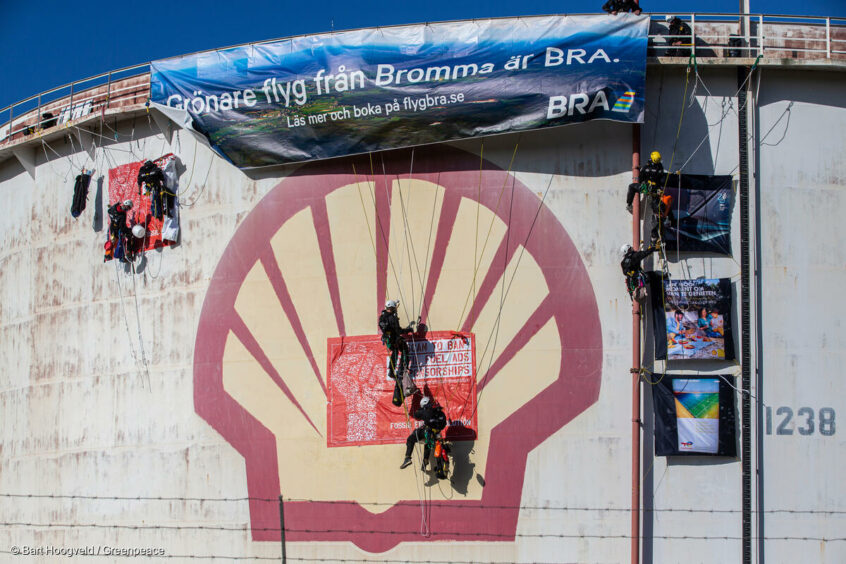 The Dutch police have arrested a number of Greenpeace activists following a protest focused on greenwashing in the port of Rotterdam.
The environmental NGO said authorities had arrested 21 activists. The police also seized a ship, the Beluga II, detaining its captain and first mate.
Activists had taken to the water in various crafts. They flew banners calling for a "fossil free revolution" and for hydrocarbon advertisements to be banned.
Greenpeace Netherlands' head of climate and energy Faiza Oulahsen said the protestors were not there "just to deliver a publicity campaign. We will continue to put pressure on the oil industry, to expose their responsibility for the climate catastrophe and to challenge the disinformation that they use to stay afloat and delay climate action."
The NGO said more than 80 activists, from 12 European Union states, had staged an occupation at the entrance to the refinery.
A group of nine climbed a 15-metre oil tank and attached their own adverts to Shell's logo. Another group build a barrier with floating cubes.
Petition launch
The protest came as a number of environmental groups launched a European Citizens' Initiative (ECI) petition. This called for a law to ban hydrocarbon advertising and sponsorship in the EU.
Analysis from Greenpeace Netherlands claims that almost two thirds of advertisements from Shell, TotalEnergies, Preem, Eni, Repsol and Fortum "were either misleading consumers" or "promoting polluting products as solutions to the climate crisis".
Pressure on advertising has been mounting in recent months, in a number of countries. The Netherlands has been at the forefront of this drive.
Shell has made net zero commitments and has made a number of steps towards reducing emissions. Last month, the company announced a final investment decision (FID) on an 820,000 tonne per year biofuels facility. This will be built at the Shell Energy and Chemicals Park Rotterdam, formerly known as the Pernis refinery.
The plant aims to capture CO2 emissions and store them in a depleted gas field. It should start producing biofuels in 2024.
Shell's local unit noted that Greenpeace had carried out the protest safely – and while using products based on oil derivatives.
Mede dankzij de gebruikte stevige lijnen, helmen en kleding (alle gemaakt van olieproducten) is de Greenpeace-demonstratie vandaag veilig verlopen. We zijn elke dag in actie om samen met anderen de CO2-uitstoot naar netto nul te brengen, en werken ook graag samen met Greenpeace. pic.twitter.com/xgFVND7dXE

— Shell Pernis (@Shell_Pernis) October 4, 2021
Recommended for you

Shell kicks off drilling at Jackdaw field