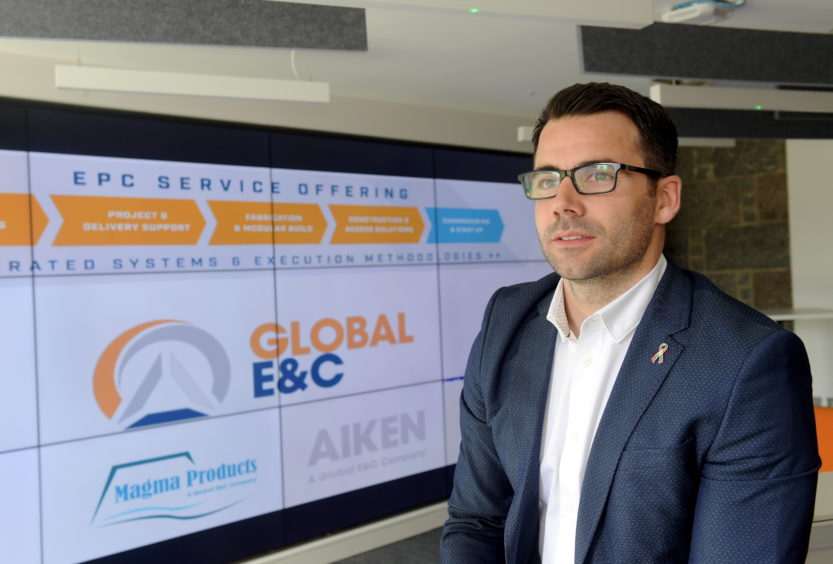 Global Engineering and Construction (E&C) has "reshuffled" its north-east facilities footprint in an effort to "stabilise" the company amid the Covid-19 and low oil price crisis.
The group has also revamped its management structure to help businesses in its portfolio link up more effectively.
Global E&C, whose parent is Inverness and Aberdeen-based Global Energy Group, has shifted its corporate headquarters to Albyn Place, Aberdeen, where its projects and engineering teams will be located.
The building also houses a range of newly-installed digital technologies for driving efficiencies in project management.
Executive director Terry Allan said Global E&C looked forward to being in the heart of Aberdeen, where it would be closer to many of its key customers, for the long term.
Meanwhile, Global E&C has vacated its facilities in Dyce and moved its fabrication division to the Nord Centre, where group company Aiken is also located.
The base's proximity to Aberdeen harbour will make it easier to load out larger structures manufactured by Global E&C.
An office on Mugiemoss Road occupied by Magma Products, acquired by Global E&C earlier this year, will be retained and used to support the group's offshore mobilisation activities.
The group said the changes had cut its facilities costs by 35%, helping it retain more employees than would otherwise have been possible during the latest industry downturn.
At peak Global E&C employed around 900 people onshore and offshore, including contractors.
The headcount is now considerably lower due to the crude price rout, which has led to a big drop-off in activity levels.
It is understood most of the positions which have been cut were contractor roles, while about 20 full-time staff members were made redundant.
When working life returns to normal after lockdown Global E&C will have roughly 100 full-time employees at Albyn Place, 150 at the Nord Centre and 25 at Mugiemoss.
Aiken under the umbrella
Global E&C has brought Aiken Group under its umbrella as part of a reorganisation aimed at emerging from the crude price slump in the right shape.
Aiken was bought out of administration last year in a pre-pack deal by Global Energy Group (GEG), the parent of Global E&C.
The move saved about 55 jobs at Aiken, a supplier of offshore accommodation modules.
The decision has now been made to link up Aiken with Global E&C and Magma Products, consolidating them into a "brownfield portfolio structure".
Derek Mitchell, Norman MacKay and Paul Rushton, as managing directors of Global E&C, Aiken and Magma respectively, will now report to Terry Allan, who has been promoted to the newly-created role of executive director for the combined portfolio.
Mr Allan, who was previously deputy managing director at Global E&C, said the changes showed the company was ready to adapt to market conditions in order to "remain relevant", and maintain its position in the engineering, procurement and construction market.
Global E&C was formed in March 2019 via a merger of GEG's integrity and construction wing with the brownfield engineering division of Granite City firm Apollo.
GEG – set up by Roy MacGregor, its Invergordon-born chairman and majority shareholder, in 2005 – had bought a majority stake in Apollo, whose consultancy business continues to operate on a standalone basis.
Global E&C went on to announce a number of large contract wins in the second half of 2019.
In September, it clinched a huge deal — understood to be worth a nine-figure sum — to provide services to Apache over the remaining production life of its North Sea fields.
A month later, Global E&C was chosen to carry out construction work on a number of UK North Sea platforms and vessels operated by EnQuest. Most of the fields served by those vessels have since stopped producing.