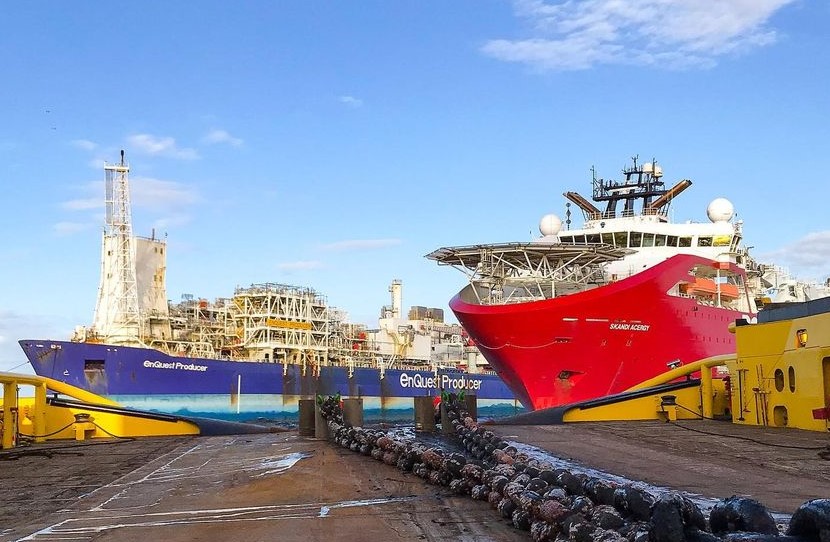 Work is underway to move the EnQuest Producer FPSO to the Cromarty Firth.
The vessel ceased production in July, with EnQuest stating at the time that a September sail-away date was targeted.
Images have now emerged online of the operation to move the vessel off the Alma-Galia fields in the North Sea.
It will be taken to the Nigg Oil Terminal at the Cromarty Firth.
A decision on whether to reuse or recycle the vessel is still be to finalised, according to EnQuest and information published on the Oil and Gas Authority website.
It is unclear how long the vessel will be stationed at Nigg in the interim.
In January, EnQuest handed in plans to decommission the Alma-Galia fields and move the FPSO off-site, less than five years after first oil, despite hopes it would be in production for up to 15 years.
"Electric submersible pump (ESP) failures" and more natural decline than expected were blamed by the operator for the decision.
The UK regulator green-lit the plans back in April.
Some companies are in the market for an FPSO in the North Sea, such as Hibiscus Petroleum for the Marigold/Sunflower project and Whalsay Energy for Bentley.
However there's competition on that front – both the Banff and Voyageur Spirit FPSOs are laid up at Kishorn Port on Scotland's West coast, awaiting redeployment.
Alma-Galia was the third redevelopment of what was originally the Argyll field, the first-producing field in the UK North Sea, with EnQuest's decision closing a 50-year chapter for the sector.
The destination of the EnQuest Producer FPSO, the 41-year-old Nigg Oil Terminal, is in early stages of decommissioning and Respol Sinopec last year handed the operatorship over to services firm Global Energy Group.
It lies around a mile from the namesake Highland village and provides deep-water services to the oil and gas, renewables and wider energy markets.
Recommended for you

EnQuest boss joins board of Decom North Sea