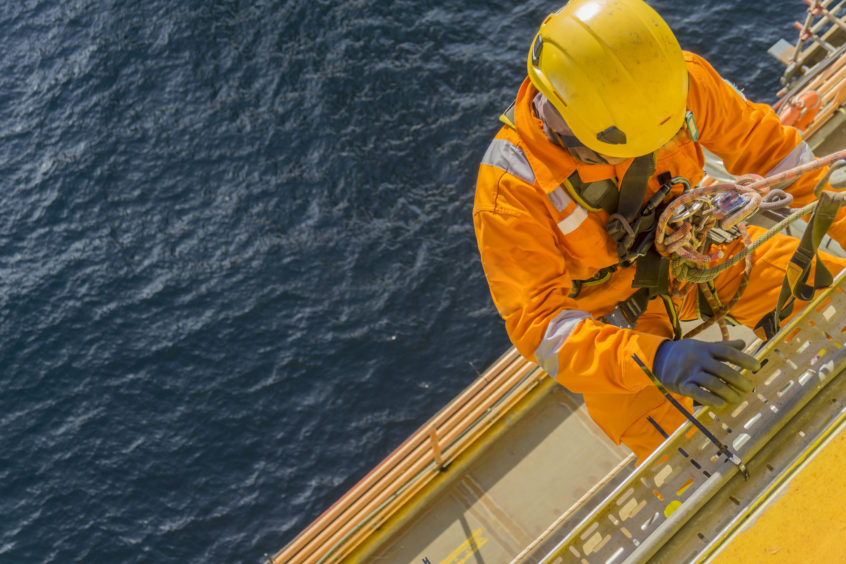 The Scottish Government should create a "skills guarantee" to help workers make the leap from oil and gas to low-carbon sectors, an independent group of experts has advised.
In its final report, the Just Transition Commission (JTC) said direct public funding should be provided so that retraining costs do not fall solely on those whose livelihoods will be dented by the shift to net zero.
The JTC said it was vital to promote all available support and careers guidance "on-the-ground" – and with the help of trade unions and industry – to make sure people don't miss out.
Employers could assist by highlight retraining schemes in advance of any redundancy rounds, while the service should also be made available to the self-employed.
The JTC was formed in 2018 to advise ministers on how they can make the most of economic and social opportunities arising from Scotland's move to net-zero by 2045.
It wants to ensure the transition away from fossil fuels does not leave swathes of workers and entire communities behind, citing the experiences of shipbuilders and coalminers as a warning from the past.
Skills passports to smooth transition
Drawing on the insights of 12 commissioners from industry, trade unions and academia, and extensive public engagement, the JTC has made 24 recommendations in its final report, including the skills guarantee.
The energy transition must be made "by the people of Scotland, not done to the people of Scotland", it stressed.
It recognised carbon-intensive sectors support large numbers of jobs, especially in north-east Scotland, which has been hit by thousands of redundancies in the last year, due to the pandemic and associated oil price volatility.
As the economy shifts to low-carbon, some workers will find it relatively easy to seize new opportunities.
But certain occupations are at risk of being left behind if targeted support for retraining isn't made readily available.
Report authors urged action which would make it easier for workers to prove that their skills are relevant in different parts of the energy industry, possibly through the creation of "skills passports".
Commission members heard that workers' paths to new opportunities were blocked by differing qualifications between offshore sectors, unless they were prepared to obtain new certificates at their own expense.
The JTC acknowledged that the Energy Skills Alliance was attempting address some of these issues.
This cross-industry group is compiling employment data to create a clear overview of skills overlap between sectors and hopes to pilot "all-energy apprenticeships" next year.
The JTC also pointed out that Scotland's expanding renewables industry had not led to a big increase in domestic manufacturing jobs.
It said Scotland had to become a "supplier of low carbon solutions and not just a buyer from other nations".
Other recommendations included the development of "just transition road maps" and making the deputy first minister responsible for a just transition.
JTC chairman Jim Skea said: "Climate action, fairness and opportunity can and must go together.
"This will help avoid the mistakes of previous industrial transitions, the negative effects of which continue to be felt.
"We have the building blocks already in place in Scotland to make this a reality and it is vital that the transition to net-zero is backed by a sense of collective national endeavour, especially in this year of COP26.
"Our recommendations aim to do just that and showcase Scotland's ambition to the world."
Reactions: We've made a start, but more to do
Climate Change Secretary Roseanna Cunningham said: "We have already begun embedding just transition principles across Scottish Government's work. Our current Programme for Government and the Climate Change Plan update put a just transition to net-zero at the heart of our action on jobs, skills, procurement, finance and investment and a green recovery from the pandemic.
"There is, of course, more to do. I am grateful to the Commission for the work they have undertaken over the past two years and the many stakeholders who have helped shape that work. This report will guide our approach, drive policy development and help open up constructive and productive dialogues both in Scotland and internationally. It will be invaluable as we plan and prepare our long term approach to a just transition to net-zero.
"We will now take time to consider the report in full with a comprehensive response to follow in late summer. As we work, the spotlight will be on Scotland ahead of COP26 being held in Glasgow. Just transition is a key theme for COP26, as announced by the First Minister, and we are looking forward to showcasing our actions to deliver a just transition and working with global partners to advance this essential issue."
Aberdeen South MP Stephen Flynn, SNP, said: "Jobs are paramount to a fair transition and earlier this month the Scottish Government committed £15 million towards staff retraining and recovery, on top of the £62 million transition fund announced last summer.
"There is scope to do something truly transformative here which is why the delivery of an energy sector deal is so important – the UK Government has long promised a sector specific deal for our region and it's high time they stepped up and delivered.
"The energy industry has given so much to the UK economy over the decades so they must get this absolutely right by putting jobs and sustainability at the heart of the deal."
Mel Evans, head of Greenpeace UK's oil campaign, said: "The commission rightly highlights that to be a success, social justice and fairness must be at the heart of Scotland's energy transition.
"For that to happen, that means creating new jobs, and offering government-funded opportunities for fossil fuel workers to retrain and get those jobs.
"And the government must create a regulated 'offshore passport' training regime, so workers can move seamlessly between offshore industries, without having to repeat existing qualifications over and over at their own cost.
"The commission sets out the need for clear roadmaps so that industry has the confidence to invest. But it stops short of calling for an end to new oil and gas licences, which is the first step to truly deliver on a smooth transition."
Recommended for you

Exc: North Sea drillers warn of rig exodus amid 'minimal opportunity'