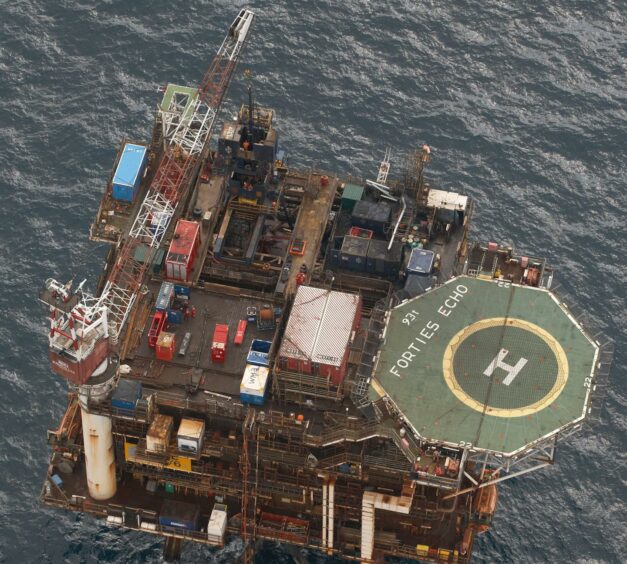 Operator Apache (NASDAQ: APA) has been reprimanded following an incident on one of its North Sea platforms that could have caused "death or serious injury".
The Health and Safety Executive (HSE) has served the company with a notice of improvement after a 90 kilogram section of ducting was dropped 3.5 metres onto the deck of the Forties Echo on August 7.
Having come away from the wall flange, the pipe fell into an area where "people could be present", striking the top of a phone booth, causing serious damage.
A production operator on board, who was carrying out "pigging operations" was alerted when they head a "loud noise" following the "uncontrolled" drop.
According to the HSE, there was a "high level of risk to persons on board at the time".
It also "had the potential to cause death or serious injury if it had come in contact with an operative".
A further section of ducting required "support" following the drop and rigging had to be installed to provide "additional securing" to the existing stretch.
Apache, a subsidiary of Houston-headquartered APA Corporation, has until January 31 2022 to comply with the notice.
The HSE said the situation arose because the company "failed to maintain Level 1 East fire pump engine air intake ducting in an efficient state, in efficient working order and in good repair".
The ducting was located externally on the Forties Echo, about 110 miles from Aberdeen, and "exposed to conditions likely to cause deterioration".
A spokesperson for Apache said: "We are actively conducting an investigation and will review the results when complete. The safety of our people is our top priority and inspections of air intake ducting across all our assets confirmed no further issues with the integrity of the ducting."
It follows a similar but more severe incident on Shell's Brent Charlie platform when a three-tonne object was dropped more than 50-feet.
It happened after lifting equipment failed on August 23 and had "significant potential to cause a major accident".
A union boss said it was "very, very lucky" that no one was hurt in the incident.
Apache was served with a separate improvement notice by the HSE earlier this month after an "uncontrolled hydrocarbon gas release" on the Forties Delta installation.