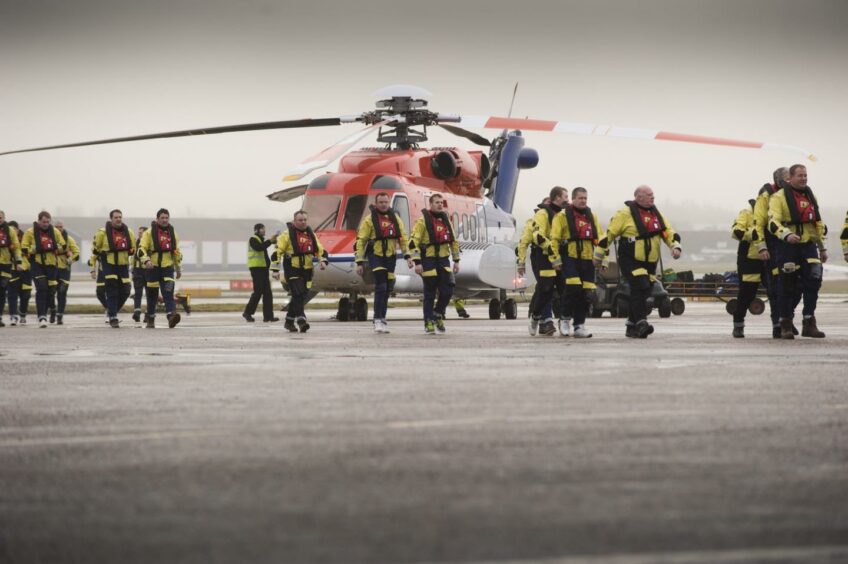 Union leaders say they have not seen a 'candidate shortage' for North Sea jobs, but that greater engagement with the workforce and better terms will help remove barriers.
A candidate shortage reported by some recruiters has not been seen in the union workforce, leaders have said.
As the oil price holds above $100 per barrel, some have pointed to a shortage of talent to meet the increasing levels of work being seen in the North Sea.
However, the claims were dismissed by offshore workers, many of whom said the problem lay with poor rates of pay, and a prevalence of zero-hour contracts with "no job security".
Union leaders too, concurred with some of these assessments.
John Boland of Unite told Energy Voice: "I am not aware of any major shortages in filling vacancies, although some trades like instrument and mechanical technicians have always been more difficult to fill."
According to trade body Offshore Energies UK (OEUK), some 35,000 direct and indirect jobs in the North Sea energy sector were lost due to the Covid price shock.
Mr Boland continued: "Numbers offshore are still below pre-Covid and many workers have left the industry, through redundancies or retiring, and these skills have been lost, and will be hard to replace."
Jake Molloy, regional organiser for RMT, was of a similar opinion.
"There is no question that rates and conditions are having an impact on the industry's ability to attract workers. There is no shortage of workers that have been redundant, or are facing imminent redundancy, so the people and the skills are there, it's the nature of engagement which is the deterrent," he said.
Mr Molloy pointed to several key assets already being wound down or due for decommissioning, suggesting more offshore jobs may be lost in the near term. And for those looking to remain or re-enter the workforce, terms were unlikely to prove attractive.
"The opportunities to remain in or get back into the industry are all too often through agencies or crewing agents. They are increasingly being offered as 'fixed term' and often the offer of work involves being contracted in the "IR35" engagement model," he explained.
While the impact of Covid has been clear however, GMB Scotland organiser Dom Pritchard said the North Sea jobs trends had been visible before the pandemic.
"The pandemic has impacted the industry, but it's also exposed a race-to-the-bottom that's been happening for years. That's reflected in the fact an increasing number of tradespeople can achieve a greater work-life balance through employment on onshore construction projects like Hinkley Point C, where pay and conditions represent greater value for workers than they would offshore," he said.
'Limited future'
Mr Boland said some recruitment issues may also be due to perceptions of the offshore industry, and in bringing new workforce members in.
"We would always want higher rates and better terms and conditions for our members, but a big barrier to workers moving into and remaining in oil and gas industry is the perception it has a limited future," he added.
"One problem is encouraging new people into the industry, and explaining that oil and gas will still be here for a number of years, and that there is a future in it and in renewables."
Another long-running issue for the unions and campaigners is the cost of certification, which is increasingly borne by workers themselves. Added Mr Molloy: "Companies doing the hiring invariably insist on candidates having all the necessary certification in place. This is forcing many workers to self-sponsor themselves in the 'hope' of securing work, an appalling failing for a sector so critical to society and the economy!"
Mr Molloy said this was also behind the drive to create an "offshore training passport", which would enable workers to more easily move between the oil and gas and renewables sectors.
The proposal appears to have support among the workforce. Writing on LinkedIn, one offshore construction manager commented: "It can be solved tomorrow by increasing the rates, and getting some proper cross-industry dialogue on 'mandatory' training – I can work west of Shetland in some of the worst weather and deepest water in Europe with a BOSIET, but can't work on a windfarm two miles off the coast of Norfolk doing exactly the same job."
Mr Boland agreed would go some way towards improving opportunities. "But this is only one barrier, and there are other barriers that need also to be removed, such as wages and terms and conditions," he added.
Energy Services Agreement
Both representatives pointed to the Energy Services Agreement (ESA), launched in March last year, as central to helping ensure fair and sustainable rates of pay for all offshore workers by setting minimum base rates and terms and conditions.
Mr Molloy noted this also prevents the market "overheating" – where rates of pay rise unsustainably, as was seen in the early 2010s.
Mr Boland said he believed the ESA model could also be used in the renewables sector, to remove another barrier, "and make the whole energy sector a more attractive employer."
For Mr Pritchard and the GMB, the issue is of wider energy strategy.
"The industry needs to drag itself into the future it still has, but that requires an industrial strategy so it can recruit and retain the skills needed to deliver the oil and gas we are going to need on the road to net zero and beyond," he said.
"The industrial and political complacency on energy policy over the last generation has been brought into sharp focus by recent events, and there is no question that we are going to need domestic oil and gas production, but frankly the industry needs to get itself fit for purpose."
Do you work in or with the energy sector? Or are you student studying towards a career in the industry? If so, take part in our short survey and have the chance to win £50 in a prize draw! Click here.
Recommended for you

The Energy Voice guide to North Sea strike action