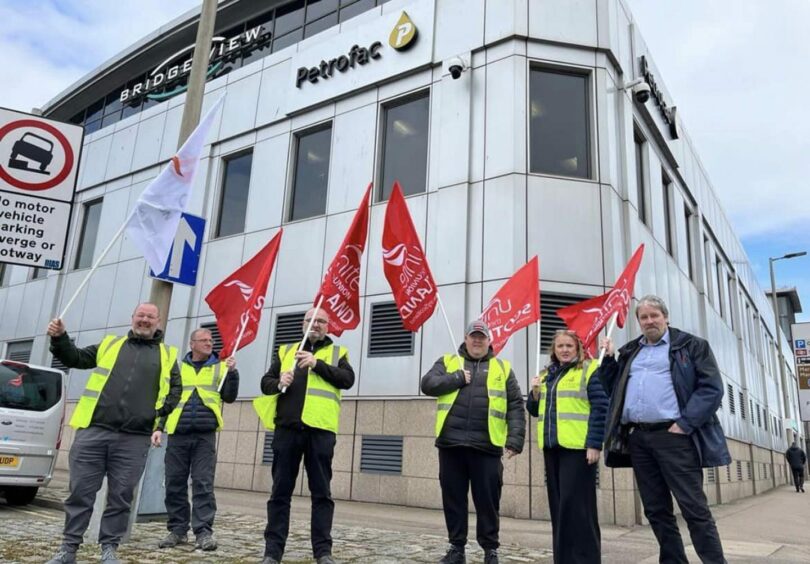 North Sea workers said they feel "disenchanted" with the industry as 48 hours of strikes continue today – and are looking ahead to downing tools again next month.
Unite the Union's John Boland told Energy Voice that members employed by Stork and Bilfinger will take further strike action on the 10 and 11 of May while Petrofac members will down tools on the 10 and 12 of next month.
Stork said: "We can confirm that we have received another Industrial Action Notice from Unite.
"We remain committed to an ongoing dialogue with our employees, clients and the unions, to bring the grievances to resolution.
"Personnel and operational safety remain our top priority."
Bilfinger added: "As a signatory of the Energy Services Agreement, we are engaging with the unions and will continue to work to find a positive resolution.
"Operational safety remains our top priority and we have procedures in place to minimise any potential disruption."
The Unite representative said that more contractors may join the industrial action in May, however, he did not provide details on what firms the workers are employed by.
An "army" of 1,300 workers are taking strike action, starting yesterday and end at midnight tonight.
The large number of staff taking industrial action has caused some North Sea platforms to cease production, Mr Boland said.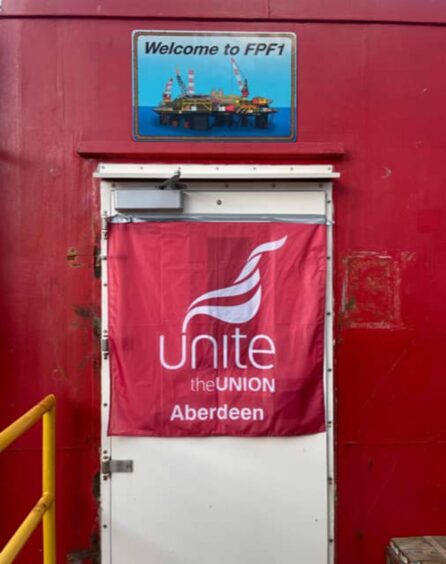 The striking oil workers seek an increase in wages and an improvement in their working conditions.
They point to the record-breaking profits reported in the energy sector as the reason why now is the time to make demands.
A Unite member and Sparrows worker, Andy, told an Energy Voice: "I've been offshore for 10 years and I was getting paid more then." The striking worker added, "The way we're being treated is going downhill, since 2015 we've been told 'you're lucky to have a job."
A Stork member of staff who works on the Buzzard platform said: "We're striking because of the cost of living crisis."
'Movie star wages'
Unite regional officer, Vic Fraser explained that despite the commonly held belief that offshore oil and gas workers get paid "movie star wages", conditions and rate of pay have "eroded" in recent years.
Mr Fraser said: "Over the last decade terms and conditions have stagnated and eroded and they have had enough.
"Our members are looking for an increase in their basic rate of pay, an improved rota and a return to some of the terms and conditions that they have lost over the last 10 years."
Andy added: "Everyone thinks we are on rockstar wages, and you can earn more onshore. It's not just sparrows, it's everybody."
'I hope oil and gas operators see sense'
Mr Fraser hopes "the oil and gas operators see sense and open up their purse strings to allow the employers to meet our demands."
Shauna Wright, regional officer for Unite the Union joined other Unite representatives and striking workers outside the offices of Stork, Bilfinger and Sparrows.
Ms Wright said: "The goal here is to highlight the plight that this is now an 11-month-old industrial question and we're looking for a permanent increase.
"We've asked Bilfinger to come back around the table, three of their clients (TAQA CNR and Ithaca) came across with an offer three weeks ago, it was put to our members, and it was strongly rejected by all three of those groups.
"Six and seven per cent is not going to cut it, we're saying that our members deserve more."
Affecting production
Unite has previously described the 48 hours of industrial action as a tsunami of industrial unrest in the North Sea. The union believes this tidal wave has impacted the UK's energy sector.
On the impact of the striking oil workers, Mr Boland said: "We know for a fact that there are some platforms that have been shut down and production has stopped. We know that the strike action our members have taken will hold accumulative effects on the safety and maintenance scopes.
"No one employs these people to sit in the tea shack, they employ them because they do specialist jobs, and they are required."
Ms Wright added: "We do believe that it will affect production, there is a comment from one of the contractors saying that this will not show the North Sea in a good light and it won't be good for investment and we say back to them, you have nothing in the North Sea if you don't have the workers."
Trade body Offshore Energies UK (OEUK) said the focus is on ensuring continuity of production, despite the reduced staffing offshore.
Speaking ahead of Monday's strikes Irene Bruce, Energy Services Agreement (ESA) manager at OEUK,  encouraged  "all parties to work together to find constructive ways to address workforce concerns".
She added: "Workers in all sectors across the UK are feeling the impact of the cost-of-living crisis, however, industrial action does not offer a solution, nor is it helpful for our sector, which is doing all it can to attract the investment essential to protect jobs and meet the UK's energy needs.
"While some offshore staffing levels will be reduced, companies are focused on maintaining safe operations for our people and on ensuring continuity of production to maintain energy security for the UK."
A Petrofac spokesperson said: "As a service provider committed to long-term commercial frameworks Petrofac has limited control over changes to contractual arrangements.
"Whilst strike action affects less than 50 of our North Sea colleagues, we remain committed to resolving this dispute through constructive dialogue, whilst ensuring no increased risk to personnel or the environment during industrial action."
Recommended for you

Leading North Sea safety advocate embarks on new consulting journey