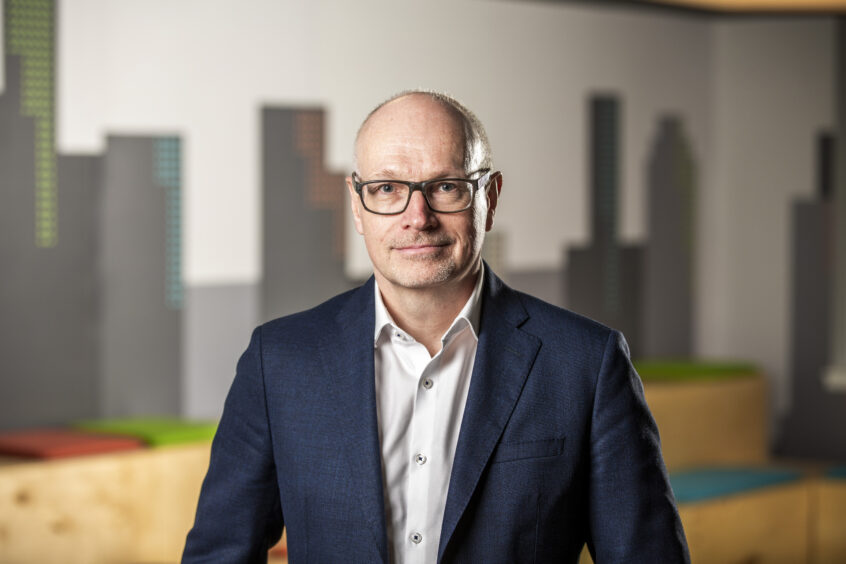 A growing pipeline of work in new energies will help Petrofac shrug off last year's losses but more supply chain collaboration is vital.
Last week the London-listed services giant (LON:PFC) said it had been "severely impacted" by challenges in its engineering and construction (E&C) division, leading to losses of over $300m for the year.
Revenues too dipped to just under $2.6bn, compared to over $3bn the year before.
Petrofac chief operating officer for new energy services John Pearson confirmed the filings had showed "a disappointing set of results" but maintained the challenges related only to "legacy contracts" that were now addressed.
"Underneath that I think there's lots of positives. The market is very positive as far forward as I can see. Our asset solutions business, which employs the vast majority folk in the UK, had a really, really good year."
Indeed, Mr Pearson's new energies arm – which tackles everything from offshore wind to biofuels – appears to be going from strength to strength, with work now comprising some 25% of Petrofac's global pipeline.
In particular, a headline-grabbing £11bn award to help build offshore substations for European transmission system operator TenneT – the largest deal of its kind in Petrofac's history – shows there are plenty of opportunities for growth.
UK at 'core' of business
Despite legacy challenges, Mr Pearson said the company was performing well in the North Sea.
The UK remains Petrofac's largest market by some margin, responsible for some 26% of group revenue last year (the next largest being Algeria at 15%).
Here he says the group is focusing on what it does best; its asset solutions business has around 40% of the North Sea market, making for "a really strong base and a fantastic place to do things right and properly."
"We're focusing on maintaining that core in the UK and then taking those skills and following our customers around the world to deploy them wherever they are."
Increasingly, this is geared towards late-life management of assets, helping guide them either towards decommissioning or potential re-use.
"We're finding lots of operators are looking at repurposing facilities. They're looking for a contractor – and there aren't that many like Petrofac – who've got proven duty ownership capabilities, who know about wells management, who know about pipelines, and who can also do the kind of capital projects bit and brownfields, around how you repurpose those assets.
"We're very positive about how that business will pan out and we're already seeing contract awards in that area in different geographies, which is really good."
'Design one, build many'
The advent of new energies work is also bringing about new contracting frameworks.
The TenneT award – delivered in partnership between Petrofac and Hitachi Energy – covers six projects, each comprising the EPCI of an offshore HVDC transmission station, onshore converter station and associated infrastructure.
Every scope will be executed under a standalone contract valued at over £1.75bn, with work split between Petrofac and Hitachi Energy according to capability.
"For us as a company it allows us to retain and build on all of the key skills that we've been building up over the last decade in offshore wind," he adds.
He is enthused by the structure of the award as a "design one, build many" framework, whereby topsides production will be largely serialised, with minor modifications made according to each platform and managed largely in parallel.
"It's an idea that's been around the industry for 20-30 years, but people tend to talk about it and not do it. It's just such a sensible way to do these things," he explains.
"We can design one set of engineering drawings simplistically, make very small modifications from job one to two, to three, to four, but effectively start manufacturing an outcome and that way we can do it quicker, we can do it cheaper, we can do it with less mistakes.
"We can also be clearer to our fabrication partners and the whole thing just becomes slicker."
This approach from the network operator and its partner is far-sighted in highlighting long-term capacity to enable supply chain investment and offering a broader share of risk, making for something "much less lump sum that would be typical" Mr Pearson says.
Work has already begun on the first unit, he says with "well over 100 people" working on it , and now at the early stages of procurement, formal awards for which he says should begin to drop towards the tail end of the year.
With six stations locked in, he is also hopeful that successful delivery will pave the way for further TenneT awards in future.
INTOG opportunity
Mr Pearson is equally optimistic about the group's involvement in offshore decarbonisation efforts, including future rounds of Crown Estate Scotland's Innovation and Targeted Oil & Gas (INTOG) leasing process.
"In a very crude way, you could say the more it looks like an offshore platform, the more it ought to have read-across from oil and gas contractors," he adds. "Regardless of the new part of the TOG, there will still be lots of brownfield modifications required to repurpose the existing facilities to take the electrical tie-ins and decide what we're doing with the current generation facilities."
As well as being good for the company, he is confident schemes like these will also provide huge opportunity for the UK as a whole.
Yet doing so will need some strategy around "capacity, competence and competitiveness," he adds, because "floating things float – and you can float them from anywhere."
"We're going to have to be thoughtful about where the pinch points are in that supply chain," he adds, pointing to his work with Offshore Energies UK (OEUK) around delivering elements of the North Sea Transition Deal and a wider supply chain strategy for the sector.
Crucially, doing so will also involve more of the kind of collaborative and risk-sharing contracts envisioned by the TenneT framework.
"This is about recognising that – in a climbing analogy – we're both tied to the ends of a rope and we're climbing together," he explains.
"If either of us falls off, it could be very bad – or it could be at least a time-consuming inconvenience while you sort it all out."
"If [the UK] we can get out in front of that now as an industry and position ourself – whether it's for floating wind foundations or substations or topsides, or even standard UK onshore blue collar – then it's a superb opportunity for the UK.
"So let's grab this market early."
Recommended for you

Big Oil shows support for energy transition but on its own terms