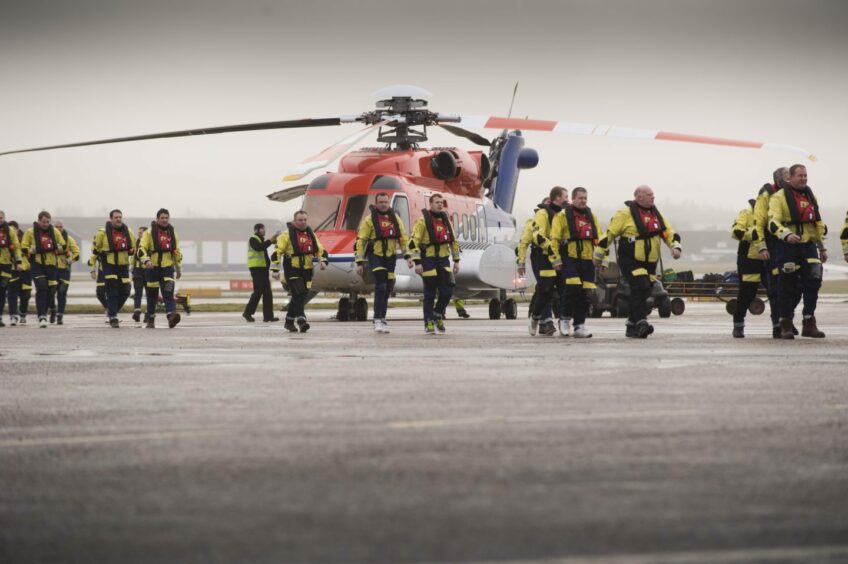 Offshore leaders are working to address health and safety risks as North Sea workers' weight continues to grow.
The industry is assessing implications ranging from lifeboat capacity and medical stretchers to diet and exercise plans.
Research from Robert Gordon University published in 2015 found offshore workers were an average 19% heavier than they were in 1985 – with significant growth in neck, chest, hip, waist and wrist sizes.
The average weight of offshore workers has also increased from 75kg in 1975 to 99kg in 2023, according to data from TAC Healthcare.
Offshore equipment upgrades
Chief medical officer at TAC Healthcare Dr Stuart Scott said his medical teams have had to upgrade equipment and training methods to account for heavier workers.
"If someone has an incident out on site, carrying someone on a stretcher who weighs 90 kilos is very different from carrying someone on a stretcher who is 130kg," Dr Scott said.
"The medical equipment is having to be upgraded for things such as patient couches.
"We are looking at changing those out for bariatric coaches to accommodate some of the individuals offshore."
Medical evacuation teams are also increasing the weight of dummies used for training scenarios to more accurately reflect potential emergency scenarios.
The increasing size of offshore workers was primarily caused by changes in diet and was particularly prevalent in men over 55, Dr Scott said.
"People, as they get more mature are increasing in size quite significantly," he said.
"Back in 2015, 26% of the people we saw had an ideal BMI… whereas for this year to date it's under 18% and those with a BMI that you would be concerned about have gone from 25% up to 33%."
Industry meets for offshore weight review
Offshore Energies UK (OEUK) held a workshop meeting earlier this week to reassess the implications for the industry of heavier workers.
Concerns relating to lifeboat capacity and helicopter extra broad rules have previously been identified and OEUK HSE director Mark Wilson recently told Energy Voice a review into the issue was "overdue".
At the workshop meeting earlier this week, duty holders were asked to review their health and safety arrangements, particularly in relation to weighting and design standards for lifesaving equipment.
OEUK health and safety manager Graham Skinner told Energy Voice "The health and safety of our people is a top priority, and through close working with our stakeholders and partners, we have already confirmed some initial actions and continue to discuss next steps with regulators, industry and the workforce."
Further changes to lifeboat and helicopter safety policies are not expected in the immediate term, he said.
The most recent HSE guidance on "big persons in lifeboats" was published in 2008 and assumes average weights for adult males at 98kg and adult females at 77kg.
Earlier this year, management on the Taqa North Cormorant were at one stage "not confident" its lifeboats could fit the stated number of passengers.
Health and wellbeing
Mr Skinner said OEUK hoped to use the recent meeting as a "catalyst" to reinvigorate some of the work being done on health and wellbeing across the sector.
The industry is not just contending with workers who are overweight or obese, Mr Skinner said, but also many who have increased body mass due to muscle gain.
Some offshore operators have even counted strongman competitors as part of their crews.
However, a need for lifestyle changes surrounding diet and exercise remains.
Industry operators have responded by working to change the meal options provided to staff offshore, including limiting serving chips to once per week.
Daily exercise classes and health assessments are also focusing on addressing weight gain.
Encouraging exercise could also lead to improvements in mental health, an issue many in the sector are trying to address.
Weight gain can lead to frustration, anxiety and body image issues, Dr Scott said.
He added the lack of ability to exercise in itself can also cause people to become depressed.
"There is incredibly good evidence that regular exercise is one of the best things you can do to boost your mental health status," Dr Scott said.
Increased weight leads to health risks
Dr Scott said if weight gains are not reversed, it can put workers at increased risk of cardiovascular disease and type II diabetes.
"So not only are you at risk of diabetes, but you are at risk of cardiovascular disease and particularly ischemic heart disease and hypertension, two of the biggest causes of death," he said.
Larger workers are also placed at increased risk of musculoskeletal issues.
"30% of our workload in our clinic, (involving) people with long term absences – people who are looking to get back to work – are directly related to musculoskeletal conditions and those are getting worse as people get more mature and as they get more mature, the evidence we've unfortunately got is that they are getting significantly bigger."
Dr Scott said while he had not seen injuries and accidents offshore increase in recent years, he had seen a growing number of people unable or unfit to return to work.
"Particularly in jobs like scaffolding, pipe fitting those jobs that involve manual handling because we're seeing increased wear and tear purely through the increase in size and it just puts a greater strain on them particularly," he said.
Strenuous offshore work
Offshore workers also lack the rest time of those in other physically demanding industries due to shift patterns.
"If you look at the offshore industry, you're going off to do two weeks of 12 hour shifts or three weeks of 12 hour shifts, so there's not a lot of respite," Dr Scott said.
"It's not the same as working in a sort of manual job, from nine to five Monday to Friday, you're doing 12 hours for up to 21 days constantly often in environments where you're exposed to the elements and also in environments where there are large numbers of stairs.
"So keeping fit and keeping your weight under control is very important."
Despite the challenges, Dr Scott said he was optimistic the offshore industry could address health concerns related to obesity and prevent younger workers from progressing into obesity as they age.
But he pointed out there are limits to how much the offshore industry can directly change worker lifestyles.
"People are only offshore for part of their lives," he said.
"The rest of the time they're at home and they have the same pressures as everyone else in society".
Recommended for you

Leading North Sea safety advocate embarks on new consulting journey