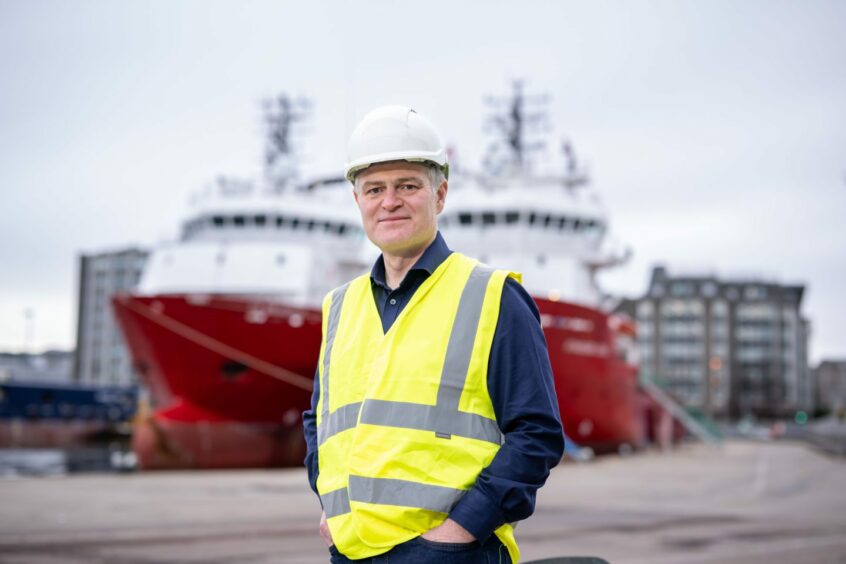 "We need more projects like Rosebank," says Offshore Energies UK, following news the project received has received the green light from the regulator.
The trade body's chief executive David Whitehouse said the decision is "good news for our jobs, our economy, and our secure energy future."
"By promoting homegrown production, we avoid costlier, higher carbon imports while making more reliable supplies of energy in the UK, for the UK." he added.
"We need more projects like Rosebank if we are serious about delivering a homegrown UK energy future."
The UK's largest untapped oilfield got the go-ahead from the UK regulator, North Sea Transition Authority, bringing to an end project partners Equinor and Ithaca Energy's waiting period.
Following the news, Ithaca announced a string of major contracts had been awarded relating to the project.
The award could not come soon enough for Mr Whitehouse.
"We have around 283 fields in the North Sea, but over 180 of those will stop producing within the next decade.
"If these are not replaced, we will import 80% of the oil and gas the UK we will need at a higher cost to the consumer, our economy, and ultimately the climate.
"Imported energy cost the UK £117bn last year. That's a lot of money spent supporting the economies of other producing countries.
"Surely, with our industry committed to eliminating emissions, it makes sense to prioritise our own domestic production and jobs.
"This is a boost to UK offshore energy supply chain companies. The bulk of companies investing in opportunities like floating offshore wind, hydrogen, carbon capture and storage and decarbonising our economy require the cashflow from a stable and predictable oil and gas business to fund these opportunities."
The OEUK boss described the news as a "step in the right direction, but more needs to be done to secure the private investment that underpins the jobs for our homegrown energy future."
'Vast economic benefits' to come from Rosebank
While offsetting the decline of UK oil and gas production, Rosebank is set to bring "vast economic benefits," says Aberdeen and Grampian Chamber of Commerce (AGCC).
Russell Borthwick, chief executive of AGCC, said: "Rosebank will make an important contribution to UK and European energy security, create several hundred new jobs here in Scotland and result in over £6 billion being spent within the UK supply chain which is anchored in Aberdeen and Aberdeenshire.
"Crucially, while its approval will generate vast economic benefits, it will not increase the UK's projected emissions.
"Today's announcement is a welcome shot in arm for the UK energy sector which will give investors, operators and the wider supply chain confidence as they strive to provide the power we need here and now and transition towards a net zero future."
Chairman of ETZ Ltd Sir Ian Wood described the approval of Rosebank as a "hugely welcome development".
"It will make a significant contribution toward achieving greater economic and energy security for Scotland and the UK," he said.
"By undertaking homegrown production, we avoid costlier, higher carbon imports whilst simultaneously sustaining thousands of  jobs and providing much needed certainty for our entire energy sector.
"Indeed, it is the critical mass of skills, supply chain companies and financial capital of our world-class oil and gas sector that will underpin our ability to accelerate the transition to Net Zero and help us reposition the North East of Scotland as globally recognised renewables energy cluster."
'The regulator's decision is a big step'
Politicians too spoke out on the project.
Andrew Bowie, west Aberdeenshire and Kincardine MP, said: "The regulator's decision is a big step towards helping secure the UK's domestic energy supply. It makes perfect sense for consumers facing high energy bills, the economy and our own journey towards net zero.
"The UK still relies heavily on imports of oil and gas rather than domestic production, resulting in higher emissions, less regulatory oversight, and the issue of where that supply comes from."
Mr Bowie shared OEUK's view on the need for new oil as production in the UK declines.
The conservative MP explained: "Regardless of Rosebank, production is still declining quickly and the industry is moving towards renewable sources as fast as they can come online – hydrogen, wind, nuclear and carbon capture among them.
"So long as that domestic demand persists, we need to strike the right balance between fossil fuels and renewable energy sources."
Retaining the talent created by the oil and gas sector as the UK looks to transition to renewable energy has been a talking point in the industry and Mr Bowi gave his two cents.
He said: "Throwing North Sea production and all those jobs off a cliff edge is not the answer.
"Managing demand responsibly with domestic production, while moving towards net zero, is the way we keep imports down while forging a new future for the North East as Europe's energy capital."
Conservative MP for Banff and Buchan, David Duguid, described the approval as "fantastic news."
Rosebank approval is 'morally obscene'
Despite the optimism shown by Mr Bowie and OEUK, not everyone has shared support for Rosebank.
The project has garnered attention from climate activist groups in the build up to its approval.
Tessa Khan, executive director of Uplift said: The UK government's decision to approve the Rosebank oil field and a slap in the face for the UK public & everyone who has watched floods and fires sweep the globe in despair."
She added: "There is no public benefit in this decision, just short-term political point-scoring by a clearly desperate government."
Caroline Lucas MP, the former leader of the Green Party also described the NSTA's approval of Rosebank as "morally obscene."
She said: "Giving the green light to this huge new oil field is morally obscene. This Government must be held accountable for its complicity in this climate crime.
"Energy security and cheaper bills aren't delivered by allowing highly-subsidised, foreign-owned fossil fuel giants to extract more oil and gas from these islands and sell it overseas to the highest bidder."
Simon Francis, coordinator of the End Fuel Poverty Coalition, said that the controversial oilfield wouild not help people in fuel poverty.
Mr Francis said: "Hidden in the small print of the deal is that this project can only go ahead thanks to a massive tax break the Government is giving to international oil and gas giant Equinor.
"Households struggling with their energy bills will be shocked that the new Energy Secretary has chosen to hand a multi-billion pound tax break to this Norwegian firm, rather than help people in the UK suffering in fuel poverty."
Climate activism group Friends of the Earth has described the Rosebank green light as a "disgraceful decision."
Friends of the Earth Scotland's oil and gas campaigner Freya Aitchison said the news "shows the extent of the UK Government's climate denial."
Freya Aitchison added: "Fossil fuels are driving both climate breakdown and the cost of living crisis yet the UK Government is slamming its foot down on the accelerator."
"The fight against Rosebank will continue. Fossil fuel projects rely not only on government support, but also on financing and broader public acceptance."
Recommended for you

UK government plans new oil and gas 'price shock' tax mechanism post-EPL