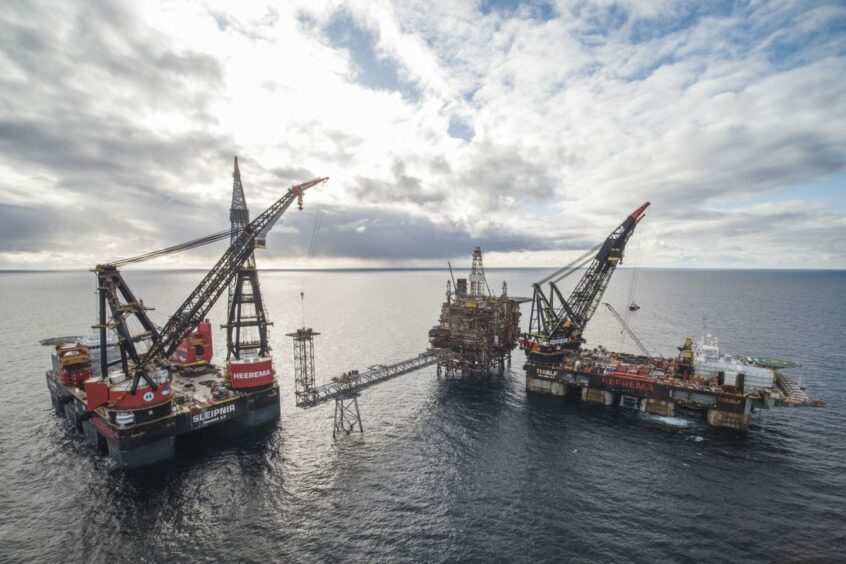 TAQA and Spirit Energy are taking fellow North Sea firm Viaro Energy to court to recover costs linked to decommissioning the Brae oilfield.
Viaro Energy sold its share of the field in 2020 to Fujairah Oil and Gas, a company owned by the namesake Emirate in the UAE, for just 75 pence.
Fujairah went on to default on its share of the huge cost of dismantling the oilfield – with those multimillion-pound costs falling to the Brae partners.
TAQA and Brae partner Spirit are now seeking to recover costs from Viaro "and others" over the issue – but Viaro said that NEO Energy, another Brae partner, is not participating.
It comes after the UK decommissioning boss at TAQA said last month that the matter with Fujairah "has been resolved" and a "line has been drawn under it".
Costs
In newly-published documents to Companies House, Viaro Energy said it is taking legal advice and deems it "ulikely" that TAQA and Spirit will succeed.
Brae is operated by TAQA, who said in accounts in September that the default had seen its own costs increase by more than $350m.
Some of these monies will be recovered through UK Government decommissioning relief deeds, TAQA added.
Spirit Energy, meanwhile, said in 2020 that its share of costs were expected to increase by around £50m.
The lawsuit was launched in July, according to Viaro, with TAQA and Spirit seeking "declaratory relief and / or an order for payment of such sums that the court sees fit in connection with a distribution of approximately US $85 million declared by Rockrose UKCS 8 LLC (holder of Viaro group's interests in the Brae field) prior to its sale by RockRose Energy Limited to Fujairah International Oil and Gas Corporation in December 2020".
Viaro then added: "The claims are denied in their entirety. VEL has appointed external counsel to rigorously defend the claim.
"VEL management, having taken external legal advice, consider the chance of a successful claim unlikely."
Therefore, Viaro said it has set aside no provision in its accounts for "economic outflows".
A spokesperson for TAQA said: "As a matter of company policy we are unable to comment on legal proceedings."
The Brae deal between Viaro and Fujairah was completed through transfer of a subsidiary company – RockRose UKCS 8 LLC – which held Viaro's interest in Brae, and later renamed Fujairah.
The UK branch of Fujairah Oil and Gas has now been wound up, according to Companies House – and is no longer a partner on Brae.
London-headquartered Viaro Energy is part of commodities trader Viaro Group, owned by businessman Francesco Mazzagatti.
Last year the firm also bought the Dutch portfolio of Hague and London Oil (HALO) for an undisclosed sum.
Brae
After the news on Fujairah was broken by Energy Voice last year, the North Sea Transition Authority (NSTA) sent letters to operators warning about concerns over so-called "changes of control" transactions, completed through share sales.
Head of regulation Tom Wheeler said some such deals may "put at risk" firms' abilities to carry out their cost and operating commitments, and used the note to set out that the regulator can also require the licence be revoked, or for the offending firm's stakes to be transferred elsewhere, once a deal completes.
Despite the legal issues, work has been carried out on decommissioning parts of the Brae field over the last two years.
Milestones have recently been reached this year on removal of the Brae Bravo upper jacket and drilling rig on Brae Alpha.
Recommended for you

'Basically impossible' for UK to get a heavy lift business