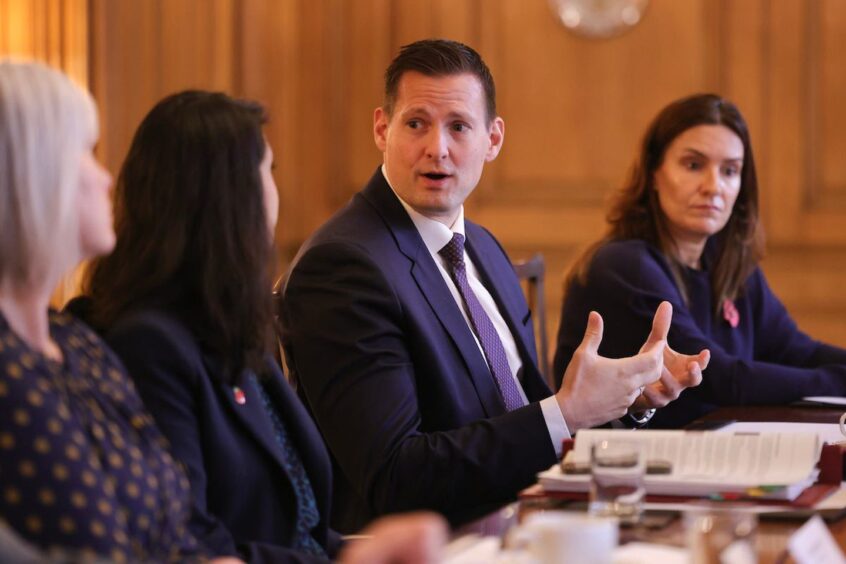 The chief of Equinor's UK operations has warned investment in the North Sea is at "an all-time low" in meetings with the Scottish and UK governments.
Equinor senior vice president for UK and Ireland Arne Gürtner met with both Scottish First Minister Humza Yousaf and UK energy secretary Claire Coutinho this week to discuss the Norwegian state-owned firm's operations in the country.
Mr Gürtner said simply issuing more North Sea exploration licences was not enough to support the UK oil and gas sector.
"In both meetings I was candid on the fact that the [UK continental shelf] is on a sharp decline and investments into the basin on an all-time low, while, although certainly welcomed, exploration licensing alone will not change that picture," Mr Gürtner wrote on social media.
"Hence, I also asked for focus on political and fiscal stability to ensure domestic energy production and security."
Mr Gürtner said in the "frank and open discussions" he emphasised the UK and Equinor risked losing a high quality supply chain and workforce without support.
"Climate leadership is not turning off the UK oil and gas industry, while still using the 75% oil and gas products in our everyday lives," he said.
"Climate leadership is to use the competence and skills of the oil and gas sector to reduce emission from production, to transition into [carbon capture and storage]/hydrogen and offshore wind – that is where the UK is a grand example."
First Minister meets with Equinor UK boss
During the "productive meeting" with Mr Yousaf, the pair discussed the progress made towards the energy transition and the "role that oil and gas is going to continue to play" in the future energy mix, Mr Gürtner said.
"We discussed at length our various projects across Scotland, including Rosebank and the benefits it will bring to the country in terms of jobs and investment," he said.
"We also spoke about our future plans including the electrification of Rosebank, growing our offshore wind projects and developing carbon capture and storage.
Mr Gürtner said the meeting great opportunity to discuss Scotland's energy future and how the country can "ensure it continues to be a climate leader".
Mr Yousaf has previously criticised Equinor's Rosebank plans, saying he was "not convinced" the development of the controversial oil field was necessary.
"My starting position on Rosebank is I'm not convinced it should go ahead and I've said as much publicly, for a number of reasons," Mr Yousaf said in an interview with the Daily Record.
"First and foremost, for example, the majority of Rosebank is oil as opposed to gas – that oil, of course, then gets exported.
"Any suggestion that helps us in terms of our domestic energy security, I think, doesn't quite stack up."
Equinor holds Downing Street meeting
Following his meeting with the First Minister in Edinburgh, Mr Gürtner travelled to London where he met UK energy secretary Claire Coutinho at Downing Street.
The pair discussed the benefits of continuing to produce oil and gas from the UK Continental Shelf in terms of jobs, investment, energy security and production emissions.
In contrast to Mr Yousaf, the Secretary of State for Energy Security has been an ardent supporter of continued oil and gas exploration in the North Sea.
Following the approval of Rosebank, Ms Coutinho said the "jobs and billions of pounds this is worth to our economy will enable us to have greater energy independence".
Earlier this week, the UK government also announced plans to enact legislation mandating awarding new North Sea oil and gas licences annually.
"As energy markets become more unstable it's just common sense to make the most of our own homegrown advantages and use the oil, gas, wind and hydrogen on our doorstep in the North Sea," Ms Coutinho said following the announcement.
"Rather than importing dirtier fuels from abroad, we want to give industry the certainty to invest in jobs here and unlock billions of pounds for our own transition to clean energy."
Recommended for you

Exclusive: Over a third of North Sea workers too heavy for lifeboats