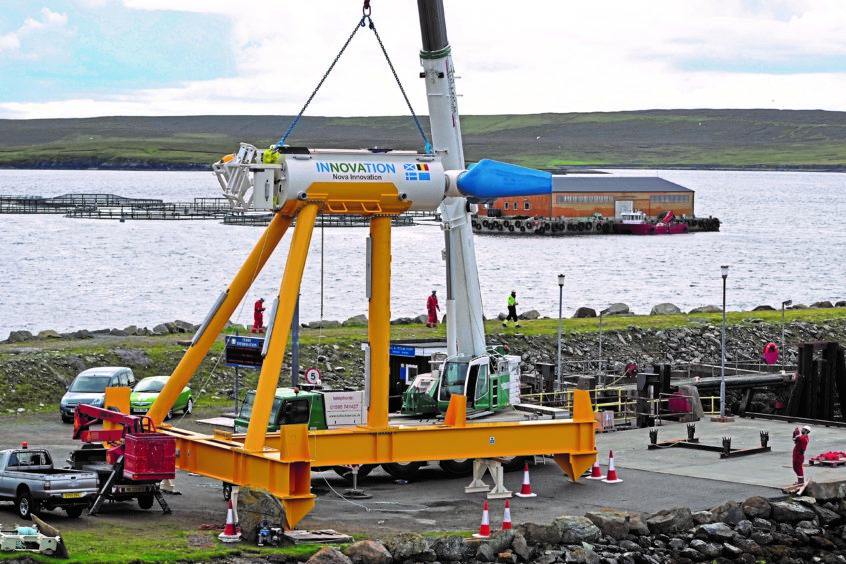 Well I think 2019 has been a terrible year.
Oil and gas has done OK-ish with a few new finds and some very interesting developments coming through from Hurricane Energy and Equinor, but efforts to push forward the transition to clean energy have been pretty darn pathetic.
Scotland's lack of progress in the development of low-carbon technologies is something I find seriously worrying from an economic standpoint, in terms of the number of jobs we're not creating and the exports we're simply not making.
Why aren't things happening? The reason for this is quite simply that the public and private sectors are not investing anything like enough in R&D for new technologies, especially where energy is concerned.
The International Monetary Fund's World Economic Outlook believes that as a percentage of GDP the UK comes bottom of the league of leading EU countries in terms of total investment at a mere 17.5%.
Here are a few scary numbers. In 2018, Scotland's GDP was £180 billion, including our share of oil and gas, and £163bn without.
Denmark's was £270bn (with much less oil/gas), Norway's was £334bn and Ireland's was £249bn.
Let's not forget that Brexit will cause that £163bn to shrink possibly by 6% or more, putting us even further behind our neighbours.
As a result, investment in net-zero technologies here remains, at best, muted and at worst pretty much non-existent in sectors where you'd think we should be very active.
I find it very telling that ITM Power, the Sheffield-based manufacturer of hydrogen electrolyser and refuelling stations, recently sold 20% of itself to the German industrial gas giant Linde.
Linde has invested £38m in ITM, which represents almost 75% of ITM's recent funding round.
I suspect that this will lead to an eventual full takeover and if Brexit goes as badly as the grown-ups believe, ITM will be off to Germany in a flash, especially given the German government actually has a real hydrogen economy strategy which includes extensive manufacturing. Who would blame ITM if they did?
Scotland also recently lost bus-maker Alexander Dennis to a Canadian group.
Ironically, this happened just as it was winding up to build a hydrogen fuel cell bus which would have competed with the Belgian buses Aberdeen City Council thought it was clever to showcase for the Belgians over the past few years.
When Nova Innovation, the Edinburgh tidal turbine manufacturing company, decided to raise some cash to support its development it opted for a "crowdfunder".
It was fully subscribed, I'm glad to say, but where was our glorious financial sector, I wonder? Probably chatting to Scottish Enterprise about "FinTech", which is the topic that seems to most occupy their minds nowadays.
I'm afraid then that when luminaries like Sir Ian Wood say north-east Scotland can be a world leader in this exciting new sector, including offshore wind, hydrogen production and storage, carbon capture usage and storage and oil and gas, I just give one big sigh because I know it simply isn't going to happen.
We are already so far behind the curve in all these areas and more that it's impossible to see how we're going to catch up, let alone come close to being a world leader.
And, of course, with Brexit about to bite us on the butt it will become even more difficult.
Norway designing a hydrogen powered offshore construction vessel and selling electrolysers globally; 51 carbon capture and storage (CCS) facilities globally – 19 in operation, four under construction and 28 in various stages of development – none here; the "world's largest" pilot plant for CO2-neutral production of hydrogen has commenced operations in Linz, Austria; and the German company Covestro is already producing plastic products manufactured from carbon dioxide including polymers.
That's the short list, by the way.
However, Dundee is getting the Michelin Scotland Innovation Parc to focus on sustainable mobility, clean transport and low carbon energy.
Importantly, serious discussions are going on regarding the potential of producing hydrogen on site, utilising energy produced by the neighbouring waste-to-energy plant.
I also understand they are looking at the development of fuel cells and retrofitting hydrogen technology into public transportation in collaboration with some global companies.
As it happens that Michelin owns Symbio, which builds fuel cell stacks for automotive applications. Great little company. I see massive potential there for a Scottish fuel cell drive train industry.
Oh, and Fife may have a plan to inject hydrogen into its gas network presumably using imported hardware. No industrial benefit though.
I don't know whether to laugh or cry, but I do know that to even get close to Sir Ian's aspirations we need major changes in how the economy of this country is run. Cue the Scottish independence argument.
Merry Christmas.
Dick Winchester is a member of the Scottish Government's energy advisory board.
Recommended for you

Norway: Bad for my blood pressure!