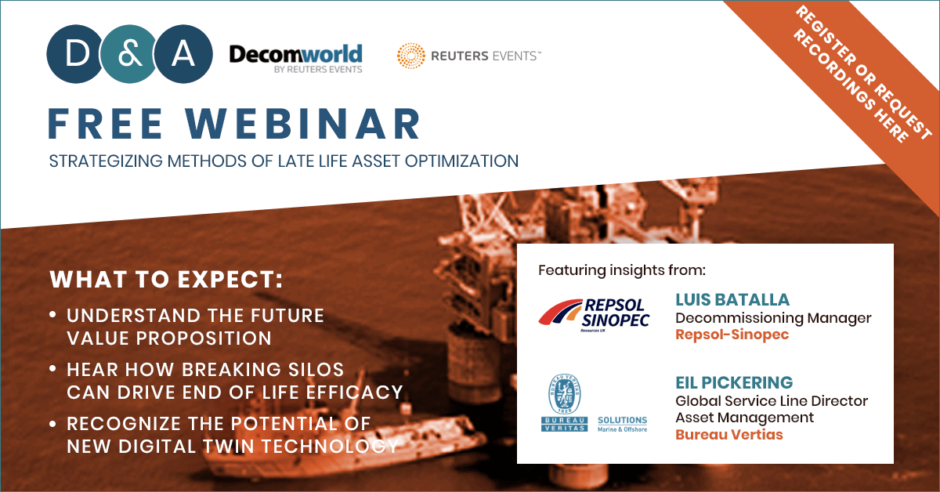 As global decommissioning costs continue to rise, mounting obligations provide little let up for offshore operators. E&P companies increasingly plan for decommissioning throughout the full life-cycle as efforts to de-silo decommissioning and operations departments continue for many. Within this scope, asset optimisation harbours renewed potential to unlock savings both pre and post CoP.
Maintaining production availability remains the primary objective for operators. Particularly given economic uncertainties, unstable international oil prices and declining reserves in area such as the North Sea, preserving and extending capacity is increasingly important.
DecomWorld's upcoming webinar – Strategising Methods of Late Life Asset Optimisation (5 December, 10am CST) – discusses the importance of asset integrity, assesses methods of late-life asset management and debates the potential for digital twin technologies to be implemented offshore.
The webinar features insight from Luis Batalla, Decommissioning Manager (Repsol-Sinopec) and Neil Pickering, Global Service Line Director Asset Management (Bureau Veritas). It will be hosted and chaired by Owen Rolt, Director – DecomWorld (Reuters Events).
Register or Request Recordings for Free Here!
Industry must get proactive, it's imperative that the future value proposition is understood when assessing decommissioning projects. Effective late-life management harbours unparalleled potential to ensure savings post CoP. Asset integrity is crucial for ensuring decommissioning efficacy.
Digital twin technologies hold the potential to change the game of asset monitoring. Whilst the digital transformation is well under way in upstream drilling and production as well as many aspects of downstream O&G, the decommissioning industry has been slower on the uptake. Perhaps this comes as little surprise in an industry driven by cost reduction and price efficacy. Yet, as the importance of late-life asset management pulls into sight, so too does the potential for digitalisation to transform asset knowledge and operational performance in late-life.
These topics, amongst others, will be discussed in detail in DecomWorld's upcoming 60-minute webinar. This will be the second episode in a four part series, which address the four key pillars of decommissioning: wells technology; late-life asset management; cost reduction; and facilities removal.
Register or Request Recording for Free Here!
For any questions or if you'd like to know more about DecomWorld, Reuters Events or the webinar series, please contact: Owen Rolt, Director – Global Projects, DecomWorld orolt@decomworld.com
Recommended for you

Repsol Sinopec charts expected $3.6bn decom spend