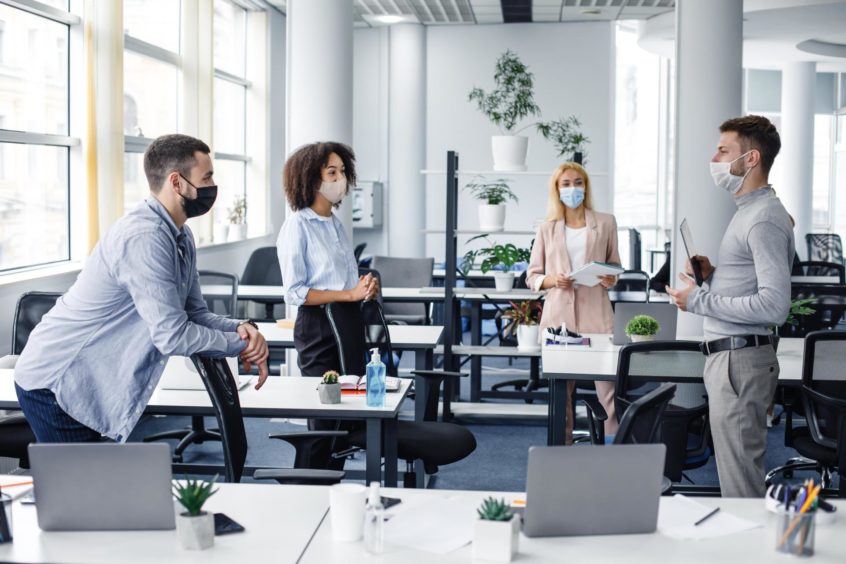 For much of this year, the backbone of conversation has been about working from home, when offices might reopen and what changes there will be.
Some would rather continue to work remotely, while others are chomping at the bit to return to the workplace once it is safe to do so again – and then there are those who'd like a mixture of the two.
For Scott Campbell, co-owner and director of Standard Real Estate, it's about reacting to the changes in working life that emerge post-Covid and ensuring their office space can accommodate the new "blended" approach he expects to see.
Over the last decade, the property development firm has built up a substantial portfolio of office space, with an increasing presence in Aberdeen.
It currently has around 200,000 square foot of floor space split across various locations in the Granite City, including Merchant Exchange, Union Point and Golden Square, and there's an ambition to buy more.
Campbell is confident that, although the way firms approach occupying offices may change, there is still going to be a demand.
He said: "We've actually done quite a number of lettings of smaller space, even during lockdown. Some from private individuals who've decided they don't have the space to work from home and others from bigger corporates looking to find a satellite space.
"The corporate side of things will take a while to pan out but we don't see there being a long term massive impact on the office market. There will be significant changes to how it operates in future, but there's not going to be a complete overhaul of the system."
One of those expected changes is a move towards hot desking, whereby employees use the same office space but at different times.
Although that's unlikely to take off until social distancing is a thing of the past, Mr Campbell expects it to be a "much more common" feature of working life.
He added: "Structurally that will have an impact on the office market and it may affect some demand. However, as an office developer we're not concerned that there's going to a wholesale move away from workplaces.
"There's going to be a change to it but that in itself will create new requirements and I expect bigger corporates to adopt more of a branch structure, as opposed to a central hub.
"Most of the space we've got at Union Point and Golden Square in Aberdeen is below the rates threshold. You can get an all-inclusive rent which takes care of bills and Wi-Fi, and for most it's pretty affordable."
Asked about the impact the oil price crash could have, Campbell said it's likely to lead to increased scrutiny of costs which could encourage many supply chain firms to "downsize".
Mr Campbell also explained that one of the "biggest impacts" of the return to the workplace will be on employees' mental health.
He added: "Things like going for coffee, going out after work, doing shopping on your lunchbreak, they all become more difficult when you work from home. People are craving getting back to the office."
Recommended for you

How to avoid employee burnout and keep staff onside