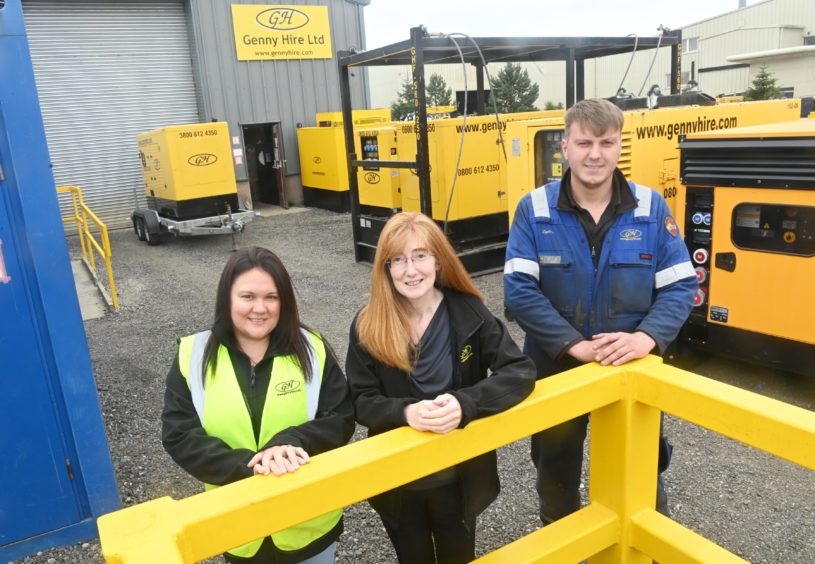 North-east firm Genny Hire is showing its staying power by making substantial investments in its fleet.
The temporary power provider put £50,000 back into the business last year despite the onset of the Covid-19 pandemic.
And in a demonstration of Genny Hire's commitment to maintaining an excellent level of service for clients, the company is on course to invest double that amount in 2021.
Genny Hire was founded in 2008 and started operating from a farm shed with only a handful of generators.
A move to premises at Murcar followed, but Genny Hire outgrew that base and last year moved to a bigger facility at Craigearn Business Park, Kintore.
The company boasts a fleet of more than 100 diesel generators ranging from 3 – 1,250kVA.
They are suitable for clients working across a range of sectors, including oil and gas, marine, farming, construction and leisure events.
Genny Hire recently invested in additional rigsafe-spec generators which can operate on rigs, vessels and at gas terminals and petrochemical plants, for example.
Genny Hire director and co-owner Lorna Clark said oilfield service firms had been some of Genny Hire's steadiest customers over the years, including during the pandemic, which created difficulties for all industries and dried up trade related to leisure events.
Not only do existing, loyal energy industry customers keep coming back year after year, new clients have also come through the door during the last 12 months.
"Keeping existing customers is a big focus for us," Clark said. "When the same client comes back to you for every hire, it's a positive reflection of the level of service you are providing."
There's no great secret to Genny Hire's success. The key is to invest in order to make sure the company can satisfy demand.
Clark said: "Our level of service and the availability of our machines are our key selling points.
"We've got a big stock of generators, enough to keep units in reserve for each customer, so we're always able to meet demand at short notice."
Genny Hire also prides itself on being able to offer a complete package.
The company can lay on lighting towers and a full range of power distribution solutions, including transformers, fuel tanks, socket panels, power distribution units and cabling.
Not only that, its technicians are on hand 24 hours a day to provide servicing and breakdown support, and Genny Hire's experienced logistics team can transport generators to wherever they need to be on time, every time.
"We're still here, we're still local and we're still providing the same great service through a difficult time," said Clark.
Of course, as with all good and resilient businesses, Genny Hire has one eye on the future. And it's a future that demands lower emissions.
The generator industry is trying to "go green" and tentatively move towards hybrid machines.
"As a sector, we're not there yet, but it's being spoken about and it's coming," Clark said.
"That's the next step for Genny Hire – hybrid and more eco-friendly generators."
Recommended for you

Exclusive: Hydrasun acquires hydrogen specialist Fuel Cell Systems