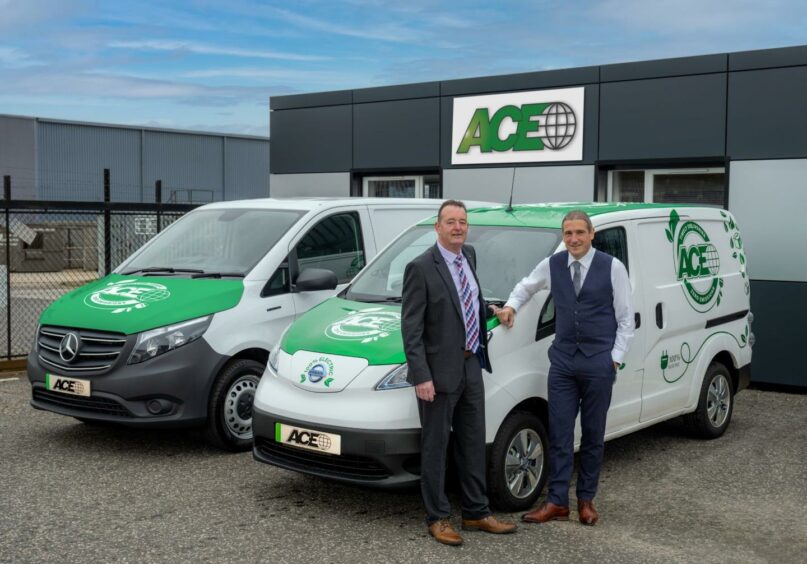 Net Zero. It's on the minds and mission statements of companies across many industries, oil and gas included.
And ACE Forwarding (ACE), the market leader of offshore heli-freight services and a specialist provider of freight forwarding and customs compliance services, is taking up the challenge to help its clients get there with an ambitious carbon reduction plan.
In fact, it has a target of transporting 100% of its client's offshore helicopter freight 100% carbon-free in future.
Now ACE has taken its first step towards realising this vision by welcoming its first two electric vehicles (EV) in August.
"These vehicles will be operated from our Aberdeen base, where we have also installed a number of EV charging points. They will predominantly support the delivery of our offshore helicopter freight between ACE and the heliports at Aberdeen Airport," says Ed Arnott, business and commercial director with ACE.
"The nature of these journeys is perfectly suited to our investment and ambition to introduce electric vehicles into our fleet. As we operate on a 24/7/365 basis, our airport runs are short and high frequency.
"Given our usage, we've already reduced our vehicle emissions footprint by over one tonne of CO2 in the first month, which is incredible when you think about it. With the recent introduction of our second electric vehicle in Aberdeen, we anticipate achieving a CO2 saving exceeding 20 tonnes per annum."
ACE has developed a structured programme to replace its entire vehicle fleet, designed to allow the company to benefit from and keep pace with advances in EV technology.
Ed explains: "We are now proud to have the infrastructure in place to deliver our target of transporting 100% of our client's offshore helicopter freight 100% carbon-free.
"As the UK offshore oil and gas industry continues to drive change towards net zero, both within their operations and within the overall supply chain, ACE's contribution towards these targets through taking the initiative and investing to eliminate carbon emissions from a link of the offshore supply chain has been welcomed by our energy clients."
Driving change in its industry is nothing new for ACE. The move to EVs follows on from its revolutionary helicopter freight tracking system, ACE Heli-Freight Manager, which launched last year following 18 months of development.
The bespoke software allows offshore teams to have early access to cargo details before a helicopter arrives, helping with risk assessments.
All in all, 2021 has been a successful year for ACE Forwarding and it's all proof that embracing change helps deliver results.
Ed notes: "It's been a year and a half of challenges and change as we've adapted our operations to keep our staff safe, as well as maintaining vital services to our clients. I'm very proud of our achievements in that regard as our team have really pulled together and demonstrated a great spirit to get the job done, keep each other safe and keep our clients happy.
"We are also pleased that our investment in technology to digitise our operations, our sustainability ambitions and our team's commitment to delivering service excellence hasn't been missed by our clients.
"This year has been an extremely busy one for our commercial team, tendering to retain existing work and also for new contracts, and we really are delighted to have secured these major contract awards and have our clients commit to ACE for the long term."
The contract awards for existing services and new scopes of service is a sound endorsement of ACE's business development strategy.
"To have delivered growth within the business and enhanced our service portfolio in any year is an achievement but for these successes to be attained during a global pandemic is extremely pleasing," adds Ed.
"It's fantastic to see existing and new clients embracing the specialised knowledge, experience and expertise of our highly skilled team –at the end of the day, our business is our people."
Visit the ACE Forwarding website at ace-forwarding.com for the latest updates on its carbon reduction plan and the services on offer.
Recommended for you

Ace Winches lifts its global targets