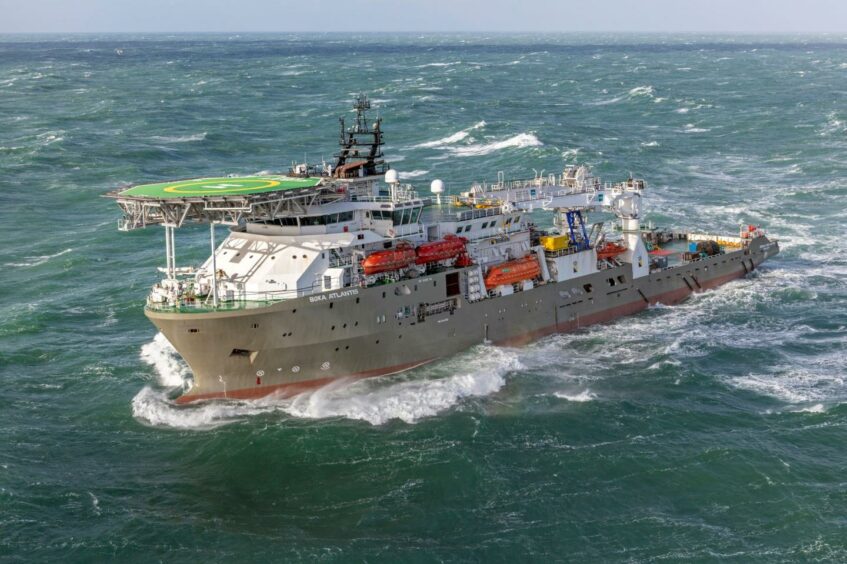 The subsea sector is more open to making the best use of digital technology than ever before, according to one industry expert.
Kevin Coll, managing director of Aberdeen-based IT support company, Solab, whose trailblazing Crew Management software Onboard Tracker™, is leading the digital revolution for clients such as Subsea 7, Boskalis, Technip FMC and Global Marine, says it's vital the subsea sector continues to stay ahead of the game to meet the change of pace in the energy transition.
Onboard Tracker™ is a modular, web-based Software as a Service (SaaS) platform which manages the safe and efficient crewing of tens of thousands of Energy and Maritime personnel across the globe.
By harnessing both deep industry knowledge and technological experience, Solab has continued to develop the integrated platform in step with the dynamic needs of the subsea and wider energy industry. Legacy systems can't keep up with the fast pace of the crewing world which Onboard Tracker commands.
Technology designed for the subsea market
When it comes to digital tech adoption, Solab's flagship digital platform has seen a substantial increase in subsea and marine clients in the last two years with 45% of its clients now operating in the subsea sector.
A host of major global players now use the online hub to manage global personnel logistics and planning, crew rotations, training, certification and competence.
Onboard Tracker™ sits at the core of each client's crewing operations, providing a unique and relevant user experience throughout the organisation whether that be director level management information or a field-user receiving an update of an amended crew change date.
Whilst Onboard Tracker™ acts as the central hub for all crewing operations, the Solab team fully recognises the need and the benefits of working in partnership with other providers in the crewing space including training providers and travel management companies to facilitate the end-to-end crewing process for its clients. Through Onboard Tracker's modern infrastructure, integrations to external parties are easily facilitated with several strong partnerships already in place for the benefit of its users.
The technology's explosive growth in the subsea sector now sees Onboard Tracker™ used to manage over 30% of subsea marine vessels in the UKCS – with that number expected to increase significantly in 2022.
Onboard Tracker™ records vital day-to- day operations data to ensure the safety of tens of thousands of highly skilled people in over 50 countries visiting more than 70% of the manned rigs in the UKCS.
Due to this growth, a number of subsea and marine-focussed improvements have been incorporated into the platform to enable clients to manage key operations such as saturation diving time, lieu management, leave liquidation and minimum manning levels whereby clients can effectively track resource gaps and plan and forecast future personnel issues.
"The subsea and marine sectors are absolutely more open to digital tech adoption and making the best use of technology to streamline the way they do business," said Kevin.
"We have seen a real influx of clients from these sectors as companies push for the use of digital technology to transform the way they operate, which demonstrates that Onboard Tracker™ fully aligns with a breadth of clients across the subsea industry."
Taking back control over processes
Onboard Tracker™ transforms a mass of information into a user-friendly, blindingly fast, online portal which gives up-to-date and accurate information.
Scalable and simple to use, Onboard Tracker™ is a proven all-in-one business tool that puts operational visibility at the heart of a business.
One company reaping the benefits of the new streamlined system delivered by Onboard Tracker™ is leading global subsea service provider, Subsea 7. They recognised a need to modernise their approach, make the best use of their processes by introducing a digitally connected strategy.
Paul McGowan, IT engagement manager at Subsea 7 commented: "Onboard Tracker™ is central to our wider digitalisation objective. It is the heart of our data.
"It brings us stability, supporting 24/7 operations across our global footprint. Our data is accessible, real-time and presented in a clear way to enable decision making. We are excited about the future with Onboard Tracker™."
Another company implementing Onboard Tracker™ is Boskalis Subsea Services Limited which is utilising the ground-breaking technology to enhance its growing operations.
Gillian Laing, Boskalis Subsea Services crewing manager, said: "With the unparalleled growth of Boskalis Subsea Services Limited in the North Sea and globally we have managed to overcome several challenges with the introduction of Onboard Tracker™.
"The system allows us to manage compliance and assurance with ease. Dashboard and reporting options give each user a personalised experience as well as tailoring it for their own function within the business along with Power BI reporting and technology, we have built bespoke reporting for our own business needs.
"With continual upgrades, Onboard Tracker™ is always ahead of the curve to keep us up to date with new functionality options. Having all our data held accurately in one place has maximised the crew planning and scheduling for our offshore team. Big thanks to the Onboard Tracker™ team."
Onboard Tracker™ is a single, mobile and portable platform meaning that it can be used safely and easily from anywhere from a range of devices including a mobile phone, laptop or tablet from an office, vessel, offshore platform, or while on the move.
Thanks to enterprise class design and a monthly subscription format, a core product can be developed module by module using add-ons which takes
the system to exactly where your business needs it to be – right at the heart of your operations.
"We continue to invest huge amounts of time, money and expertise into Onboard Tracker R&D to ensure that our customers continue to love the system and the new features they help us create," said Kevin.
"We've seen exponential growth from diversifying into these new markets and will continually evolve to meet the needs of modern business. Digital transformation should be about taking control over processes with structured and consistent data bolstered by an eco-system of modern, connected software applications playing a key role in business growth and success."
With Onboard Tracker™ seeing really is believing. Book a demo today at onboardtracker.com and find out how to get your business on board the digital revolution today.
Recommended for you

Take the pain out of planning