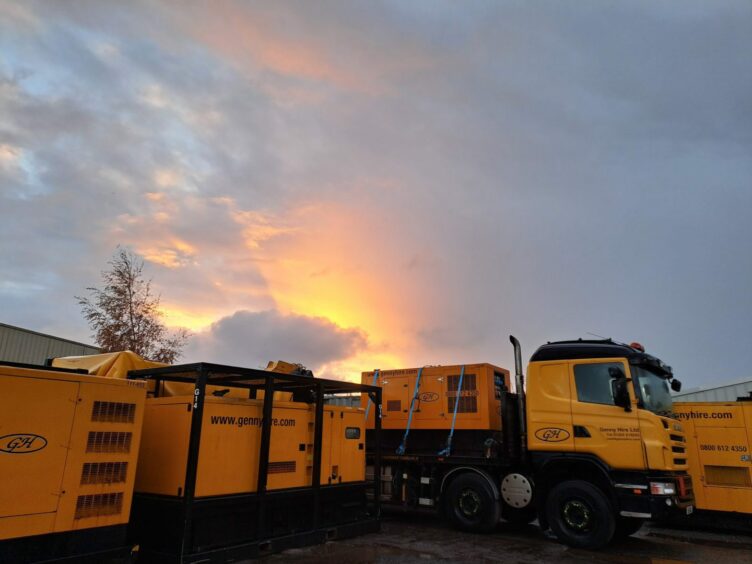 The latest innovation in generator technology, the flywheel power system, is tipped to revolutionise the industry, making systems greener, cleaner and more cost effective.
The flywheel power system is a piece of next generation kit that works by capturing energy that is normally wasted during a machine or vehicles use and storing it in a high-speed energy storage flywheel.
The stored energy can then be cycled back through the machine and used in its running, saving fuel, improving performance and reducing emissions.
Genny Hire, a diesel-generator rental company who serve the North East of Scotland, is excited to have put in an order with Silverstone-based PUNCH Flybrid for their flywheel power system.
As to the thought process behind the deal, Lorna from Genny Hire said: "My main reason for making an ongoing investment in this technology is that both our customers and we ourselves want to reduce our energy consumption.
"We always want to provide the best solutions for our customers, and we are hearing more and more that people want to reduce their carbon footprint and up their green credentials – and we are only too happy to help with that."
The big impact this year is the fuel element, for reasons that need little explanation, though Genny Hire's customers have been particularly impacted by the move from red to white diesel.
She says: "Everyone wants to reduce their emissions, but also, understandably, their costs. So from that point of view we have taken a good look at how we can help them achieve that. To our mind this solution will do that."
Tobias from PUNCH Flybrid explains: "Typically, a lot of energy is wasted through applications that use generators because they have what is known as 'dynamic profiles.' By this we mean that they use a lot of power intermittently in bursts, which uses a lot more energy than a steady supply of energy.
"We were originally in F1 racing – which is of course extremely dynamic, and there's a lot of wasted energy. But for industrial applications, you can really bring that energy profile right down.
Lorna says this is exactly in line with Genny Hire's aims, and that the company is putting its money where its mouth is, as Genny Hire is keen to implement
PUNCH Flybrid's solution across its own company, as well as in the generators it hires: "We want to reduce our own fuel consumption and emissions as a company too.
"So this company that Tobias has created goes hand in glove with what we want to achieve – it will help us be able to offer the difference that both we and our customers want to see."
Tobias adds: "By using our products, Genny Hire is able to be much more efficient. 40-60 percent less fuel is burned – so it's cost efficient. It also reduces your emissions, and you need a smaller generator – so it saves space too."
He adds that the flywheel power system in question is very energy efficient, "which is very important to both us and Genny Hire.
"We are focussed on using less energy – obviously fossil fuels are a huge priority, but actually as far as we're concerned, we want to use less energy in general.
"Because even if it's renewable energy, so much effort goes into creating that energy that we feel we should use it wisely."
As to which customers this will be of use to, Lorna says: "We anticipate this will be used for the service industry in particular, for a range of uses across the oil and gas sector, as well as quarries, agriculture, service industries, sawmills, any sort of forestry, food processing – such as the fish processing network in Peterhead – we can see this fitting in with all these industries."
In conclusion, Tobias says of the new business relationship: "It's quite an innovative product, so you need a forward-thinking customer like Genny Hire.
"They are our first Scottish customer, but hopefully the first of many!"
Genny Hire will receive delivery of its first flywheel power system in January 2023. For more information visit www.gennyhire.com
Recommended for you

Chevron, Jera build CCS plans on LNG roots