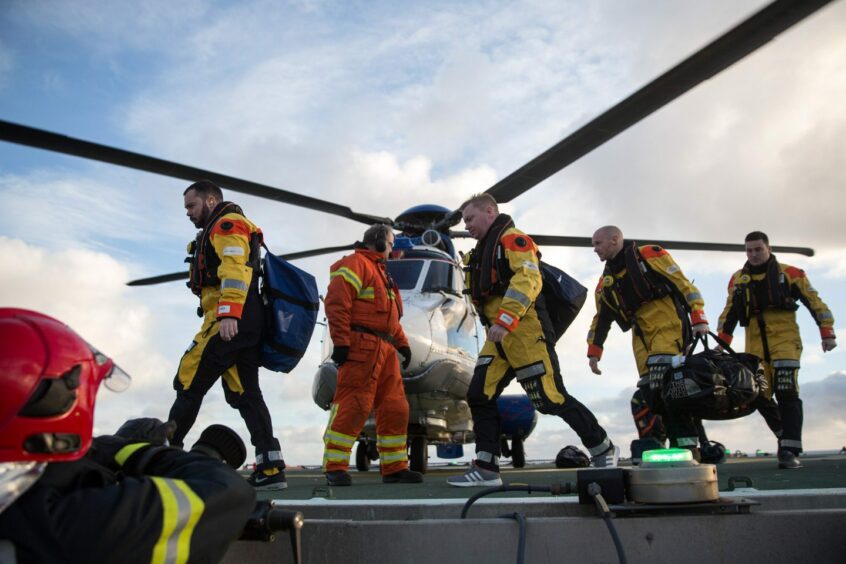 An Aberdeen-based software company has announced the addition of a new personnel on board (POB) module to its portfolio, which is set to further underline its reputation as a market leader.
Onboard Tracker™ is a modular, web-based software as a service (SaaS) crew management platform which manages the mobilisation of tens of thousands of energy, renewables and marine personnel in over 100 countries, across 70% of the UKCS manned rigs and onboard almost one third of the UK's dive support vessel fleet.
Solab, the system's creator, has unveiled the latest evolution of the market-disrupting tool, which users refer to as the "beating heart" of their crew management operations. The new POB tool has already received existing Onboard Tracker™ users' stamp of approval with Stena Drilling in the process of rolling out the module across its global sites.
Onboard Tracker's™ POB Module is the system's natural next step, taking existing capabilities to a new level by providing complete visibility and control of all site arrivals, departures and current POB across core, project and ad-hoc teams, with the ability to manage and automate the hotelling of employees, contractors, agency personnel and visitors.
The new functionality, spearheaded by feedback from a recent client forum, brings silos of POB information together into a single portal, regardless of platform, vessel or site location.
Onboard Tracker™ enables its users to plan, schedule, mobilise and ensure compliance across all client sites, projects and campaigns as the integral tool for planning, logistics and operations teams. The new POB Module continues to connect operational teams by welcoming Rig Admins, OIMs and POB-interested parties to manage POB connected directly to logistics team's rotational schedules.
During client discussions around Onboard Tracker's™ product roadmap, existing POB solutions were found to track personnel movements on the site but the communication of arrivals, departures, emergency response allocation and hotelling was often left to a mix of email, manual processes and spreadsheets.
This information existed in isolation and on an asset-by-asset basis with disconnected, siloed data hampering any form of reporting. Different systems being utilised in different parts of the world, compounded the issue, creating data gaps and disjointed working processes.
By being connected and live, the new Onboard Tracker™ POB function gives all the in-depth information needed across assets to create, manage and confirm POB lists, and have full sight of expected arrivals and departures for individual or group check-in through a single point of access, globally.
Critically, the module also enables more streamlined assigning of offshore emergency response duties whereas incumbent systems may require the person responsible for assigning these roles on site to look at daily availability when assigning cabins, berths, beds, lifeboats, muster points etc. By automating these tasks based on the input of person-specific information, admin is significantly reduced, streamlining and efficiency is increased, and greater vision of capacity and availability is achieved.
The benefits spill over to visiting personnel too with the ability to include roles such as chefs, catering staff, safety reps, etc. to give a full list of POB regardless of which company they represent.
Commenting on the latest development, Solab's Kevin Coll said: "It's critically important that we engage with our clients and system users on a regular basis, to ensure that the evolution of Onboard Tracker™ sits exactly in step with the changing shape of their future needs.
"At our most recent User Forum, we presented several options that we were considering adding to the software and, when asked for their opinions, POB was the unequivocal and resounding priority among our clients and it is that feedback which ultimately led to the creation of this latest module."
He added: "Having an amazing client like Stena Drilling as early adopters of this new, full online tool, is an important endorsement of not only its efficiency and reliability, but also its potential to successfully evolve in line with need."
Ewan Baird, Digital Business Analyst, Stena Drilling explained: "Stena Drilling began their digital transformation journey in 2019; predominately focusing on replacing existing siloed systems with a new connected digital ecosystem. After choosing Onboard Tracker™ as the master system for Crew Management, the next natural step was POB.
"With an integrated POB module now within Onboard Tracker™, the loop is complete; with onshore and offshore teams looking at the same data source. Onshore logistics officers can plan all movements, the offshore rig team confirms when the person arrives, and if things change plans can automatically be updated with everyone aware a change has happened.
"This directly feeds into payroll so everyone is paid exactly as they should be.
"With a new API accessible POB system, we can analyse other data sources normalised against POB numbers, giving more objective analysis in areas like fuel reduction initiatives, emissions monitoring and safety observation systems.
"Moving to a cloud-based system is a challenge when working internationally, particularly hundreds of miles in the middle of the ocean – however we have put significant investment into vessel communications upgrades and continue to progress in this area to provide stable and fast connection speeds.
"Digital transformation at Stena Drilling has never been about replacing anyone with technology; we simply want to reduce manual administration, automate workflows and provide data to make smarter decisions.
"We have no doubt the new POB module within Onboard Tracker™ will soon become an industry standard in vessel management. By being connected to the rest of the Onboard Tracker™ system with training and competence data, the entire employee lifecycle is almost complete – from hiring to retiring; all in one system."
Recommended for you

Take the pain out of planning