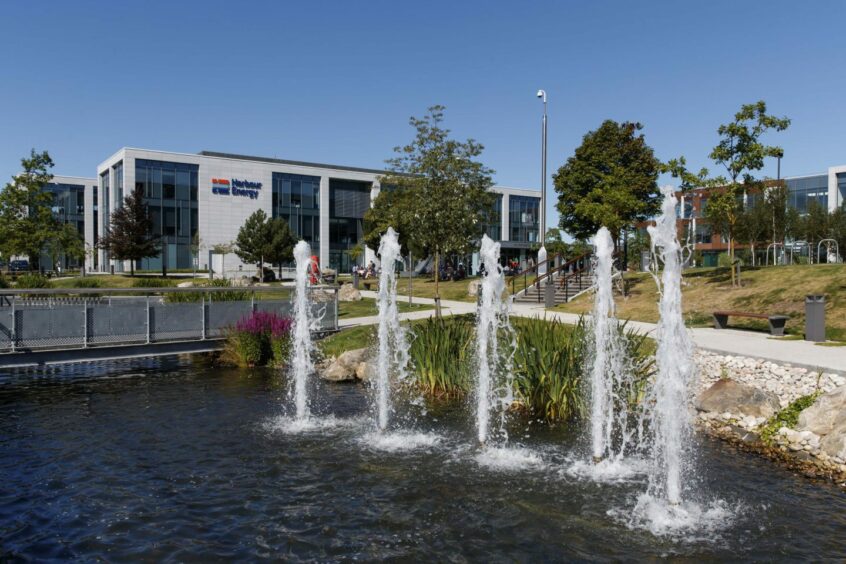 In business, there is a big demand to make the workplace more sustainable as we strive towards net zero targets. For some, this could mean refitting an older office block to bring it up to legislation standards. For others, it will involve relocating to new-build premises.
That's certainly the case for a brand new and unique contemporary office building about to be built in Aberdeen. Located at Prime Four business park, the Grade A building is the very first net zero- carbon office building to be built in the city.
Already home to big names in the energy industry, Prime Four is Aberdeen's only international-class business location. Its current phase is nearing completion and this latest building, known as The Crescent Office, is looking for a new tenant.
Although architect David Halliday has been involved in designing many amazing buildings with his firm Halliday Fraser Munro, this is one that stands out. And, because the building will be the first of its kind in Aberdeen, it is a significant milestone for Halliday Fraser Munro and the region as a whole.
Managing director David describes the 30,000 square-foot Crescent Office as providing "understated exceptionalism".
He added: "One of the most compelling aspects of this building is its ability to showcase a tangible and economically feasible approach to designing and constructing a net zero carbon office.
"The building will be designed to comply with the latest net zero carbon guidelines, which is an ambitious and environmentally conscious goal.
"The Crescent Office serves as a testament to the fact that net zero carbon buildings can be designed in a manner that not only prioritises sustainability, but also results in captivating, ambitious and exceptional architecture.
"Overall, this project demonstrates our company's commitment to sustainability, innovation and pushing boundaries in the architecture and construction industry."
Low-carbon materials
Interestingly, much of what makes The Crescent Office stand out will be invisible to passers-by or building users. It will be made with high-performing building fabric, energy efficient fixtures and low embodied carbon materials.
Understandably, net zero carbon buildings require a different approach to design, construction and maintenance than conventional buildings, and come with their own set of challenges.
David explains: "Designing a net zero carbon building requires integrating many different systems, including energy-efficient building envelope design, renewable energy systems and monitoring and control systems.
"This sounds complex, but the result we want to achieve is a simple, efficient and easy-to-run building. Each of these systems must work together seamlessly to achieve net zero carbon targets. This can make for a complex design process, but ultimately, one we want to deliver."
Deciding which materials should be used in the building's construction was also a big consideration during Halliday Fraser Munro's design process, as this will impact the carbon footprint of the completed building.
So, at the architect's request, the builders will prioritise the selection of sustainable materials, reduce waste and consider the entire lifecycle of the materials used.
Drum Property Group has been developing Prime Four Business Park for the last decade, but for Fife Hyland, operations director at Drum, constructing The Crescent Office will be a build project like no other.
Fife explained: "All the buildings in the business park are built to an exceptional standard, they are Grade A class, but given the recent market conditions, no new space has been built in the last five years on the park.
"Now the focus is very much on net zero carbon improvements and providing flexible space that is tailored to tenants' requirements and working practices in a post-pandemic world.
"Our 'best practice' approach will ensure that this new all-electric office building will be 'operational net zero carbon' ."
As well as looking after the environmental impact during and after construction, The Crescent Office will also look after the health and wellbeing of its occupants. It is described in the marketing brochure as a "state-of-the-art workspace…designed to encourage socialising and collaboration and to complement and build on the sense of community at Prime Four".."
Fife, who also runs the on-site management company, added: "If you work in one of the offices at Prime Four you get access to free yoga and pilates classes, PT sessions and running groups. Offices now must be very flexible as well as sustainable, and they need to reflect workers' lifestyles. The new building and its surrounding parkland environment very much fits into that."
And, as with all Prime Four's buildings, The Crescent Office will also be "built by design with the tenant in mind," explained Fife. This means it can be customised by the future occupants.
"As with all the buildings at Prime Four, Wwe will work with any interested parties to build the Crescent Office to the expect specification they desire," said Fife.
Architect David Halliday added: "We will collaborate with prospective tenants to comprehend how we can create efficient, inviting and productive workspaces that align with their needs."
Unique opportunity
It is certainly a unique opportunity for any business. If you are looking to relocate to a "future-proofed office" that is both flexible and can be tailored to suit your business needs, contact one of the trio of agents marketing this striking building.
Letting agents CBRE, FG Burnett and Ryden are working together to secure a tenant for Drum's exciting new building, located four miles west of the city centre.
Derren McRae, head of CBRE's Aberdeen office, explained that it is an exciting time for the market , particularly with the launch of the "first net zero carbon office in Aberdeen".
He added: "Since Prime Four was first built in 2013, it has been a significantly successful out-of-town business park attracting major names who operate in the North Sea, like Harbour Energy, Apache, CNOOC and Equinor.
"With energy companies looking at the energy efficiency and sustainability of buildings now more than ever, it is a great opportunity. The surplus office space that has been available in the business park has almost all been taken up so there is a limit to available best quality space for occupiers now."
What makes The Crescent Office so special?
The new net zero carbon office at Prime Four has many attractive internal and external features that make it a comfortable, sustainable and enjoyable workspace for all employees. Here are just some of them:
It's an all-electric building.
It will be Aberdeen's first net zero carbon office in operation, aligning with both LETI and UK Green Building Council best practice.
Heating and cooling will be provided via the use of air-source heat pumps.
It is designed for the wellbeing of occupants with natural ventilation and daylight.
The building has its own energy management system.
It has photovoltaic panels on the roof.
It has extensive glazing to adhere to carbon zero design principles.
Solar shading is integral to the building design and provided in a way as to not obstruct views.
There are collaboration spaces as well as staff breakout areas.
There are employee showers, changing rooms and lockers to support active lifestyles.
There are EV charging points for cars and cycles in the car park.
The office boasts countryside views.
If you want to bring your business to life, contact one of the agents for further information on The Crescent Office at Prime Four email arron.finnie@ryden.co.uk, jonathan.nesbitt@fgburnett.co.uk or derren.mcrae@cbre.com.
Recommended for you

20 bids accepted in UK's first ever CCS licence round