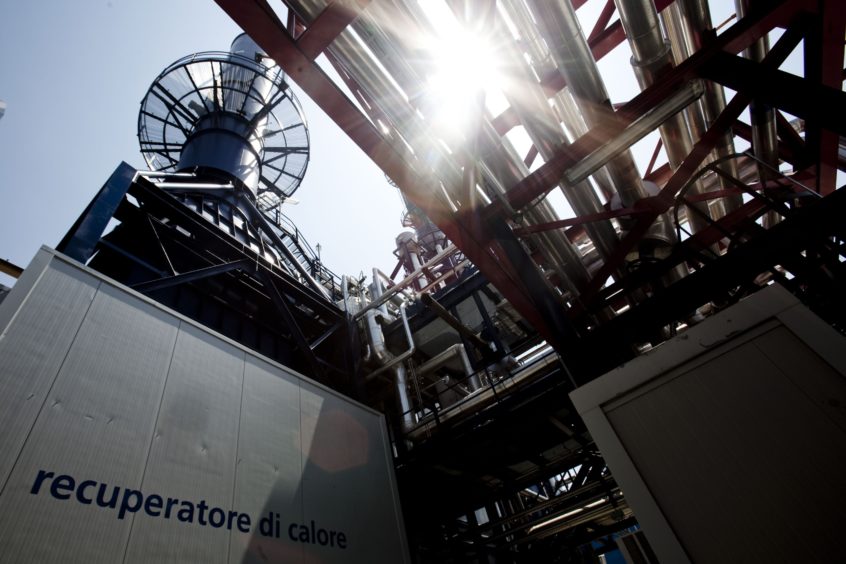 Power plants that run on hydrogen could be cost-competitive with those using fossil fuels by the middle of the century if governments double the cost of carbon pollution.
The findings in a report by BloombergNEF show the main challenge blocking hydrogen from the grid remains an economic one. Policy makers and companies are studying how to use the lightest element as a way to slash emissions from industrial processes, since hydrogen creates no greenhouse gases when it's burned.
"There probably wasn't a week in 2019 where I didn't talk to a customer about hydrogen or decarbonization," said Jeffrey Goldmeer, director of gas-turbine combustion and fuels solutions at General Electric Co.'s gas power unit. "We've been burning fuels that contain hydrogen for more than 30 years. So there is existing technology to do so."
Burning hydrogen for electricity could work economically in some countries by 2050 if emission prices rise to $55 per ton of carbon dioxide, the BNEF report found. The research group assumes a natural gas price of at least $6.50 per million British thermal units.
Most countries don't put a price on emissions, and those that do, set the cost much lower. The weighted carbon price today is $22.59 per ton, according to the IHS Markit Global Carbon Index.
Hydrogen-fueled electricity isn't exactly new. Since the 1990s, there have been about 150 to 200 turbines globally that used gases with different amounts of hydrogen, according to BNEF. About 30 to 50 of the units likely operated with hydrogen making up more than 50% of the fuel volume. A Samsung General Chemicals facility in South Korea has run a 40-megawatt turbine with as much as 90% hydrogen in the mix for 20 years.
In principle, it's possible to feed 100% hydrogen into current turbines. But because the element burns at a higher temperature than natural gas, it produces higher levels of nitrogen emissions. These contribute to higher particulate air pollution and won't be permitted under most global environmental regulations.
Engineering companies such as GE, Siemens AG and Mitsubishi Hitachi Power Systems are developing technologies to bring NOx emissions under control.
However, upgrading current turbines to burn 100% hydrogen still won't be "a flip of a switch" process, Goldmeer said.
Hydrogen is a smaller molecule than methane, which is major component of natural gas. That means power plants need to upgrade piping and turbine engineers need to tackle problems such as higher volumes of gas flow.
A bigger issue than the combustion of hydrogen will be the production, transportation and storage of the gas.
Modifying a gas plant is relatively easy and makes up a small fraction of the cost to build infrastructure that supplies hydrogen, said Jeffrey Haspels, project manager at Swedish utility Vattenfall AB.
Haspels oversees a project to convert a Dutch power plant's gas-fired generator to 100% hydrogen later this decade. Upgrading the facility will cost tens of millions of euros, he said. But the whole value chain will cost about a billion euros.
The project is focused on using hydrogen made from natural gas and capturing the released carbon to store it underground. Eventually Haspels expects that industry will use so-called green hydrogen when it's cheaper in 10 to 15 years. Without government support, it's too expensive and scarce now.
"At the end of the day, green hydrogen will become the most economic source of hydrogen," Haspels said by phone. "You cannot just wait for green hydrogen to become available and then start. We can start right now and make the system ready."
Recommended for you

Australia caps gas and coal prices to ease power bill pain