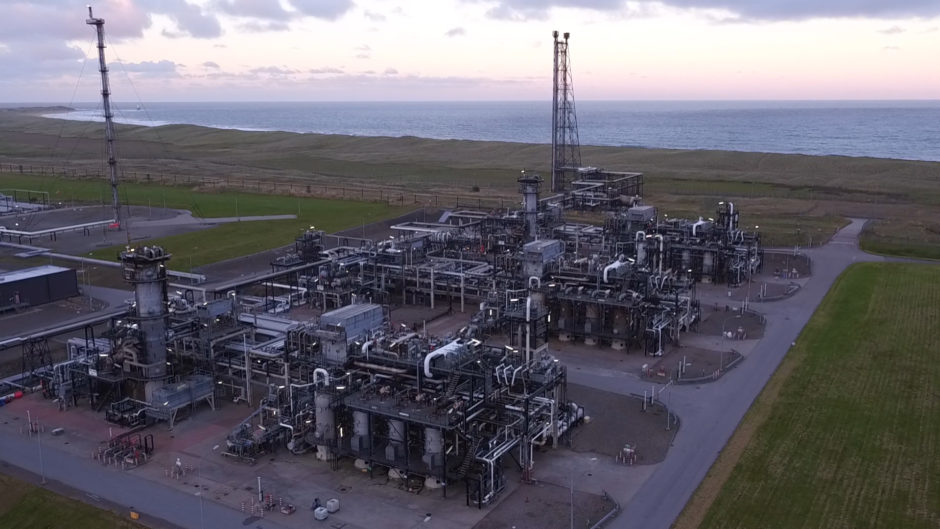 A Scottish decarbonisation group has been successful in its bid to secure more than a million pounds to draw up an industrial emissions reduction roadmap.
North East Carbon Capture Utilisation and Storage (NECCUS) Scotland is aiming to set out the necessary measures to reduce the environmental impact of industry, allowing it to be part of plans for a low carbon economy.
The UK Government has now given financial backing to the group's roadmap design project that was submitted last year.
The £1.23 million programme will include measures to develop a net zero cluster, creating a potential pathway for cutting the majority of Scotland's industrial CO2 emissions.
In addition to support from Westminster, it has been announced that two of the North Sea's biggest players, Chrysaor and Shell, will be involved in the project, as will Cairn Energy and Grangemouth refinery owner Petroineos.
The group, which also includes Crown Estate Scotland, SGN and SSE Thermal, will provide financial and practical help to drive the roadmap forward.
Funding has been secured from the Industrial Decarbonisation Challenge, which is part of the UK Government's wider Industrial Strategy Challenge Fund.
It will enable NECCUS, as well as its 11 partner organisations, to draw up plans for decarbonising industry north of the border.
The roadmap is expected to consider multiple carbon reducing options such as electrification, the integration of renewable energy and fuel switching to clean sources, such as hydrogen.
It will also explore the potential for capturing carbon emissions arising from energy generation and industrial processes.
In total, around 30 industrial sites along Scotland's east coast will be assessed, stretching from Aberdeenshire in the North to Lothian in the South.
Collectively the locations account for around 80% of all Scotland's industrial emissions.
NECCUS is hopeful that any net zero solutions devised for industry will provide a blueprint for decarbonising other sectors.
Mike Smith, chief executive of NECCUS, said: "Having some of the largest industrial emitters in Scotland and key sectors of the Scottish economy working closely with government and leading researchers, we firmly believe a path to industrial decarbonisation is in our grasp.
"To deliver it we will work with the rich vein of existing decarbonisation projects in the region and expertise from global net zero projects, on which many of the partner organisations are taking a lead role."
Steve Phimister, vice president of UK Upstream for Shell, said: "Shell welcomes the development of the Net Zero Roadmap as a critical milestone for Scotland's de-carbonisation ambitions.
"The Roadmap, once developed, will provide an integrated overview of Scotland's energy system, provide a real and effective practical tool to help emitters identify appropriate decarbonisation solutions and identify the steps needed to unlock investments; all helping to increase the pace of industrial de-carbonisation in Scotland."
Phil Kirk, chief executive of Chrysaor said: "I am delighted that this funding has been approved. The energy industry, working in partnership with government, must lead the transition to net zero.
"Chrysaor has been committed to Net Zero projects for several years, including through early stage investment in carbon capture and storage projects such as Acorn, and through setting demanding targets for stage 1 and 2 emissions.
"Working together, we will create a strong and deliverable plan that builds on the expertise the industry has developed in Scotland."
A spokesperson for Petroineos said: "The Net Zero Roadmap will have a major influence on defining the way forward for Scotland's transition towards a decarbonised economy.
"Petroineos, as a significant part of the Scottish energy sector, believe that we have an essential role to play in shaping this roadmap and are fully committed to supporting its development."
Paul Mayland, chief operating officer of Cairn Energy, said: "Cairn is focused on driving down the emissions intensity of our production, in our other activities and throughout our supply chain.
"We are committed to investing in proof of concept of industrial Carbon Capture, Utilisation and Storage (CCUS) projects and NECCUS is the first stage in finding a solution that works for Scotland."
Paul Wheelhouse, Scottish energy minister, said: "I am delighted to note the success of NECCUS in being awarded this significant funding to produce Scotland's Net Zero Roadmap.
"Industrial decarbonisation is a major challenge within our energy transition, but one we must absolutely rise to meet in order to deliver on Scotland's ambitious net-zero by 2045 target.
"The Roadmap will help the sector to identify the options and pathways we must follow to bring momentum for decarbonisation programmes in industry in line with this target.
"The Scottish Government's policies support the development of CCUS, which we consider as an essential technology; establishing a hydrogen economy; and supporting industry to consider sources and efficiencies in energy consumption.
"It is clear that the Roadmap will help to guide vital work in this area, supporting our ambitions and helping to identify opportunities to support international efforts to decarbonise."
Recommended for you

'Game-changing' Aberdeen carbon capture firm targets £1bn revenues