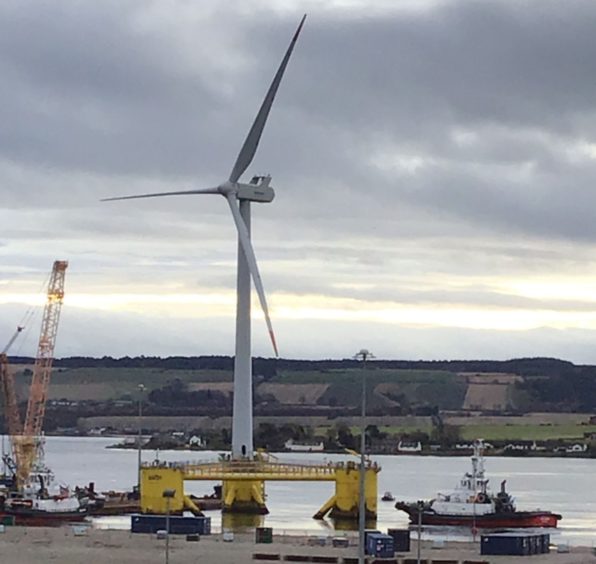 An ambitious scheme to develop floating offshore wind off the north-east coast has joined industry group the Scottish Cluster.
The Salamander project is being developed by Irish firm Simply Blue Energy (SBE) and global energy services giant Subsea 7.
SBE holds a majority stake in the "pre-commercial" initiative, earmarked for off Peterhead.
The project partners plan to get a lease for the site, which would house the 200 megawatt (MW) floating wind farm, without going through the Scotwind process.
It is hoped Salamander will be considered under a separate process for "innovation leasing and test and demonstration projects" and will deliver supply chain opportunities for the region.
Discussions are also ongoing with the ERM's Dolphyn project – which is planning to develop green hydrogen off the coast of Aberdeenshire – around the scope for combining the two initiatives.
Now, in an effort to make net zero a reality in Scotland, Salamander has signed up to  cross-sector group the Scottish Cluster.
The Salamander project, led by @SimplyBlueEner1 & @Subsea7Official, off Aberdeenshire will use innovative #floatingwind technology to produce #greenhydrogen to support UK's drive to #NetZero.#BackTheScottishCluster. pic.twitter.com/pZp5sViOa6

— Scottish Cluster (@ScottishCluster) September 6, 2021
The organisation features some of Scotland's largest CO2 emitters, leading oil and gas firms, including Shell and Harbour Energy, as well as members of academia.
The Scottish Cluster is working to deliver carbon capture and storage (CCS), hydrogen and other low carbon technologies to aid the energy transition.
By developing a "clear roadmap" for the uptake of decarbonisation solutions, the group has set out a plan to tackle up to nine million tonnes of CO2, while also creating an emissions transportation and storage market in Scotland.
In addition to helping the drive to net zero, the Scottish Cluster is aiming to create low carbon jobs and prolong the life of hard to abate industries.
Recommended for you

Storegga raises £51.3m as gas infrastructure giant Snam joins as investor