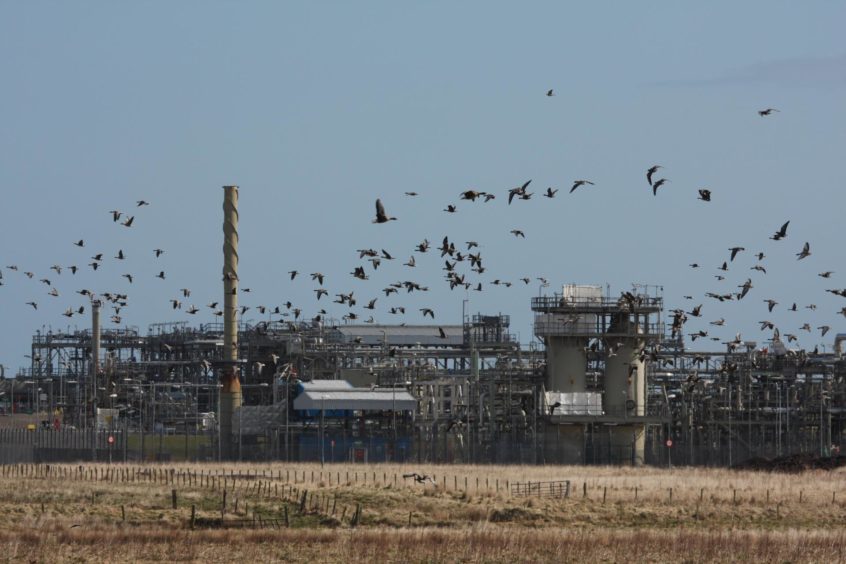 Westminster is being urged to put an Aberdeenshire project at the heart of its plans to roll out carbon capture and storage (CCS).
In a letter to Kwasi Kwarteng, the UK's Business Secretary, Stephen Flynn, Aberdeen South's SNP MP, claims there can be "no fair energy transition" without significant investment in the north-east.
He added that the region is "uniquely placed" to capitalise on CCS, with the Acorn project, located at the St Fergus gas terminal near Peterhead, a key reason for that.
As such, Mr Flynn said it is an "absolute necessity" that the initiative is one of the two CCS clusters promised by the UK Government in its North Sea Transition Deal.
Despite starting out as a method to help oil and gas operators yield more hydrocarbons, CCS has been adapted to focus on finding ways to store CO2 in depleted reservoirs.
Acorn, which is among the most advanced projects of its kind in the UK, is examining the potential for using existing pipelines to inject and trap emissions under the North Sea.
If successful, it may pave the way for St Fergus to become a hub for blue hydrogen, which is made using natural gas, with produced CO2 mitigated using CCS, meaning it is a net zero fuel.
It could also deliver other benefits to the region, with Peterhead's deepwater port pinpointed as a way for overseas countries to transport their emissions to the north-east for safe storage.
The project is being headed up Banchory's Pale Blue Dot Energy, a wholly owned subsidiary of low carbon technology firm Storegga Geotechnologies.
Last month, oil and gas giants Harbour Energy and Shell agreed a deal to join Storegga as equal-equity partners in Acorn, which is expected to be up and running in the mid-2020s.
Westminster's sector deal, released earlier this year, set out measures for a partnership between the private and public sector to deliver up to £3 billion for CCS by 2030.
And while Mr Flynn – the SNP's spokesman for business and energy – said this was welcome, he called for clarity in order to "stimulate investment".
He also lamented the "lack of certainty" as to where the UK's flagship CCS projects would be located.
In his letter to Mr Kwarteng, Mr Flynn said: "The North East of Scotland has had to bear the brunt of the collapse in oil prices that occurred last March and the consequences of this are still being felt.
"Given all of this I would impress upon you the absolute necessity for the Acorn Project to be one of the initial two industrial clusters.
"There can be no fair energy transition without Aberdeen, and the North East of Scotland, being at the forefront of investment."
The Department for Business, Energy and Industrial Strategy (BEIS) was contacted for comment.
Recommended for you

Energy secretary calls for 'concrete timeline' on Track 2 CCUS projects