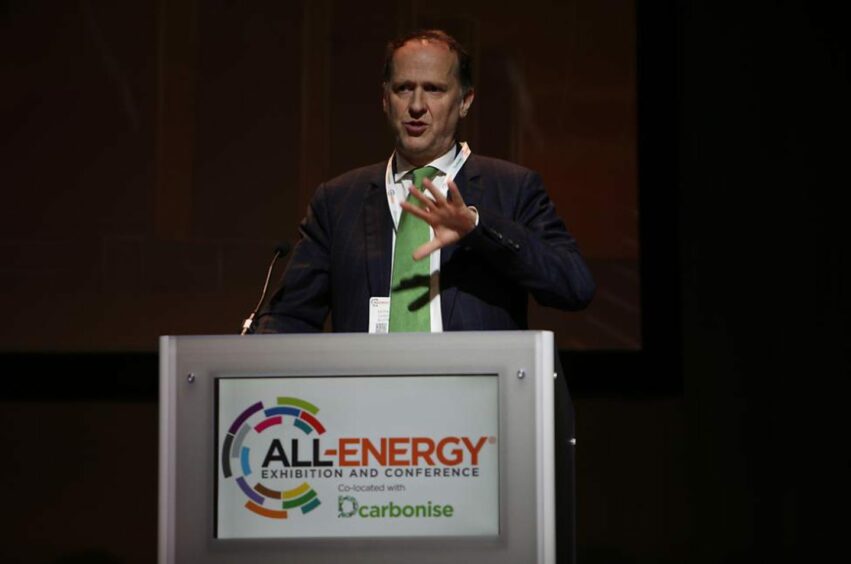 Scotland must move faster and smarter to garner green investment in the face of increasing international competition, ScottishPower CEO Keith Anderson told delegates at a major event in Glasgow.
In his opening remarks at the plenary session of the All-Energy conference on Wednesday, Mr Anderson called for the UK and Scottish governments to provide "speed, clarity and certainty" to green investors if decarbonisation targets are to be met.
Major interventions by government last winter to support business and households amid soaring energy bills proved that action can be made swiftly and effectively when needed, he said.
"When there is an emergency, we can work together with government incredibly quickly, we can get things changed and delivered and get things done incredibly quickly, we can push obstacles out the way incredibly quickly."
Yet with the UK currently set to miss its 2035 target to fully decarbonise the electricity sector, he said everyone must work "harder and faster" to enable the move towards net zero.
"When this country looks upon something as a crisis and an emergency, we can do it and we can deliver.
"The conclusion I end up with is that we still don't treat climate change as an emergency, we still don't treat 2035 as a crisis and we still don't treat 2050 as an essential."
"Speed, clarity and certainty are as valuable to an investor as a tax reduction."
Mr Anderson said there was no shortage of money or investors around the world looking to back sustainable projects, but "the bad news is every other country is chasing them as well, and every other country is out there to eat our lunch."
He pointed to major initiatives such as the US' Inflation Reduction Act and the EU's proposed Green Deal, which offer sweeping tax incentives for low-carbon investments that many have warned could leave the UK trailing behind.
"We can't match those fiscally. We cannot as a country on its own match what the Americans or EU are doing in terms of fiscal or taxation support," noted Mr Anderson.
"But what we can do is outsmart them. We can be faster, we can be clearer and we can be better.
"Speed, clarity and certainty are as valuable to an investor as a tax reduction."
By addressing these requirements and maximising opportunities, he said Scotland would make its mark in the energy transition and maintain its "leadership position" in tackling climate change, we need to look at how we maximise those opportunities.
Government 'will not abandon' oil and gas sector
Following his remarks was a receptive First Minister Humza Yousaf, who used his first major speech to the sector to welcome Mr Anderson's "challenges" and affirm his government would look to use "every single lever" at its disposal to incentivise green investment.
Reiterating that his administration would be a "willing partner" with Westminster and industry, he called for action on a series of measures to help drive investment. HIs requests included reform of grid transmission charging, backing for the Acorn carbon capture project and match funding for the government's £500m just transition fund for the north east and Moray.
UK risks "throwing away" Scotland's green opportunities, warns Yousaf
Reflecting on a recent visit to the north east he emphasised that such a transition will be critical to avoiding the kind of de-industrialisation seen in many regions in the past.
"I've certainly determined from a government perspective and from the government that I lead that we will not abandon those in the oil and gas industry now in the way that I'm afraid the UK government abandoned coal miners and industrial workers in the 70s and 80s," he told delegates.
"There is a reason we call it a just transition. There's nothing just, nothing progressive around throwing workers on the scrapheap and plunging them and their families potentially into poverty."
Mr Yousaf too acknowledged that both the scale of investment and pace of work must increase "with urgency", given the threat of climate change and imminent decarbonisation targets.
However, he said his government remained "absolutely committed" to rising to those challenges and a "willing partner" that would work with industry, local government and the UK government to ensure success.
Recommended for you

Hundreds protest in London against Rosebank oilfield approval