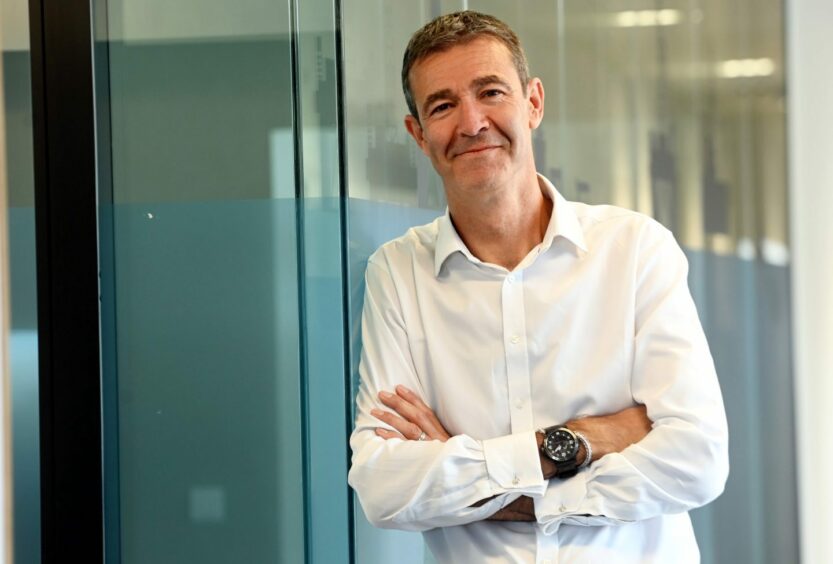 Backers of the north east's Acorn carbon capture and storage (CCS) project are "delighted and relieved" following confirmation of government support for the scheme.
Nick Cooper, chief executive of Acorn developer Storegga, warmly welcomed confirmation by Prime Minister Rishi Sunak that the project had been officially selected as one of the first four carbon capture clusters in the UK.
Speaking to Energy Voice in the wake of Monday's announcement, Mr Cooper said he and his team were "delighted and relieved."
Based at St Fergus near Peterhead, the Acorn project will see industrial emissions from the central belt to the north-east captured and stored in depleted oil and gas reservoirs offshore. It is a lynchpin in the Scottish Cluster – a consortium of major industrial groups who require CCS capacity and hydrogen supplies to help them reach net zero by 2045.
Acorn – whose backers include Shell and Harbour Energy and North Sea Midstream Partners – lost out on "Track 1" funding in 2021, with projects in Wales and Teesside selected instead, and earlier projects in Peterhead being cancelled.
"It was frustrating and dismaying not to get the formal Track 1 announcement," he recalled. "We understood why that was the case in September 2021, but it was a tough, tough blow for the project at the time."
Mr Cooper said Monday's approval announcement as part of the £1bn Track 2 process was therefore a "defining milestone" for the scheme.
"Some members of this team have been working to try and achieve CCS for Scotland since 2007," he said.
"This has been a long time coming, but it feels like common sense has broken out – we're really pleased."
2026 date in doubt
Mr Cooper said talks would be held with government this week to iron out further details on how the support package will work.
"There's a lot of moving pieces, but this is where the real work starts," he explained.
"We'll sit down with government [on Tuesday], roll up our sleeves and agree the specifics of that."
Storegga had initially aimed for first CO2 injection at the Acorn project by 2026, though delays since the initial Track 1 process have cast doubt over that timeline.
"Had we been sanctioned back in 2021, I think that was certainly viable. We need to work out what's achievable now, clearly time has marched on," Mr Cooper added.
Nevertheless, he points to the government's target to be able to store 20–30 million tonnes of CO2 per year by 2030, and notes that Acorn is expected to be "meaningfully operational" by that point and "a major contributor to that target."
A final investment decision (FID) on the project also remains outstanding, though partner Harbour Energy has suggested this could be made next year.
In the meantime, Mr Cooper said discussions around the supporting business models for CCS have progressed in tandem with the Track 1 and 2 process and are now "pretty well advanced."
Room to grow
Looking to the longer term, Storegga has said that Acorn's initial five million tonnes of capacity could be ramped up to 20 million, even 40 million tonnes in later decades.
Mr Cooper is still optimistic on this potential – provided demand for storage continues.
"It depends on how many people want to use the store ultimately, but it has the potential to do those sort of numbers for sure," he adds.
"Each well is going to be able to store 1-1.5 million tonnes. It's a function of the number of wells and the number of pipelines you repurpose that defines this, but we would expect the first pipeline to take approximately 5 million tonnes and to be ramping up through that by the back end of the decade."
That has implications over and above goals set by Scotland and the UK.
"When you think about it globally, the world is only storing 40 million tonnes at the moment. So a project that can do five, ten, maybe going on 20, is going to be a pretty meaningful to European and global users – and we need it, the world needs gigatonnes of storage."
Green light to "get on with it"
Approval for north-east carbon capture also unlocks corresponding plans to produce blue hydrogen at St Fergus.
This too depends on government approval of hydrogen business models and the "sequencing" of other Scottish Cluster members, though Mr Cooper said the scheme could progress in tandem and "plug in" to Acorn CCS once operational.
"From an ACORN-specific perspective, the hydrogen project will be one of the emitters to plug in but it probably won't be the very first one," he noted.
In the meantime, he said the path for Acorn now appeared clearer, helping to mobilising billions of pounds of investment and thousands of jobs involved in the project.
"It's huge for Scotland. It's huge for the north east," he added.
"This is going to really mean a lot both in terms of jobs – and that's both new jobs, but also future proofing existing jobs by allowing them to decarbonize rather than having question marks around those facilities – and it will help Scotland reach its net zero targets.
"The rules of the game are much clearer now. There is public money going in, but it's a multiple of that from the private sector too.
"This green light means we know that we can just get on with it now."
Recommended for you

UK can do better at CCUS, event hears