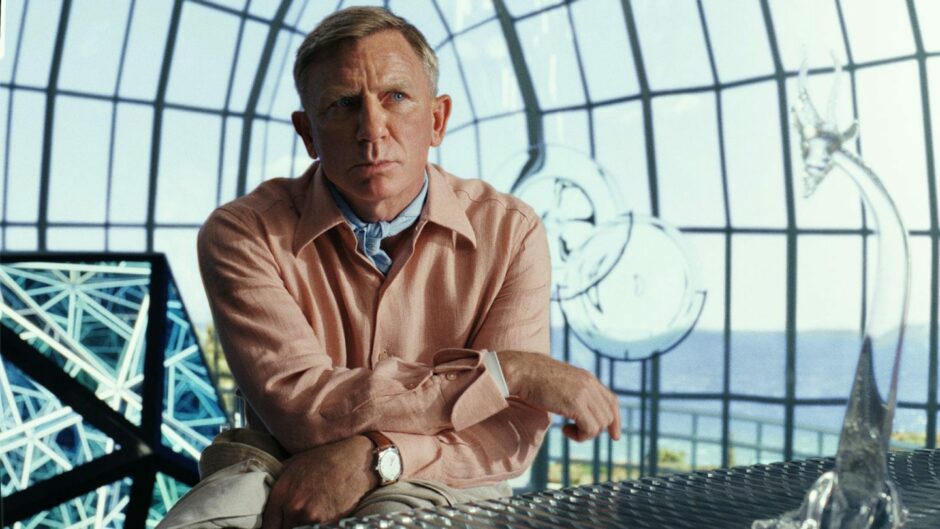 A form of crystallised hydrogen plays a leading role in the new Netflix whodunnit "Glass Onion: A Knives Out Mystery".
Without giving too much away, the dangers of its use, without proper testing, comes to a head in the Rian Johnson-directed movie, which stars Daniel Craig as gentleman sleuth Benoit Blanc.
But has the Netflix vehicle got the depiction of hydrogen right?
Hydrogen is used to store energy like that produced from natural gas, termed blue hydrogen, or renewables (green).
Energy executives and politicians across the UK and Scottish parliaments are banking on it becoming a key energy transition technology.
But it has its detractors, with critics pointing to hydrogen's emissions profile and, in some cases, lack of efficiency versus other methods like electrification for transport and heating homes.
Some have also voiced safety concerns in its application, though others have pointed to similar dangers for the existing network which uses natural gas.
Mild spoilers await
In Glass Onion, Musk-ian tech developer Miles Bron, played by Edward Norton, is attempting to harness a type of crystallised hydrogen as an "affordable home power solution" with "zero carbon emissions" having been "derived from abundant seawater".
That's despite warnings from another character that the solid hydrogen fuel needs years of testing to guarantee its safety and viability.
Laszlo Varro, vice president of global business environment at Shell and former chief economist at the International Energy Agency (IEA), sat down to watch the film – which he enjoyed – but "as an energy geek, I was a bit unhappy with the energy innovation at the centre of the plot" he posted on social media.
Hydrogen-rich crystal
Ed Norton's concept of a hydrogen crystal is "not impossible", says Varro, adding "there is R&D in that direction" which can solve some storage problems
Having hydrogen in this form would ease some problems linked to the very low density of H2, as storage in its gaseous form requires very high pressure "with associated engineering headaches".
However, the type of home depicted in Glass Onion would most likely use a gaseous form of hydrogen, not a crystal, explains Varro.
"A H2 tank that can withstand the 70 MPa (Megapascal) pressure and store five kilograms (kg) of H2 in a fuel cell car itself is 70 kg. However, in the two applications featured in the movie, power plants and decentralised home energy systems, H2 storage is not the key bottleneck.
"H2-based power generation might well emerge as a long duration, seasonal electricity storage, especially in systems like Germany that have winter peak demand but massive-scale solar generation.
"However, such power plants will almost certainly rely on pipeline H2 supply without the need for extreme compression, with retrofitted gas storage facilities offering a technologically mature storage solution."
Not competitive
There remains a big question mark over whether gaseous hydrogen will be blended into the gas network for use in UK homes.
But what about Norton's crystal idea? Varro says even this would be unlikely to get picked up, particularly when its compared to cheaper electric methods like heat pumps.
"For home energy supply, I would not expect H2 becoming competitive even with Edward Norton's crystals, due to the energy balance of the H2 pathways."
Varro says that the use of heat pumps and a smart grid would be "unbeatable", especially when comparing the "energy losses" taken in manufacturing the crystals through electrolysis (a method of producing hydrogen via seawater, as the film suggests).
"It is clear that a combination of heat pumps with behind-the meter-storage / vehicle-to-grid integrated into a smart grid would be unbeatable.
"One would expect an IT billionaire being more optimistic about smart grids."
Where could the crystal be used?
A more likely use for the compressed crystal version of hydrogen is in transport, according to Varro.
While use in the home is under question, hydrogen is broadly seen as a strong candidate for decarbonising heavy transport like shipping, and industrialised processes.
"In some transport applications where battery weight and power is a constraint, such crystals could be a good solution," he concludes.
Time and testing
Despite Norton's character labelling himself a "disruptor", the energy system needs a long time and huge investment to implement change – and to safely trial new forms of power.
Varro saw particular parallels with the debate on moving quickly, noting that infrastructure cannot be shut off or changed overnight.
"One aspect which was sadly realistic is the way Edward Norton's tech billionaire casually assumed away the safety and operational considerations, I experienced similar attitudes in conversations on the IT / energy interface where, over and over again, I had to emphasise that the energy system is not suitable for a 'move fast and break things attitude'.
"Overall, the movie is really good, and it does have energy technology as the key plot point so make sure you watch it."
Recommended for you

Green hydrogen: a driver for success across the Highlands