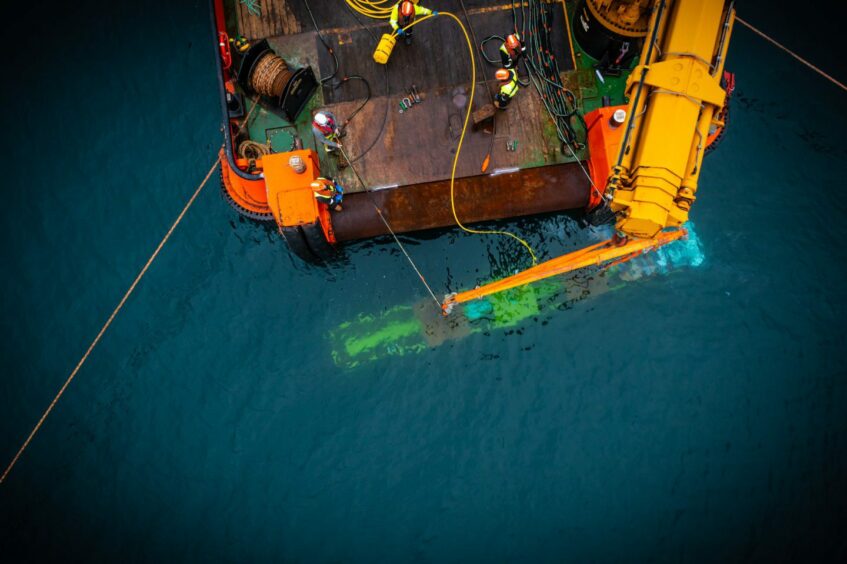 A pioneering project pairing wave energy with battery storage to power subsea equipment off Orkney is to be extended into next year, after a successful four-month trial.
The £2 million demonstrator project, dubbed Renewables for Subsea Power (RSP), kicked off February this year with the deployment of a Blue X wave energy device deployed off the Orkney's east coast alongside an underwater battery developed by Aberdeen firm Verlume.
The four-month test programme was devised to prove the concept of using Edinburgh-based Mocean Energy's wave convertor to power subsea equipment, with Verlume's intelligent Halo battery system managing the device's intermittency to deliver continuous output.
A key objective of the project was to demonstrate that the system could provide power to subsea electronics modules, provided by Baker Hughes, simulating the control and communications needed for subsea wellheads using 100% renewable energy.
The partners say such systems could offer an integrated alternative to subsea umbilical cables.
With the initial four-month trial deemed a success, the systems will now remain in the water allowing its developers to conduct additional testing deliverables until spring 2024, enabling further data to be captured on maintainability, survivability and reliability.
Further tests were also run over summer using a resident autonomous underwater vehicle (AUV) provided by Transmark Subsea.
This included having a docking station integrated onto the Halo system to create a charging point and a communications link to the surface via the Halo through the Blue X. The AUV was charged 50 times to show effective clean power delivery to underwater vehicles.
Speaking to Energy Voice in April, Mocean commercial director Ian Crossland said interest in the project had been "phenomenal".
Alongside longstanding support from operators like Serica Energy and Harbour Energy and from the Net Zero Technology Centre (NZTC), Thai State energy major PTTEP also lent its backing to the scheme in recent months.
Verlume chief commercial officer Andy Martin said the end of the initial test run marked "a significant achievement."
"We are particularly proud, as one of the project leads, to have demonstrated how our technology can effectively integrate with Mocean's wave energy converter to demonstrate a viable method of decarbonising future offshore operations.
"It has been fantastic to see the full system deployed, connected and fully operational over this period and we are looking forward to receiving further project data to demonstrate how this integrated system can provide a range of clean power use cases in other areas such as vessel charging, carbon capture and storage, and offshore wind."
Cameron McNatt, managing director of Mocean Energy added: "The test programme has given all project partners growing confidence in our system's reliability and ability to power a range of subsea application.
"This confidence is underscored by the welcome addition of PTTEP to the consortium, with growing interest from a number of other major energy players."
The deployment marks the third phase of the RSP project, with a £1.6m made during phase two of the programme in 2021, which saw the integration of the core technologies in an onshore commissioning test environment at Verlume's operations facility in Aberdeen.
Recommended for you

Scottish research to explore combined wind and wave energy platforms