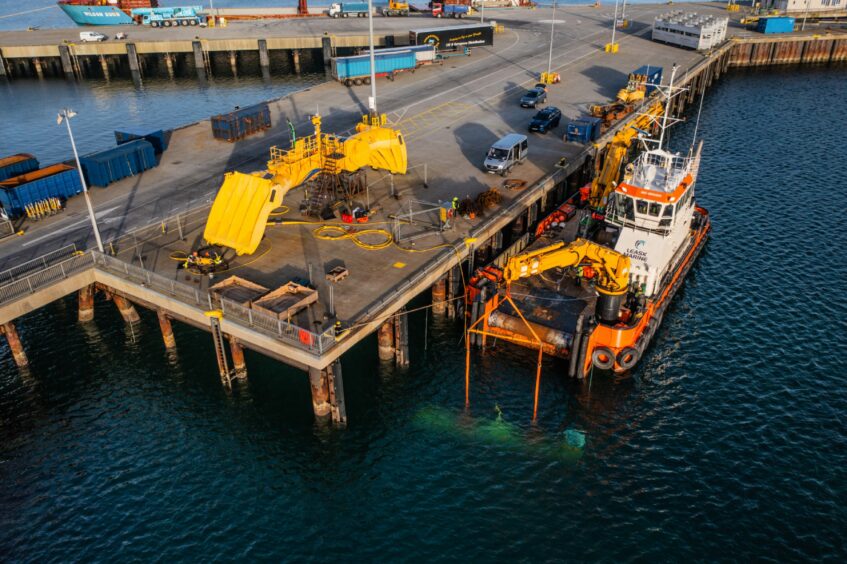 New analysis commissioned to mark 20 years since the opening of the EMEC facility on Orkney shows it has supported millions of pounds in investment and hundreds of jobs across the UK.
New economic assessments suggest the European Marine Energy Centre (EMEC) has had "a significant impact" in Orkney and across the UK economy in terms of employment, supply chain development and mobilising investment in the sector.
Opened in Stromness in 2003, the not-for-profit centre is the world's first open-sea testing facility for wave and tidal technologies.
Set up following a recommendation by the House of Commons Science and Technology Committee to kickstart a British wave and tidal energy sector, it has since helped develop and qualify equipment from some of the industry's leading innovators including the likes of Orbital Marine Power, Mocean Energy, Simec Atlantis and Verlume.
By supporting these projects, an independent economic audit by BiGGAR Economics puts the test centre's contribution to UK economy over that time at £370 million gross value add (GVA).
Of that, BiGGAR said £263m was accrued in Scotland – around half of which (£130m) had benefitted the Orkney Islands directly.
The analysis includes its direct impact through supply chain spend and salaries, as well as effect of that spending in supporting other activity throughout the sector.
EMEC managing director Neil Kermode also noted that new investment in infrastructure upgrades have generated "knock-on" benefits for locals and for other sectors such as fisheries and tourism.
The analysts also estimate that the centre has helped create around 540 UK jobs over its lifetime – of which more than 400 are in Scotland and more than 220 in Orkney – making the facility now one of the top 20 employers on the islands.
While the centre has been self-sufficient since 2011, around £42m in public funding has been invested by public sector groups over its lifetime, including Orkney Islands Council, Highlands and Islands Enterprise, and the Scottish and UK Governments – suggesting each £1 spent has brought more than £8 in return.
UK-wide impact
Mr Kermode said the facility is making an impact in supply chains far wider than Orkney.
"We're seeing ship building being revitalised, with Dundee seeing the first vessel launch – in the form of Orbital's O2 – since ship building stopped over forty years ago.
"We're seeing the supply chain gear up with new equipment and we are seeing new jobs created daily. The development of a locally-grown renewables industry also strengthens the UK's energy security and is triggering investment in peripheral areas supporting the levelling up agenda."
He also suggested the opportunities in marine energy are also encouraging younger people to stay on the islands and attracting new people from around the world to work and study.
"EMEC's a brilliant case study to demonstrate the value of developing marine renewables and pursuing a clean energy transition, a microcosm of what can be accrued on a far larger scale if we wholeheartedly push on developing industries that will help solve the climate crisis."
Scottish energy minister Gillian Martin added: "This report highlights marine energy's potential to deliver high quality jobs and generate significant economic impact for Scotland. The Scottish Government has supported many of the marine energy projects at EMEC over the last two decades, as well as its pioneering activity in hydrogen and other energy technologies.
"As EMEC's work demonstrates, Scotland is at the forefront of the clean energy transition and the centre has played an invaluable role in that over the last two decades. Marine energy can play a key part in delivering a just transition to net zero while creating further opportunities to export the technology, skills and knowledge around the world.
"The predictability and availability of marine energy off Scotland's coastline, together with our early technological lead, provides a tremendous opportunity to make the most of our maritime heritage, secure a substantial share of the emerging global market and build on achievements to date."
Floating wind future
In addition to marine energy, EMEC has also expanded its capabilities and expertise to support projects involving hydrogen, energy storage transport and heat.
And in the future, a new planned 100MW floating wind test site around 12 miles west of the islands could be worth a further £700m in GVA to the UK economy, according to separate analysis from BiGGAR.
Graeme Harrison, area manager at HIE's Orkney team, said: "Setting up EMEC in 2003 was seen by many as a leap of faith into the unchartered waters of marine energy, but the figures contained in this EIA stand as testament to that original decision by HIE and its public sector funding partners, reflecting the substantial economic impact of the centre and its activities over the past 20 years.
"Orkney is now seen as a global centre of excellence for a very wide range of low carbon activities, research and development, with EMEC continuing to adapt its services to meet the new opportunities coming our way from offshore wind and hydrogen."
Recommended for you

Hydrogen: Nine projects to watch out for in north-east Scotland