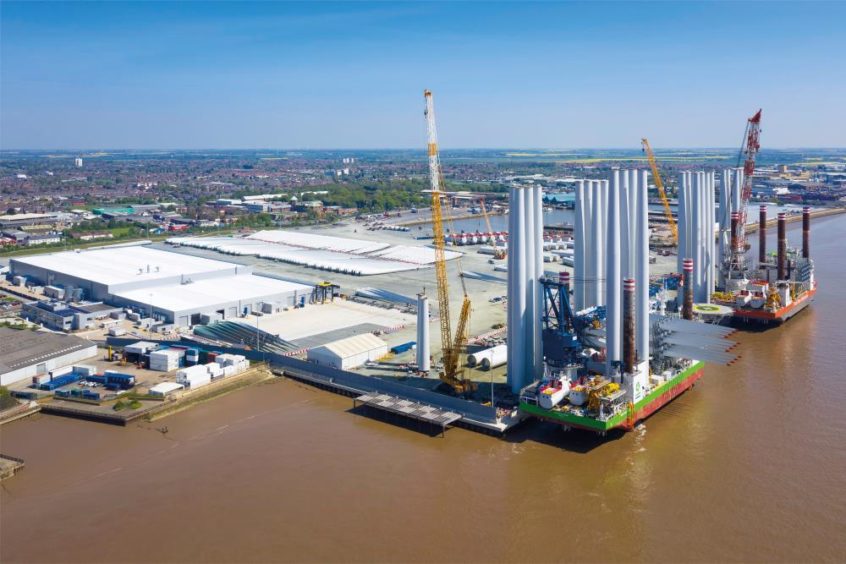 Irish green energy developer Mainstream Renewable Power and Siemens Financial Services have joined forces to compete for acreage offshore Scotland.
The partnership has revealed it has bid in the landmark ScotWind leasing round, which closed to applicants earlier this month.
If successful, turbine manufacturer Siemens Gamesa Renewable Energy and Siemens Energy will work as the project's tier one suppliers from the outset.
The group has committed to developing a "competitive local supply chain" in order to underpin the project, supported by a dedicated multi-million pound fund.
Mainstream, which is majority owned by Aker Horizons, and Siemens already claim to be behind the UK's "biggest offshore wind supply chain success story" in Hull and Humber.
Orsted's Hornsea zone has facilitated a "competitive offshore-centred economy in the region", featuring Siemens Gamesa's blade manufacturing facility and service hub – the combined activities have created about 1,000 jobs.
And the consortium is hoping to replicate such successes in Scotland, starting with investments designed to create positive economic impacts for local communities.
Steffen Grosse, SFS Equity chief executive, said: "This presents a unique supply chain-led consortium, combining the extensive offshore wind development experience of Mainstream and SFS with world leading equipment suppliers in Siemens Gamesa and Siemens Energy.
"Our consortium's track record of success means we can deliver on our clear plan to drive forward Scotland's green energy transition supported by the transformation of the local Scottish supply chain."
Mary Quaney, Mainstream CEO, added: "Mainstream's strong commitment to community engagement in Scotland is central to what made the Neart na Gaoithe offshore wind farm a success.
"We've set the bar high, and with a highly experienced local team and Centre of Excellence in Edinburgh, we're perfectly placed to deliver the next era of offshore wind for the Scottish economy, supply chain and communities."
ScotWind, which is managed by Crown Estate Scotland, shut up shop to applicants on July 16, with the results of the process expected early next year.
More than 70 bids were submitted by companies, including some of the energy's biggest players.
The impressive roster of participants, which features BP, TotalEnergies and Shell, demonstrates Scotland's enormous offshore wind potential.
Mainstream and SFS said that, if they're given the green light to push on with their proposals, they would collaborate with communities to ensure that the renewables boom translates into material benefits.
Investments into re-skilling, training, employment and sourcing form a "core part" of the proposals, the consortium said.
Dublin-headquartered Mainstream's previous offshore wind ventures in Scotland include a majority stake in the Neart na Gaoithe (NnG) development, which it sold to EDF in 2018.
Meanwhile, Siemens Gamesa is responsible for over 60% of Scotland's fully operational offshore wind turbine capacity.
Andreas Nauen, Siemens Gamesa CEO, said: "Powerful partnerships with purpose are crucial for Siemens Gamesa as we work to unlock the potential of wind around the globe.
"Our years of experience in working with the consortium companies gives us great confidence in the ScotWind process.
"We're hopeful that we can contribute to establishing a Scottish renewable energy cluster, supporting Scottish suppliers and also developing Scottish talent with schools and universities for the future of the energy revolution."
Steve Scrimshaw, vice president, Siemens Energy UK&I, added: "Scotland will play a vital role in meeting the UK's targets to increase offshore wind capacity to 40 GW.
"Through early involvement with tier one suppliers, this brings a chance to build on the successes the companies have had in delivering Scottish projects in the past and further developing our already extensive supply chains."
Kristian Røkke, chairman of Mainstream and CEO of its majority owner Aker Horizons, said: "As the majority owner of Mainstream, Aker Horizons is excited to support this world-class supply chain-led consortium.
"The Aker group has more than forty years of history of supply chain and project delivery in the Scottish offshore wind and oil and gas sectors. We are committed to drawing on our long history in Scotland to support the consortium and help deliver a world-class indigenous supply chain."
Recommended for you

BP advertises collaboration openings on Scottish offshore wind farm