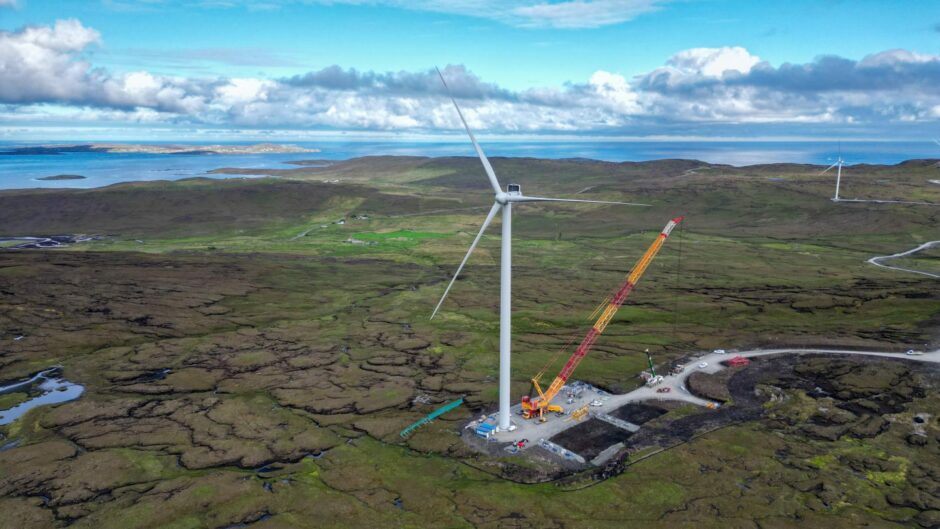 Green energy giant SSE Renewables is celebrating a major milestone in the development of its Viking wind farm.
Just over three years since breaking ground on the 433 megawatt (MW) Shetland project, the 103rd and final turbine has been installed.
Yesterday evening technicians working at the Viking site successfully fitted the last  Vestas V117 4.3MW turbine in the north0east sector of the wind farm.
Over the last month SSE Renewables says the the project has progressed at an impressive pace, after installation works kicked off in February.
The final turbine was fitted well ahead of the original schedule, which was targeting autumn.
Viking remains on track for completion in 2024, with commissioning works due to continue over the next year.
At peak generation the wind farm will be capable of producing up to 1.8 terawatt hours (TWh) of renewable electricity annually – enough to power almost half a million typical British homes, including every home in Shetland.
This latest landmark follows on from the completion of the turbine component delivery campaign, which entailed over 280 convoys delivering over 1,000 turbine components.
Since work at the site kicked off engineers have had to battle challenging weather conditions, from frequent heavy rain and the biggest snow storm to hit Shetland in over 20 years, to rolling fog which drastically reduced visibility across the site.
Ironically though the biggest challenge is the wind, with speeds often reaching over 78mph.
SSE Renewables' onshore renewables development and construction director, Heather Donald, said: "We're reaching the point in the Viking Wind Farm project where we are celebrating key milestones which just shows the good progress we are making. The weather in Shetland has been challenging at times so achieving the installation of the final turbine ahead of schedule is testament to the hard work and commitment of those involved.
"Reaching this landmark milestone underlines our strategy to lead the transition to a net zero future through the world-class development, construction and operation of renewable power assets. Viking will be capable of producing enough energy to power the equivalent of almost half a million homes including every home in Shetland and is on course for completion in 2024."
A raft of Shetland contractors have had a hand in the delivery of Viking, working with SSE Renewables, principal contractor RJ Macleod, and Vestas.
And the developer says this relationship will continue as "they continue to play a key part in wind farm commissioning".
At peak construction around 400 people were working on Viking, and Vestas is now in the process of awarding contracts and recruiting long-term local operations and maintenance teams, including apprentices.
Anne Semeria, onshore construction director, UK & Ireland for Vestas, said: "The team has worked hard over the past six months to ensure the turbines are built safely and to a high quality. It has been a real team effort to optimize our installation plans and take advantage of the good weather. We would like to thank everyone involved for their passion, commitment and high standards and we look forward to Viking Wind Farm being fully operational next year as it will play a crucial role in contributing towards achieving the UK and Scotland's net zero targets."
Recommended for you

Cable failure top cause of offshore wind insurance claims, warns Allianz