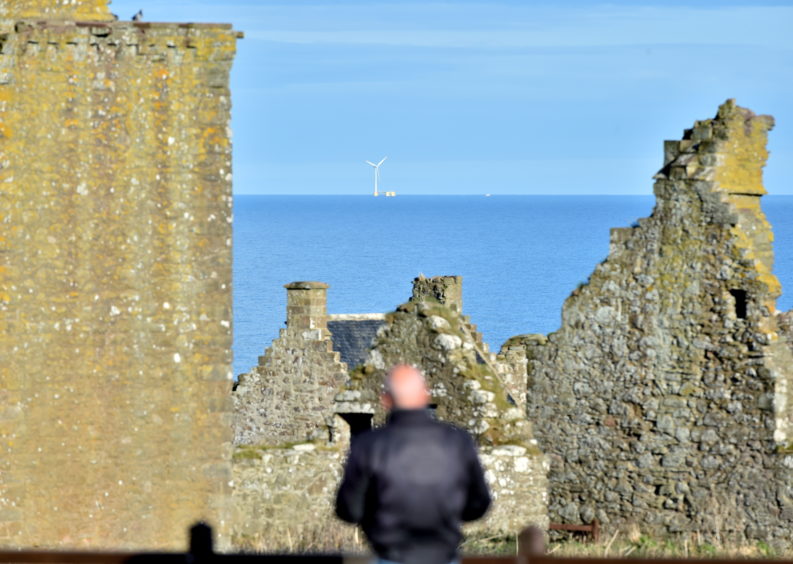 When developer ERM decided Aberdeen would be the home for Dolphyn, its world-first floating green hydrogen project, it said "it will put Aberdeen on the map".
The city's investment prior investment in hydrogen is what "swung it" for the city to beat both Cornwall and Orkney for the project.
So some might argue – rightly or wrongly – that Aberdeen, "Europe's oil capital", is already taking its place on the map as a part of the hydrogen economy.
But this project, described as "transformative" by the likes of Sir Ian Wood, could really support the ambition to change its fortunes with the energy transition, though coming years could prove crucial to deeming the extent to which the Aberdeen can capitalise on it.
Dolphyn is planned to develop from a prototype, 15km off the coast, into what may turn into the first ever commercial green hydrogen windfarm.
With FID next year, the 2MW prototype will be delivered by 2024, followed by a 10MW model in 2027, both of which are set for Aberdeen.
Thereafter the ambition gets exciting: the first commercial 10-turbine (100MW) wind farm is planned for 2030, then a massive 4GW development in 2037 – enough to power 1.5million homes.
Environmental Resources Management (ERM) has projections for a potential network of windfarms by 2065, which could replace 50% of the UK's natural gas requirements.
The UK North Sea is seen as a prime candidate for that as well.
Project director Kevin Kinsella said: "We see the UK as the obvious place to scale it up, we've got the supply chain here, the world-leading supply chain for oil and gas.
"We've got the industry, we've got all of the engineers, the expertise we want local to Aberdeen. And we've got the offshore wind resources which are the best in the world.
"You've got large acreage of ocean and really excellent wind resources all year round. So it is an ideal place to really scale up the technology."
How it develops beyond 2027 remains to be seen, but the initial upscaling candidates are here in the North Sea or the Celtic Sea off Wales.
A network of wind farms potentially could be served by the St Fergus gas plant, with the Scottish east coast being "ideal conditions".
"We could have units like we've got in Aberdeen bringing hydrogen in locally to local towns along that coastline where there's deepwater", Kinsella added.
For a city looking to find other sectors to utilise its oil and gas legacy and skills, this represents something to shout about, especially as a major climate summit in Glasgow approaches next year.
"I think it would be great for Aberdeen, it really will," Kinsella said.
"It will put Aberdeen on the map and it is something that we want to promote at COP26 as the UK achievement to demonstrate UK engineering skills and innovation."
It could also be a chance for Aberdeen to play a role in developing a key technology that ERM sees as having global potential.
Kinsella said: "Across the globe you have over 12,000 GW of floating wind capacity. Now that is about four times the amount you would need to actually replace natural gas for the whole world.
"So in terms of an energy source, it's got fantastic potential."
For the North Sea, it would take 28 of these huge, full-scale 4GW windfarms to replace the UK's natural gas needs.
They're big arrays of 20 x 20, Kinsella acknowledged, but the North Sea has capacity for "three or four times that amount".
"So, again, a really good opportunity for the UK. Not only to produce hydrogen for our own use, but also to export it to Europe or further afield," he added.
Next steps for the project are sanctioning next year, but not before some new investors are hopefully on board.
"In terms of getting the investment, I don't think there's going to be a problem with that and it's going to be an exciting few years ahead", Kinsella said.
ERM, which is a multinational consultancy, has already received £3m in UK government funding for the project this year, but they're speaking to "big energy companies, oil and gas companies and also private equity companies" as potential investors for the "whole Dolphyn commercialisation".
"Between now and Christmas really we need to decide on who our best partner would be to take Dolphyn forward, or partners", he said.
Many of the individual parts for the Dolphyn prototype, as some have rushed to point out, will not be made in the UK – this is already a contentious issue for the UK offshore wind sector.
However, assembly of these will likely take place in a UK port, "We'll put it in a port somewhere, could be Cromarty Firth, could be Dundee. Could even be the new Aberdeen port".
"We'll add the turbine onto the substructure in the port and we'd also install the deck and all the topside equipment in the port as well," Kinsella said.
"We'd then install the moorings and the pipeline at the location and then sail it out to the location, hook up, commission it, and then start to operate."
Long-term, ERM envisions a port with a production facility for these turbines, as they ship out to massive wind farms.
Kinsella said: "What we have in mind for the future (is) a production line in a port dedicated to producing these sorts of platforms.
"They sail out and you can build your windfarm gradually one by one so you're generating revenue very early on and continually add to that field.
"So it spreads your upfront financial costs while you're still producing hydrogen, makes it quite cost-effective."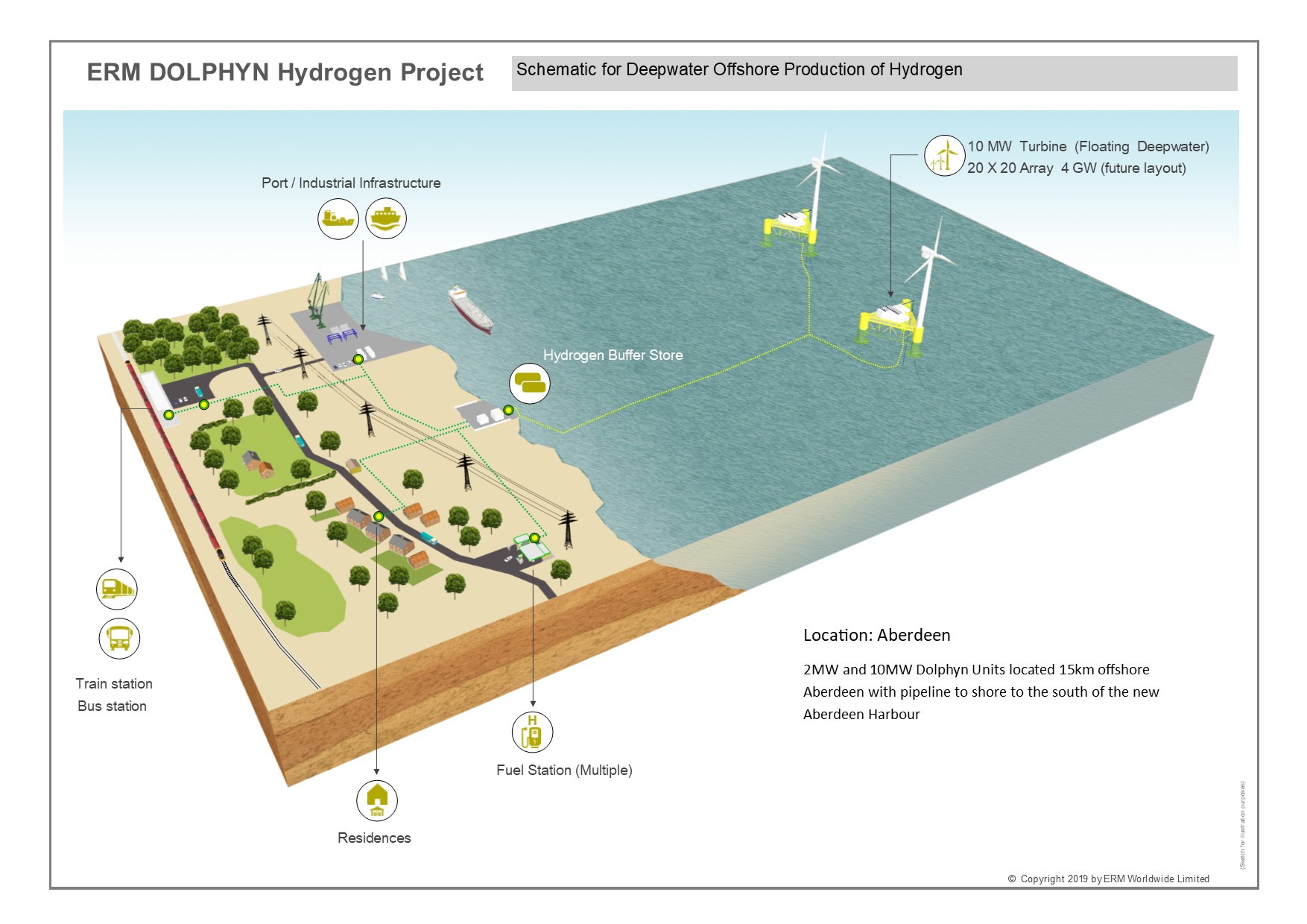 The size of the prize then, especially for a city which has just spend £350million on a new harbour expansion, is clear. However, realising this opportunity, and others related to the hydrogen economy, will mean the coming years will likely prove crucial.
Sir Ian Wood, chair of Opportunity North East, helped persuade ERM to pick Aberdeen for Dolphyn.
Announcing ONE's proposed Energy Transition Zone in January, to be situated near the harbour expansion, Sir Ian described floating wind as a "significant opportunity", with the ETZ planned to house manufacturing, servicing and assembly facilities.
On Dolphyn's announcement for Aberdeen, Sir Ian said: "To realise the full potential, we must create the right facilities for innovation, technology development, and manufacturing to flourish.
"The proposed Energy Transition Zone (ETZ), which is designed to leverage the major investment in the Aberdeen South Harbour expansion, will provide this positive environment."
Industry leaders like OGA chief Andy Samuel have called for the ETZ to play a role in the upcoming North Sea Transformation Deal from the UK government and how that plays out may be crucial in the opportunities here.
While Dolphyn, and projects like it, are not enough to stem the immediate job losses and downturn the industry faces, it is a tangible step towards what could be a brighter future for the sector.
A report last month from the Offshore Wind Industries Council (OWIC) and ORE Catapult estimated green hydrogen could support 120,000 jobs and be worth £320billion to the UK economy by 2050.
While that will take years to come to fruition, ERM sees Dolphyn "as the start of that process", Kinsella said, and the transition opportunities for the oil and gas sector were one of the factors in deciding on Aberdeen.
ERM, which is backed by private equity, had been keeping the project "quite low-key" as they got the location and design together.
Initially, Kinsella said the feedback suggested it "was seen as a threat to the industry", however with much more discussion around the energy transition in recent years "things have turned around completely" and "we are seeing a totally different set of conversations now and that's really, really good to see".
In fact, with the Dolphyn announcement, Mike Tholen, an oil industry veteran and sustainability director of Oil and Gas UK, described a "buzz" around the changing industry.
He said: "The Dolphyn project is a great example of how this change is benefitting energy communities, bringing in new investment and creating exciting new roles for the future.
"We are now seeing the energy transition take place in real time, and continued partnership working remains essential if communities, industries and our people are to make the most of this opportunity."
Recommended for you

Green hydrogen funding unveiled for clutch of North Scotland projects