UPDATE: Man taken to hospital after container collapses at Asco Peterhead
A man has been taken to hospital after a chemical container collapsed at Asco South in Peterhead yesterday.
The alarm was raised just after 11am, with fire, police and ambulance crews responding to the incident and the site being fully evacuated and work coming to a halt.
One man was taken to Aberdeen Royal Infirmary with another four people treated at the scene.
Three fire appliances and an incident support unit along with four ambulances were seen at the site while the incident was at its peak.
A Scottish Ambulance Service spokeswoman said: "We received a call at 10.51am on June 21 to attend an incident in the Burnhaven area, Peterhead.
"Three ambulances, our Special Operations Response Team and a 3RU resource were dispatched to the scene.
"One patient was transported to Aberdeen Royal Infirmary and four patients were treated and discharged at the scene."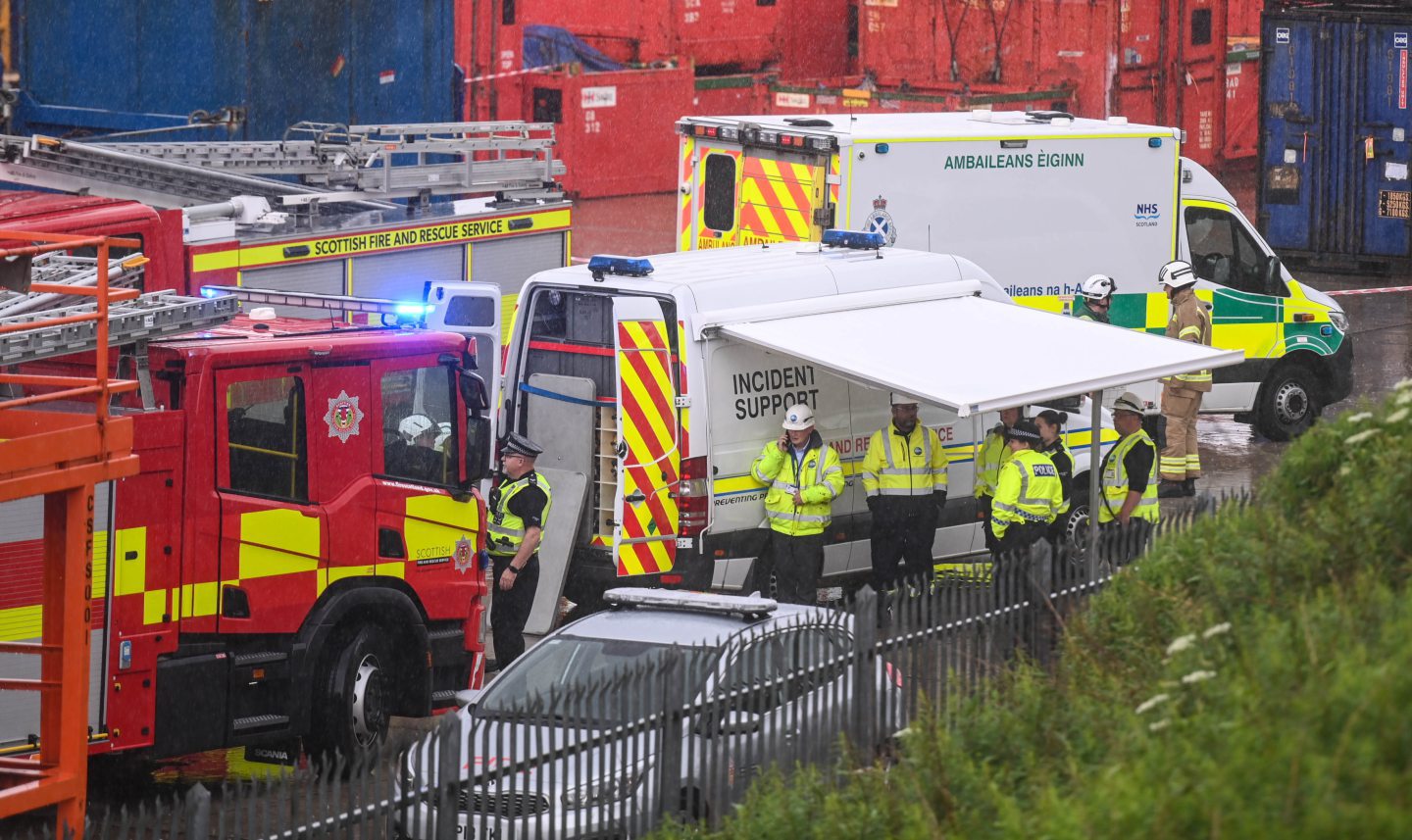 Witnesses said there was a loud explosion from the Asco Limited South Base on South Bay shortly before 11am.
A resident, who saw the tanker coming down, was working in the garden when he heard a "loud bang".
He said: "When I looked up I saw the tanker coming down and the liquid going everywhere.
"The ambulances arrived first, then the fire service and police, all within 10 minutes.
"It looks like there is quite a lot of damage. I know someone from the other side of town who heard it and thought it was thunder too."
Tetra, who own the collapsed container, did not wish to comment.
Another neighbour whose house looks down on the yard said he thought the explosion noise was thunder.
He said: "I'd been out working in the back yard and heard a loud bang, I thought it was the thunder starting.
"It seems to be contained but I expect they'll have to demolish the other tanker next to it too.
"I just hope nobody is seriously injured, that is the main thing."
A police spokesman said: "Around 11am on Wednesday June 21, we were called to a report of an explosion at an industrial premises in the Burnhaven area of Peterhead.
"Emergency services attended and the premises evacuated as a precaution. A number of people were treated for their injuries at the scene with one man being taken to hospital for treatment.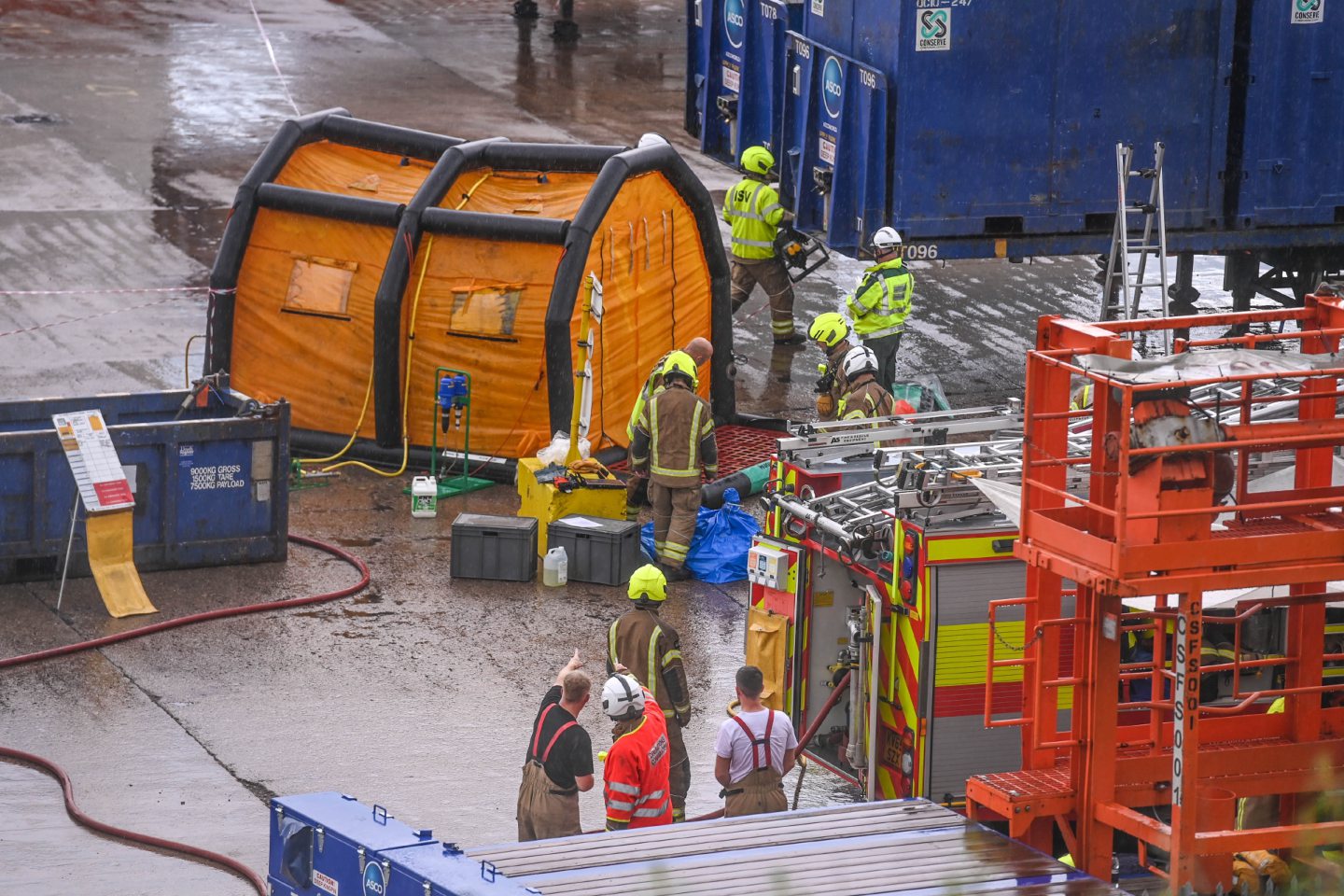 "Although chemicals were involved in the incident, there is no risk to the wider community and decontamination procedures are in place for those present."
Asco said all personnel who were on the site at the time were evacuated and are accounted for and operations have stopped.
A spokesman for Asco said: "Asco can confirm it is responding to an incident which occurred today, Wednesday, June 21, at its Peterhead South Base.
"The incident occurred at approximately 11am when a silo, operated by a third-party tenant ruptured, leading to the loss of approximately 3,000 barrels of calcium chloride brine, an inert non-toxic product used in the oil and gas drilling process.
"As a result, a male third-party contractor, operating on behalf of the tenant, sustained non-life-threatening injuries.
"The man was treated by paramedics and has been taken to hospital. Four others who were at the scene were also treated on site as a precaution.
"Emergency services attended the site and Asco has implemented its emergency response plan.
"The safety of our colleagues is our overriding concern, and all on-site personnel have been evacuated safely. All operations have been temporarily halted.
"The cause of the incident is not currently known."