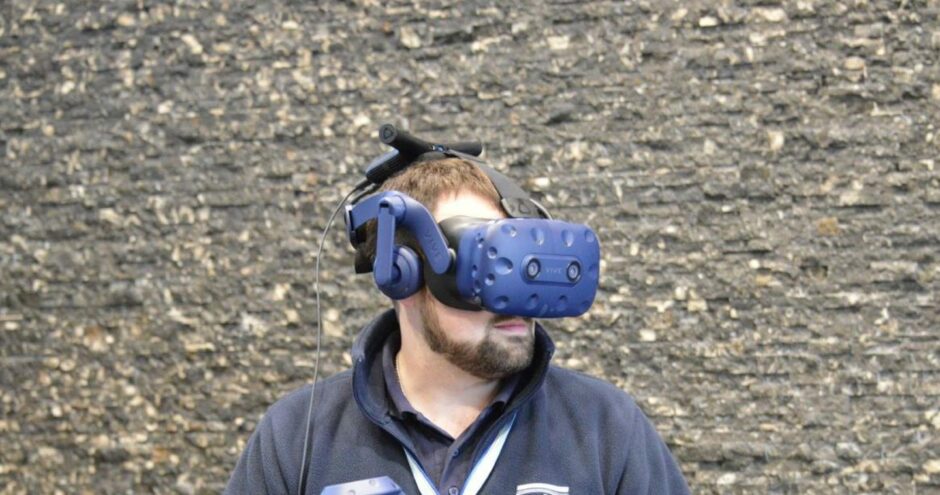 North Sea firms have been moving away from traditional training methods for staff and adopting technology from video games that force workers to live through vital training scenarios in the virtual world.
Proper training is essential in ensuring that the offshore workforce is properly equipped to deal with any situation that might occur in the North Sea, so it is little wonder that firms have started preparing staff by putting them in the middle of difficult situations with video game technology.
DNV will be showcasing its virtual reality training technology at Offshore Europe in Aberdeen this month and it is the latest in a line of firms to turn the offshore workforce into gamers to see them better equipped for the harsh environment that is the North Sea.
The firm says that the offshore workforce is engaging with this new way of training, DNV VR expert John Morgan explained.
Mr Morgan said: "VR is, is a new way of engaging with people and talking about major accident hazards and most people's jobs almost everybody's job, in fact, everybody's job offshore doesn't involve putting a VR headset on, so you know it's novel for them. It's fun for them.
"If I go in short offshore and say: 'Hey guys, I've got some PowerPoints, would you have a look and we can discuss some major hazards?', nobody jumps up and down and celebrates at that prospect.
"Whereas if you say we've got a VR virtual reality system for you to try, people are positively engaging."
Matthew Barr, senior lecturer at the University of Glasgow's School of Computing Science, told Energy Voice: "Games allow people to experience things in a way that they can experiment and all the time it's in a safe place to fail, if you like."
He added: "Particularly for these kind of high-risk offshore type endeavours, being able to practice in a meaningful way and a way that isn't dangerous is a big plus."
VR training for the offshore workforce
DNV is set to showcase the benefits of its virtual reality tool at the upcoming Offshore Europe event alongside the UK's largest producer of oil and gas, Harbour Energy.
The VR training technology was developed before the pandemic, however, it is only just seeing use now that lockdown restrictions have been lifted.
Mr Morgan said: "I think we finished in early 2019 or thereabouts and obviously a year and a bit later COVID happened, which made it very difficult to actually do any proactive selling.
"We just did a demo yesterday to an operator in town," the VR expert told Energy Voice, adding: "We're excited about the fact that Offshore Europe's happening. We've got a paper on virtual reality, and we think we will get enquiries coming in from people who have seen it, word of mouth, etcetera"
The VR tool sets out to improve safety standards in the energy sector with DNV creating a programme to depict major accident hazards (MAH).
This consists of various scenarios where users walk through a simulated environment using hand controllers and a typical VR headset with headphones and cameras built in.
DNV's VR expert added: "From the major hazards point of view, the actual doing of the task is really just a way to make sure that the person is thinking that they're offshore.
"They've got a mindset of I'm doing some scaffolding or I'm tightening a flange or turning a valve or whatever."
In addition to the benefits that come from using video games over traditional training methods, firms are able to reap the rewards more easily now as game development has become more accessible.
The University of Glasgow lecturer spoke about the growing accessibility of game development: "Games technology is increasing affordable and accessible, 10 or 15 years ago it would have been much more difficult to harness that stuff but now with platforms like Unity and so on, that stuff is right there, and you can download it for free and get started."
Mr Barr added: "Back in the day before we had those tools and the marketplaces that exist around them, you would have been developing something from the ground up and that's much more expensive."
'Ready Player One'
Step Change in Safety has also been turning to video game technology in order to ensure the workforce of its members is ready to handle treacherous offshore scenarios.
Sharing a name with the science fiction novel by Ernest Cline that sees characters transported to a virtual reality landscape, Step Change in Safety has developed a training programme in the style of a first-person video game called 'Ready Player One'.
Gillian Simpson, lead programme delivery manager for Step Change in Safety, said: "As a member-led organisation we have been having discussions with our members and workgroups around gamification of resources.
"It's important that we evolve and adapt to the learning needs of our members and look at new ways of engaging. We also need our resources to appeal to a younger workforce who now learn in different ways."
Step Change in Safety marked its 25th anniversary in 2022, at the time of this celebration, Energy Voice spoke to the now outgoing director Steve Rae, he said that as the industry evolves through the energy transition, his firm will move with it, however, it would "never leave oil and gas behind."
The not-for-profit organisation was founded in 1997 by the oil and gas industry trade associations and now develops and introduces safety resources, specifically aimed at improving safety in the UK energy industry.
Ms Simpson added: "Our recently promoted Ready Player One, kindly contributed as a member resource by CNOOC and TRAC Energy, is the perfect example of a first-person computer game which raises awareness of various types of potential dropped object.
"We are in the embryonic stages of looking at university collaborations to investigate gamification of more resources and hope to announce some developments shortly."
Lifeboat simulator
Last year Energy Voice got hands-on with another example of gaming crossing over with the offshore workforce as a reporter tried out AIS Survivex's lifeboat simulator.
AIS Survivex invested an estimated £850,000 on its new lifeboat training facilities for its its space in Dyce, this spending went towards a simulator on stilts that moves to replicate the rolling waves of the North Sea along with two other tabletop simulators.
The training provider became the first business of its kind to offer OPITO-approved lifeboat training for coxswains. both practically at its harbour facility and virtually via the simulator.
This virtual training extends to both free fall and twin fall escape scenarios for those brushing up on their lifeboat training.
The AIS Survivex training coordinators can tailor the training experience to the person in the boat, whether that be creating new scenarios, introducing helicopters flying overhead, changing the time of day to train at night or even changing the colours of boats and rigs to match the trainee's company.
This training technology can simulate a range of weather conditions all the way up to gale-force eight winds.
AIS Survivex's parent company 3T Energy is also trying its hand at VR training in the energy sector.
A deal with Wales & West Utilities is set to cover 3T Transform's cloud-based training management platform and digital learning technologies, such as eLearning.
Through this 3T Energy looks to utilise technologies such as virtual reality and gamified learning in the future.
The future of gaming technology in offshore training
With examples of technology from the video games industry being repurposed to train the North Sea workforce, Energy Voice asked Dr. Matthew Barr if this is the future of offshore teaching.
He answered: "It's not just like reading from a book, it's not just like watching a video, your actions have implications. They have outcomes and you get to experiment with that."
Matthew Barr elaborated on his answer, explaining that by nature video games give the person in control "agency" and "interactivity", this creates a "cause and effect" relationship with their actions and the environment they are being trained to work in.
Mr Barr said: "Sometimes people talk about the immersion, I think it's slightly different from the immersion.
"It's the agency, it's the interactivity, it's the fact that you can you've got that cause and effect, right? So you can try things out and that is good, it's easier to remember that than reading some text, you know? If you've done something yourself, that's the better way of learning."
Recommended for you

DNV and Harbour Energy to bring virtual reality to Offshore Europe