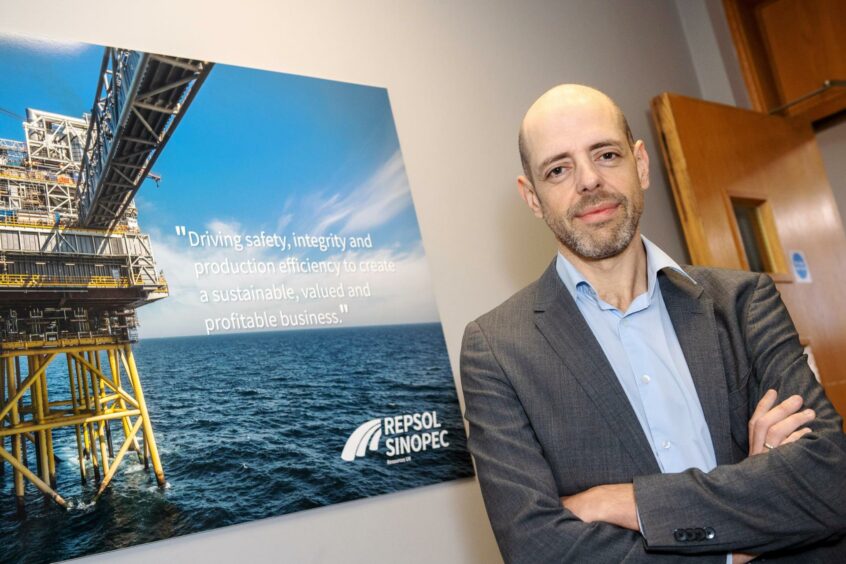 Jose Luis Muñoz talks to Energy Voice on Repsol Sinopec Resources UK ramping up decommissioning, the challenges of "chronic underinvestment" in the sector, and the firm's $1 billion near-term plan for North Sea projects.
Decommissioning is a £46 billion industry for the North Sea, and Repsol Sinopec Resources UK has one of the largest portfolios of assets out there.
"We have been dismantling sites but, in terms of scale, now is the moment in which is this going to be taking off," said chief executive Jose Luis Muñoz.
The next five years alone will see the operator carry out a range of activities, including the complete abandonment of 100 wells in the North Sea, and decommissioning of the onshore oil terminal at Nigg in the Cromarty Firth.
Repsol Sinopec estimates its programme ahead will be one of the top, if not the largest, sets of decommissioning work for the industry over the next five years – potentially for the next decade.
"I think in terms of scale I think it's going to be top three," said Muñoz.
"It's going to be about P&A (plugging and abandonment) of a number of wells in the years to come, we're going to transition a number of sites towards unmanned installation mode and we're going to be dismantling infrastructure.
"So definitely for us it's a turning point. It's also going to be about the basin as a whole, but we're going to be one of the front-runners opening the path for the rest to come."
Along with Nigg, recent decom headlines for RSRUK have included plans for the Saltire field, as well as P&A of wells on Fulmar.
Just as the company will be a "front-runner", so will the UK North Sea set the pace for oil and gas regions around the world for decommissioning expertise.
That's going to mean opportunity for the supply chain, and viable long-term career options for young people entering the industry for decades, said Muñoz, a far-cry from what some perceive as a "sunset" sector.
Priorities
RSRUK itself intends to create new roles to increase its current decommissioning resources by 70%, spanning mid-career level jobs to management positions.
"The basin is going to be one of the front-runners at world level, so there is opportunity for the basin, but also for the people to specialise in an area where there will be a number of basins across the globe following after. There is definitely an opportunity for people to get after and develop a professional profile that is going to be quite exciting.
"There are a number of assets – in the UK we're probably talking about 500 sites, we're talking about a number of fields, and we're talking about thousands and thousands of pipelines."
The firm's first duties, however, are to assess opportunities for late life extension and repurposing.
As both decommissioning and the wider energy transition pick up pace, Muñoz expects different business models to be co-existing, but also "competing" for top priority: late life management, decommissioning and energy transition, as it relates to decarbonisation and repurposing of assets.
That comes as RSRUK plans an investment programme of more than $1 billion for its core UK assets including the Flotta Catchment Area and the Bleo Holm FPSO.
Life extension has been on RSRUK's agenda for a long time now, and, going forward, this will continue to be dependent on issues including emissions and cost efficiency.
"For many of the assets back in 2015 we thought we would have to cut them in the next three years, but they are still producing, operating and delivering value for us."
Muñoz does not expect the ambitious targets of the North Sea Transition Deal (NSTD), which mandates drastic emissions reductions, to impact the cessation of production dates for RSRUK's assets.
Decarbonisation is RSRUK's "first priority", he said, proudly noting that the company set a target years ago to cut emissions by 35% by 2025, a goal it has already reached.
The firm is also involved in early stage work with other operators on electrification in the North Sea.
"For me, it's more a question of how to be efficient and this is going to be the key lever to make sure that our assets are going to be able to extend their operational life, as we have been doing over the last five years."
One recent example of life extension in action was news that Ithaca Energy and Hibiscus Petroleum is working to deliver barrels for their Yeoman/ Marigold project via the Piper Bravo platform north-east of Aberdeen.
The Marigold cluster alone is expected to be able to deliver in excess of 40 million barrels of oil, with more on top of that from Yeoman.
Third-party business will continue to be key to extending the life of the assets, Muñoz said.
"We are trying to make sure that every single barrel around our hubs, we are going to be the natural host.
"Five, six years ago it was difficult for us to capture these barrels. In terms of efficiency there was a period in which we were unable to deliver very well. But after a number of years of improvement, of turnaround, I think that we're definitely the natural host."
Part of that $1bn figure is Tain, a project to be delivered via the Bleo Holm FPSO, expected to deliver 10 million barrels of oil.
RSRUK is also working to create a green hydrogen hub at the Flotta oil terminal in Orkney, supporting nearby projects such as the West of Orkney windfarm  – a scheme which TotalEnergies and partners Green Investment Group and RIDG have secured rights to in the recent ScotWind seabed leasing round.
"In the Flotta terminal we see something that will happen in other assets across the basin: opportunities that will come naturally to rethink the business model of this terminal.
"Co-existing doesn't mean stopping doing what we have been doing in this terminal, it's just to think how we can take advantage of our current position to be open for the energy transition opportunities and to start looking at opportunities to repurpose, at least for this terminal."
Offshore wind is not something RSRUK is looking at directly at the moment, he said, but "in this context we have to be open to new business models and new opportunities that could come".
'Chronic underinvestment'
Jose Luis Muñoz became CEO of Repsol Sinopec on April 1, 2020 – just as the UK's first lockdown was getting underway and a tough time for any new leaders to get their feet under the table.
"In this period we have been dedicating a lot of time to think as a company but also in the basin – what was the safest way to give continuity to the operations and make sure we are able to create a safe environment for people in a pandemic context and an oil price environment which was very, very challenging."
Brent crude was down at $20 a barrel in 2020, a stark contrast to prices of more than $100 seen in recent weeks.
The temptation might be to focus on bringing new barrels within this context, deferring certain other activities like maintenance.
However, he said: "We have been trying to be consistent in terms of the planned shutdowns, in terms of what we have to do to liquidate backlogs.
"And this is what we have been doing; to be consistent and be very clear about these priorities for the safety of our people and the integrity of our sites, which is our first priority regardless of whether we're in a pandemic, in a $100 oil environment or a $40 one."
What the industry is now faced with is the juxtaposition of increased demand for domestic supply, in the wake of Russia's invasion of Ukraine, and what Muñoz calls a problem of "chronic underinvestment" in the sector.
The last four or five years have "not been an easy period" and there has been "a lack of recognition" of the industry's role in making energy readily available: "one of the key sources of prosperity for the world as a whole".
Support from the UK Government is welcome in this "new context" and there is a need for "predictable and stable regulatory regime" in order to see that fresh wave of investment.
"That isn't going to change from one day to another. I think that is something we have to work together on, as we did with the NSTD, and demonstrate to all the key stakeholders that there is a pathway to be built together in which different things and different priorities are compatible.
"And now, of course, there is a context in which we need to accelerate certain investments, in which we would like to start placing money for projects that could be delivered in the next 10-20 years.
"Many times in the past, crises have brought opportunities. Let's see if we're able to take advantage of that together, ourselves as an industry and also with the key stakeholders."
Recommended for you

Decommissioning excellence – getting ready for removal