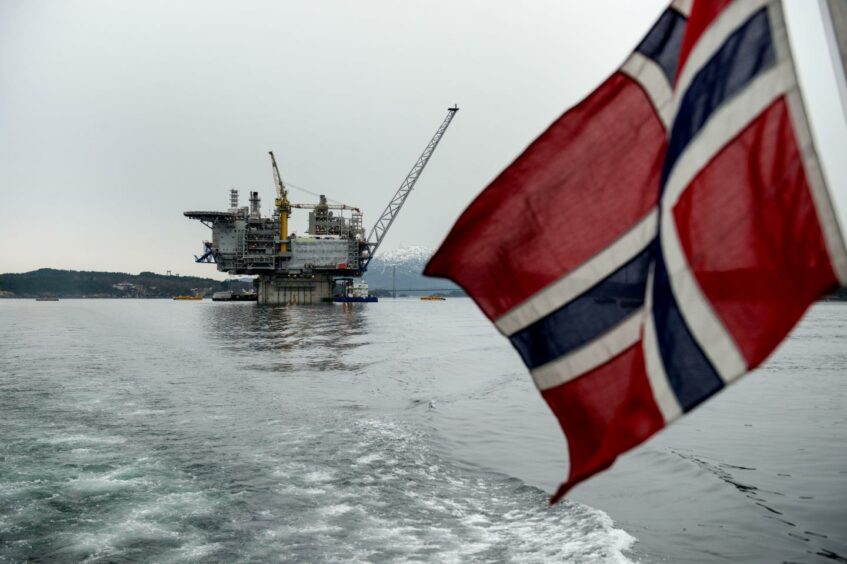 The amount of gas the UK imports from Norway has outstripped domestic supplies for the first time, a key industry study has found.
Last year the UK consumed 76 billion cubic metres (bcm) of gas, 32bcm of which was produced in Norway, according to Offshore Energies UK's (OEUK) 2022 Business Outlook report.
In contrast just 29bcm of the gas the UK consumed in 2021 was produced domestically, with imports "surging" as a result.
And there are fears that without "rapid investment" in new North Sea infrastructure, that gap will continue to grow, with domestic oil and gas production forecast to fall by up to 15% a year.
OEUK has warned that if there are no fresh exploration and production facilities, by 2030 around 80% of UK gas supplies and more than 70% of oil will have to be sourced abroad.
Lack of North Sea spend coming to the fore
The 2022 Business Outlook report – the first published under the trade body's new guise – claims that although there are enough hydrocarbon reserves to support the UK for at least 15 years, there has been a lack of investment in the platforms, pipelines and other infrastructure needed to access it.
Meanwhile offshore wind, a major source of renewable energy, is still too small as it stands to offset the declines in North Sea output, the study claims.
OEUK's market intelligence manager Ross Dornan said: "About 75% of the UK's total energy comes from oil and gas – about 2% up on last year. That is because 80% of our homes are heated by gas which is also used to make 42% of our electricity. We also have 32 million vehicles that rely on petrol and diesel.
"The energy gap between what we produce ourselves and that which comes from other nations will keep growing unless we invest in exploration and production on the UK's continental shelf. We must also accelerate the development of cleaner energy like hydrogen. Investment now will give us energy security in the years to come.
"Additionally, the emissions generated by processing and transporting our own oil and gas are much lower than for imports."
Mr Dornan also warned that if there is not a "good investment ecosystem", operators could decide to call time on some North Sea assets earlier than expected.
Investment tumbling
Investment in the oil and gas sector has fallen from about £16 billion a year in 2014, to £5.5bn in 2019, the report revealed.
And OEUK has forecast it will fall further, to around £4bn in 2022.
Among the driving forces behind this are the UK's complex regulatory environment, as well as political disagreements around issues like climate change and windfall taxes.
Without new investment, as has been called for by the International Energy Agency, OEUK fears the UK will become "increasingly reliant" on oil and gas from Russia and OPEC member states.
This "can be avoided though", and Mr Dornan underlined the need for a "continuing conveyer belt" of spending approvals to counteract the North Sea's natural decline.
He said: "The resources are there to help support our energy needs, maybe in the region of something like 50% of oil and gas consumption over the next three decades. But it won't happen on its own; it will only happen if we see investment approvals to create a sustainable ecosystem for the industry."
Security of supply back in vogue
Despite the UK's reliance on fossil fuels for around 75% of its energy, the Business Outlook found that oil and gas production in the UK "fell sharply" in 2021.
Oil production totalled around 45 million tonnes, while 29bcm of gas was delivered, a 17% decline on 2020 and a 20% fall on 2019
Security of energy supply has been a hot topic in recent weeks after Russia's invasion of Ukraine sent oil and gas prices through the roof.
Westminster is reportedly looking to fast track the development of key North Sea fields to help bolster the UK's hydrocarbon reserves.
The situation also appears to have breathed new life into the controversial Cambo field, which had previously looked dead and buried after Shell opted to pull out of the scheme.
Deirdre Michie, chief executive of OEUK, said: "Energy security is now a matter of national security. Our policymakers need to plan not just for the coming elections but the coming decades."
Turbo charging offshore wind
OEUK rebranded from Oil and Gas UK earlier this year as part of a widening of its focus to encompass new, clean energy sources.
And in its Business Outlook report the trade body called for "significant" spend to "turbo charge the offshore wind revolution".
Investment of around £60bn is needed to install the 3,000 offshore wind turbines required to quadruple wind-powered electricity generation by 2030, OEUK said.
Much of that will be delivered by the projects selected in the recent ScotWind leasing round.
Offshore wind will also be key in decarbonising oil and gas production and delivering on the ambitions of the North Sea Transition Deal (NSTD).
Crown Estate Scotland launched the Innovation and Targeted Oil and Gas (INTOG) process earlier this year, which will yield smaller renewables projects capable of delivering green power to North Sea platforms.
OEUK said: "This will increase the representation of oil and gas companies moving into offshore wind power, however many companies have already made this move. Almost 44% of ScotWind capacity (60% of floating wind capacity) is backed by companies traditionally viewed as oil and gas businesses.
"This is an example of energy integration in action and demonstrates how the transfer of skills, capabilities and capital from the oil and gas sector will be a central part of the growth in offshore wind capacity."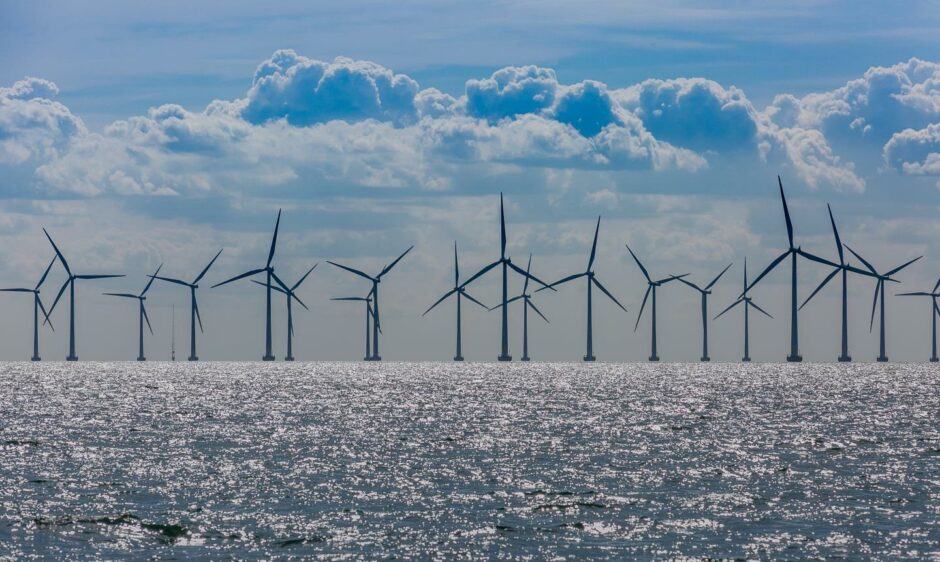 New fields will pick up slack in short term
Despite OEUK's long-term concerns about the North Sea, in the near term it expects "sufficient production to come on stream" to maintain output in line with 2021.
As many as 10 fields are forecast to start up in 2022 and early 2023.
When combined with those that started producing late last year, that will yield around 450m barrels of oil equivalent of new reserves, according to OEUK.
For the minute that will "help to limit any increases in import dependency", the report said, keeping total production from the basin relatively stable throughout 2022-23.
Ms Michie added: "Our industry is changing just like the countries it serves. We are proud to have provided most of the nation's energy for the last five decades. We are also very proud to have paid £375 billion in UK production taxes alone over that same period. We are still contributing. By 2027, that cumulative sum is forecast to rise to £400 billion.
"Last year OEUK signed the North Sea Transition Deal, a partnership with the UK government supporting the nation's transition to a lower-carbon future and providing safe and secure energy throughout that transition. But that transition will only happen if our policymakers can create and sustain the right environment for long-term investment across all forms of energy production.
"To achieve that we need stable long-term regulatory policies, clear and predictable fiscal policies and improved political alignment across all the countries and parties of the UK."