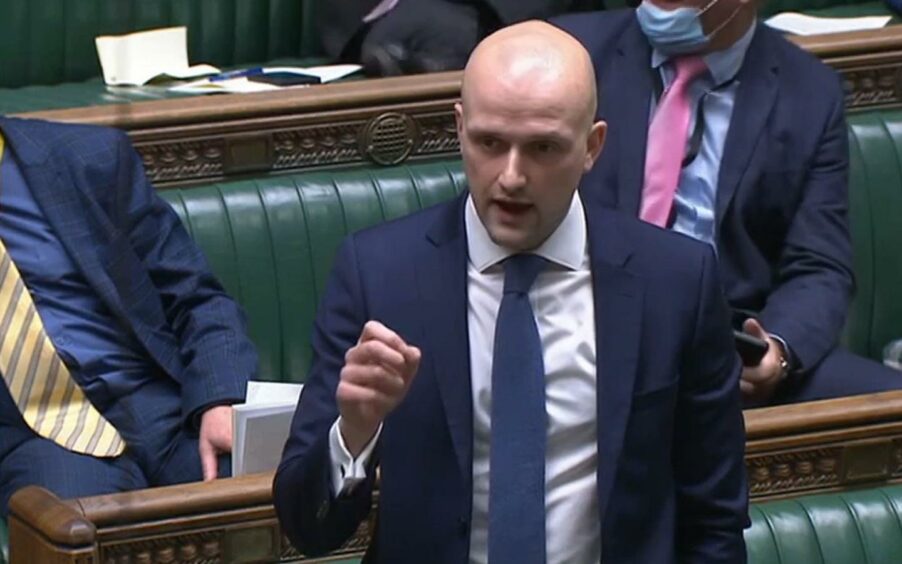 Aberdeen South MP Stephen Flynn was yesterday crowned as the SNP's Westminster leader and has been tipped to take a 'constituency interest' in energy matters, particularly when it comes to policy affecting the future of the North Sea.
Mr Flynn beat Glasgow Central MP Alison Thewliss by 26 votes to 17 to secure the leadership position, after Highland MP Ian Blackford announced his intention to stand down last week.
Thanking supporters and naming Paisley MP Mhairi Black as his deputy, he said he would remain "relentlessly focused on standing up for Scotland's interests and our democratic right to decide our future in an independence referendum."
🏴󠁧󠁢󠁳󠁣󠁴󠁿 @StephenFlynnSNP has been elected the SNP Westminster leader.

📣 We will hold this Tory government to account, put forward the positive case for independence, and always stand up for Scotland.

👉🏼 Join us and help us win Scotland's independence: https://t.co/9Qm6B6B4Bq pic.twitter.com/UsKQRzFciC

— The SNP (@theSNP) December 6, 2022
Previously serving as a councillor in the Granite City before entering Westminster politics, Mr Flynn became Aberdeen South MP in 2019 – overturning a seat previously held by Conservative MP Ross Thomson.
During his time in the Commons he has served as shadow SNP spokesperson for Business, Energy and Industrial Strategy, a role which has seen him take a stand on a range of business and energy issues.
His voting record shows consistent support for pro-business measures, including lowering the rate of corporation tax, and votes in favour of net-zero aligned policies.
Oil and gas
With thousands of constituents working in and around the energy industry, allies have suggested he may push the party to take a different tack on key issues such as North Sea drilling – in contrast to First Minister Nicola Sturgeon's opposition to new oil and gas licensing, and in particular development of the controversial Cambo oilfield west of Shetland.
"The First Minister's position on that has become a bit crazy over the past year because she enjoyed showboating at COP26," sources reportedly told the Telegraph newspaper earlier this week, ahead of the leadership vote.
"There needs to be a serious discussion – his constituency has thousands of jobs in that industry that would be lost before renewables could replace them."
Similarly, an MP who supported Mr Flynn's leadership bid confirmed that his candidate's views diverge from Ms Sturgeon's on the issue of oil and gas, adding: "He would have a constituency interest, which should be taken into account."
Windfall tax
Mr Flynn was an early supporter of a windfall tax on oil and gas companies, though in line with SNP colleagues argued it should also be applied to other companies which made "excess profits" in the wake of the pandemic.
Responding to early proposals made by the Labour Party in February, he cautioned that a pure oil and gas tax would have a severe impact on north-east workers and North Sea investment, as was seen in the previous decade.
"The last time the UK government implemented a windfall tax, investment in the North Sea oil and gas sector plummeted," he told MPs.
"It fell off a cliff – in fact it has never got back to where it was. If that happens again, my constituents will lose their jobs."
"If that happens again, what does it mean? It means that my constituents will lose their jobs. Some 35,000 jobs have gone in the past couple of years alone. The price of oil was barely scraping zero last year, yet the Opposition come forward to tell us that this tax is the right thing to do, notwithstanding any concerns about the impact it might have on investment in the North Sea."
As Rishi Sunak moved to impose the tax later in the year, Mr Flynn said the then-Chancellor had a "moral duty" to use any cash raised to provide "a sustainable future for Scotland's energy sector and provide targeted financial support to struggling households."
However, the SNP has since backed a further squeeze on the sector, with Mr Blackford last month calling on the Prime Minister to impose "a proper windfall tax" ahead of the government's Autumn Statement.
CCS
The north east's carbon capture and storage (CCS) ambitions have been a long-running issue for the region's political representatives, and Mr Flynn has repeatedly advocated for the UK government to provide more clarity and support for local plans.
Speaking in 2021 he said the region was "uniquely placed" to capitalise on the technology in light of plans for the Acorn project at the St Fergus gas terminal near Peterhead, and said it was an "absolute necessity" for the scheme to secure 'Track 1' backing from Westninster.
"There can be no fair energy transition without Aberdeen, and the North East of Scotland, being at the forefront of investment," he added in a letter to then-business secretary Kwasi Kwarteng.
He later lamented the "incomprehensible" delay in announcing the timeline for 'Track 2' of the government's cluster sequencing process, after the Scottish Cluster and Acorn project were passed over for Track 1 funding – a snub he suggested was down to "political reasons" on behalf of the Johnson administration.
Updates since have not been forthcoming from government, with Mr Flynn commenting recently that: "Without a clear timeline everyone is left in the lurch which is a hinderance to industry, our net zero ambitions and our economy – the UK Government must stop the dithering and give industry some certainty.
"We had plenty of warm words before being snubbed at the Track 1 stage so it's time the UK Government actually listened to our calls for delivery."
Renewables and tidal energy
He has spoken out against government policies on transmission charging which he said were hindering the buildout of renewables in the north east.
In early 2022 he accused energy minister Greg Hands of failing to reform the charging network because the current system benefits English green energy projects – a situation he described as the "great Scottish renewables robbery".
Figures from the National Grid showed that by 2026/27 Scottish generators would have to pay around £465 million a year in transmission charges. In contrast renewables developments in England and Wales will receive a subsidy of about £30m a year.
Mr Flynn told the Commons that he had spoken to one green energy operator that expected to pay around £1 billion of grid charging over the lifespan of its project.
He said the figures underline "just how reliant on Scottish fees the UK Government is".
"We know Scotland pays the highest transmission charges in Europe and these grossly unfair rates are holding back Scotland's renewable energy potential by acting as a huge barrier to expansion," he told the Commons.
"Scotland has the potential to lead Europe in renewable energies, but we are being hampered by a Tory Government with no interest in our net zero future."
Mr Flynn has also been a vocal advocate for Scotland's emergent tidal energy sector, making the case last year for ring-fenced funding of £71 million within the most recent Contracts for Difference (CfD) auction, known as Allocation Round 4 (AR4).
He told MPs that the sector was a "world-leading industry", and said ringfenced funding would help "harness, safeguard and expand the manufacturing jobs" in Scotland.
The Department for Business, Energy & Industrial Strategy (BEIS) later said it would ensure an additional £20 million per year was ringfenced for tidal stream projects, leading to support for more than 35 megawatts of new capacity in the CfD auction itself.
Green freeport
Similarly, he has backed local bids to secure green freeport status for the north east, writing in a latter to Rishi Sunak that Aberdeen's bid "must be at the forefront" of any decision on investment if the UK is "serious about the challenges of the future in terms of energy security and net zero".
The North East of Scotland Green Freeport consortium – led by the Port of Aberdeen, Peterhead Port Authority, Aberdeen International Airport, and the region's two councils – have said securing one of the two available awards in Scotland would create 30,000 jobs and deliver a £7.5 billion boost to the economy.
"Aberdeen and the north-east is the home of our energy sector and it is uniquely placed to use a green freeport to help meet both the Scottish and UK Governments net zero ambitions, deliver jobs and boost the economy," Mr Flynn added in a letter of support.
"We have the expertise and innovation to drive economies across these islands forward and deliver our shared ambitions for growth and net zero and I urge you to back the North East Scotland Green Freeport bid," he continued.
Recommended for you

NEO Energy names Nexen veteran as new CEO